The corner of So. Portland Avenue and Fulton Avenue was lit with music, balloons on Saturday and Sunday for the highly anticipated grand opening of a takeout restaurant that has been changing the way meat-eaters view plant-based food.
Slutty Vegan, the Atlanta-based hamburger joint founded by Pinky Cole, opened a location at 690 Fulton Street in Brooklyn, on Sunday, September 18, marking the brand's first in the Northeast region and its seventh location outside of Georgia, as the fast-growing company continues to expand its Slutty footprint across the country.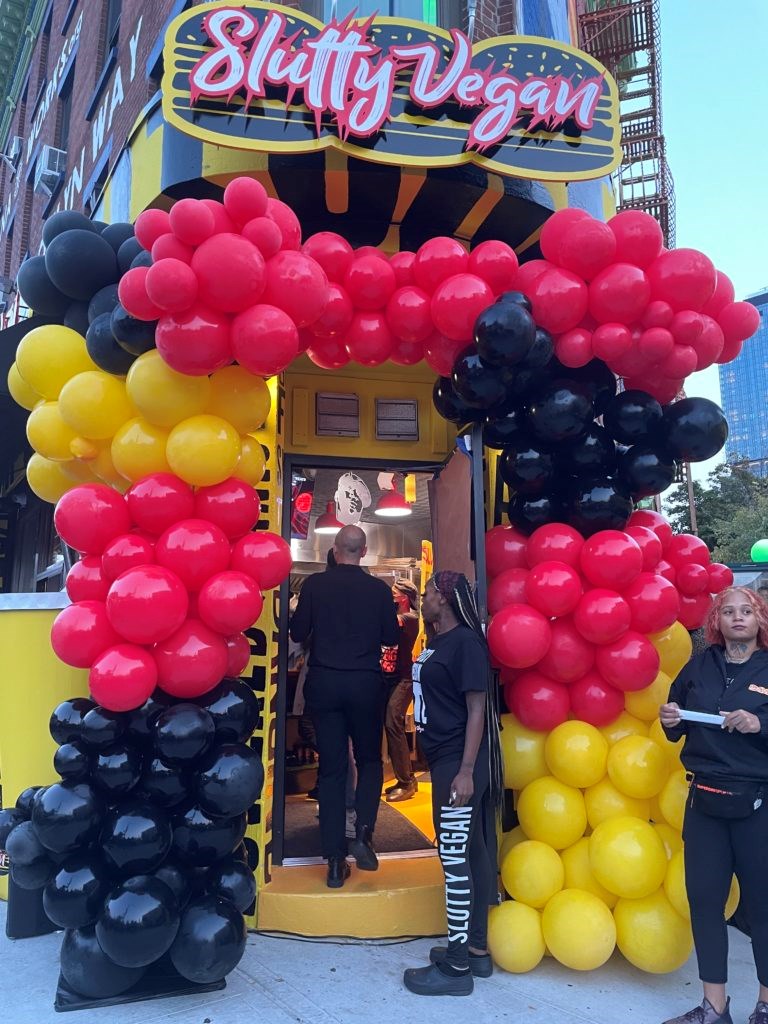 "I was taught that if you can make it in New York City, you can make it anywhere," said Jason Crain, president of Slutty Vegan. "We are proud to open in Brooklyn. We know that with New Yorkers on our side, we will be able to spread our mission all over the world."
The full menu which includes fan-favorites like the ONE NIGHT STAND, a burger loaded with vegan bacon, vegan cheese, caramelized onions, lettuce, tomato & Slut Sauce on a vegan Hawaiian bun and the FUSSY HUSSY, a burger loaded with pickles, vegan cheese, caramelized onions, lettuce, tomato & Slut Sauce on a vegan Hawaiian bun.
Unexpected options like the HEAUX BOY featuring vegan shrimp tossed in a New Orleans style batter, loaded with lettuce, tomato, pickle & Slut Sauce on a vegan Hawaiian bun and the HOLLYWOOD HOOKER, a vegan chopped Philly with jalapeños, bell peppers and caramelized onions, vegan provolone, lettuce, tomato, ketchup & vegan mayo on a hoagie roll, will be available for takeout and delivery.
"This is like a dream come true," said Cole. "I remember working in New York City following my dream, and now almost a decade later, my dream is following me. I am beyond excited to finally sluttify Brooklyn, New York!"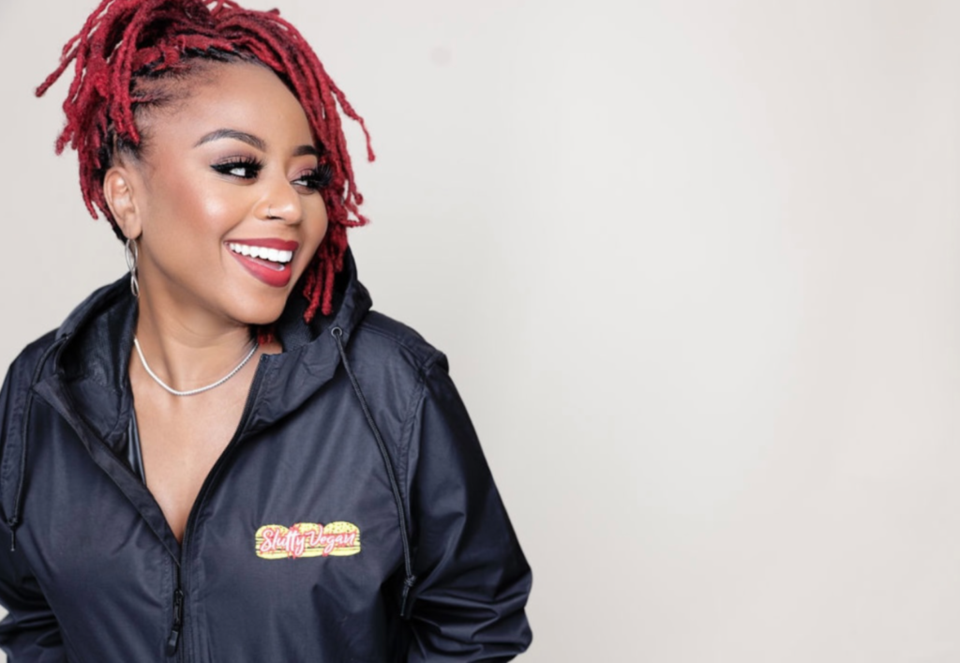 Some of the restaurant's fans who have given it major shout-outs over social media and on t.v. include celebrities Snoop Dogg, Jermaine Dupri, Taraji P. Henson, Tyler Perry, Tiffany Haddish, Queen Latifah and many more.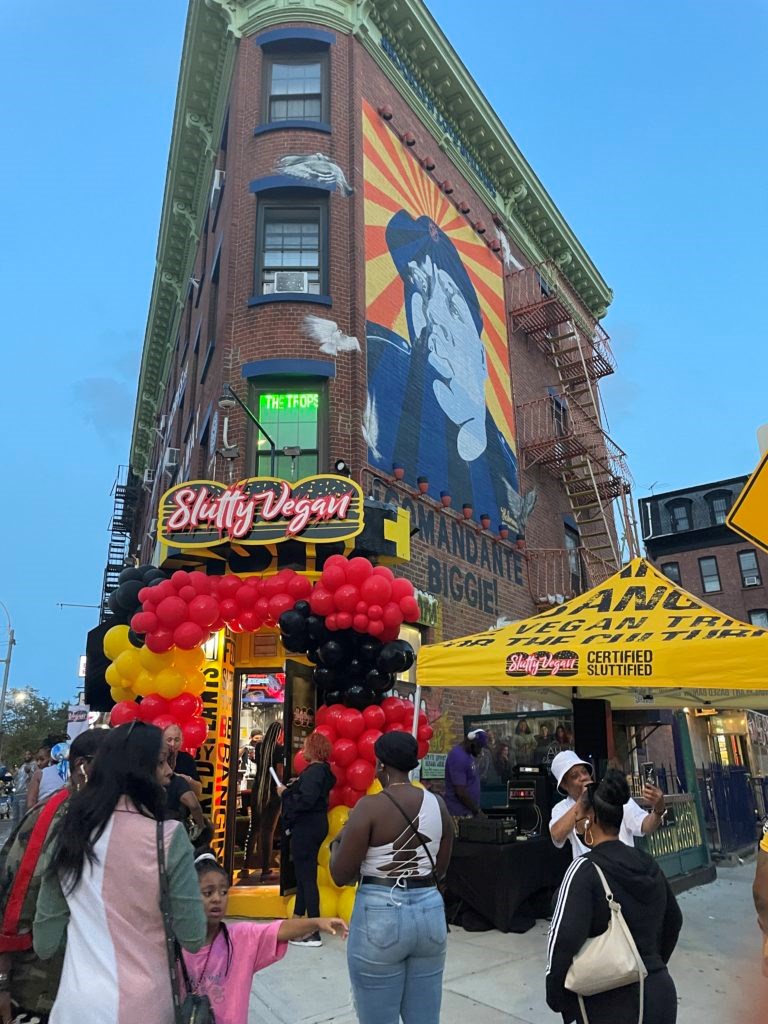 Slutty Vegan was awarded "Best Burger" by VegOut Magazine's 2022 VegOut Awards, and Pinky has been named to Restaurant Hospitality's 2021 Power List, Forbes Next 1000, Entrepreneur Magazine's Top 100 Powerful Women in Business List, LA Wire Influential Women of 2020, PETA's 2021 Most Beautiful Vegan Celebrities List and Atlanta Business Chronicle's 40 Under 40 List.
In May 2022, the booming brand celebrated a $25M Series A fundraising round that resulted in Slutty Vegan's impressive $100M valuation that was dually backed by Enlightened Hospitality Investments (co-founded by Danny Meyer of Union Square Hospitality Group) and New Voices Fund (led by billionaire entrepreneur & ESSENCE Ventures CEO Richelieu Dennis).
And so far, judging from the outpouring of support and the crowds of people queuing up to get their first sample of a slutty special, the burger is not disappointing: "Best vegan burger I've ever had, hands down," said Joy Britto, a vegan patron from Sunset Park who was at the opening day block party. "It's all about that sauce. And the plant-based meat texture and flavor is delicious! I'll be a regular patron. I'll be back"
"That darn burger is everything," added Michelline Chassagne, a vegetarian and Bed-Stuy resident who was attending the block party.
To follow Slutty Vegan on Instagram, go here.