Two major upcoming Supreme Court decisions involving Harvard University and North Carolina University could change college admissions for generations to come.
With a conservative majority in the Supreme Court, the court might overturn long-held affirmative action policies that increase educational opportunities in the college admission process for people who historically have experienced discrimination. The Court's decision in these cases is expected by June.
"I think it'll present a lot of challenges for students," said Nolvia Delgado, executive director of Kaplan Educational Foundation. "But at the same time, I think it'll force people to think creatively."
The Kaplan Educational Foundation is a New York-based nonprofit organization that aids high-achieving Black and Latin American community college students during the transfer process to their four-year institutions. Additionally, the foundation's Kaplan Leadership Program works to develop students' leadership skills and provide specialized career support and counseling.
Delgado said that although the Supreme Court's decision could affect students of color like the ones Kaplan serves, it could also get more students to seriously consider attending community college first as means of navigating higher education.
"Community colleges enroll more economically and racially diverse students, and it's a conduit for upward mobility," Delgado said. "So, I think this presents an opportunity for institutions to consider strengthening the transfer pipeline."
According to CollegeBoard research, around 51% of community college students identify as non-white.
Delgado is an alumnus of the Kaplan Leadership Program herself. The Bushwick native grew up going to New York City public schools and experienced firsthand the hurdles that students of cover must face when navigating higher education.
She told BK Reader that coming out of high school, The City University of New York seemed like the only option for her. After participating in the Kaplan Leadership Program while at Borough of Manhattan Community College, Delgado attended Smith College and went on to work in the nonprofit sector, eventually becoming executive director of the very same nonprofit that helped her in college.
One way Delgado envisions strengthening the community college to four-year institution pipeline is with greater collaboration between schools and community-based organizations and nonprofits.
"As the world reopens, one of the things I noticed that students are facing a lot more challenges. And community-based organizations and nonprofits are equipped with the resources and the tools to support students," Delgado said.
Some fear the consequences of a reversal of affirmative action. Rosa Frias, the first Kaplan scholar to get accepted into medical school, said she is nervous about the potential of race-blind admissions.
"From my point of view, the elimination of affirmative action will undoubtedly result in worsened diversity," said Frias, who grew up in Colombia and attended Kingsborough Community College before going on to receive a bachelor's degree in Neuroscience and Behavior from Mount Holyoke College, and a Medical Doctorate degree from San Juan Bautista School of Medicine in Puerto Rico.
"Unfortunately, we have yet to catch up for the years of systemic unfair and unequal opportunities, and we see this in the disproportionately low percentages of Latinos, African Americans or Native Americans who complete high school, and are accepted to college and complete a four-year degree."
The college enrollment rate was 36% in 2020 for both Black and Hispanic 18-24-year-olds, according to the National Center for Education Statistics.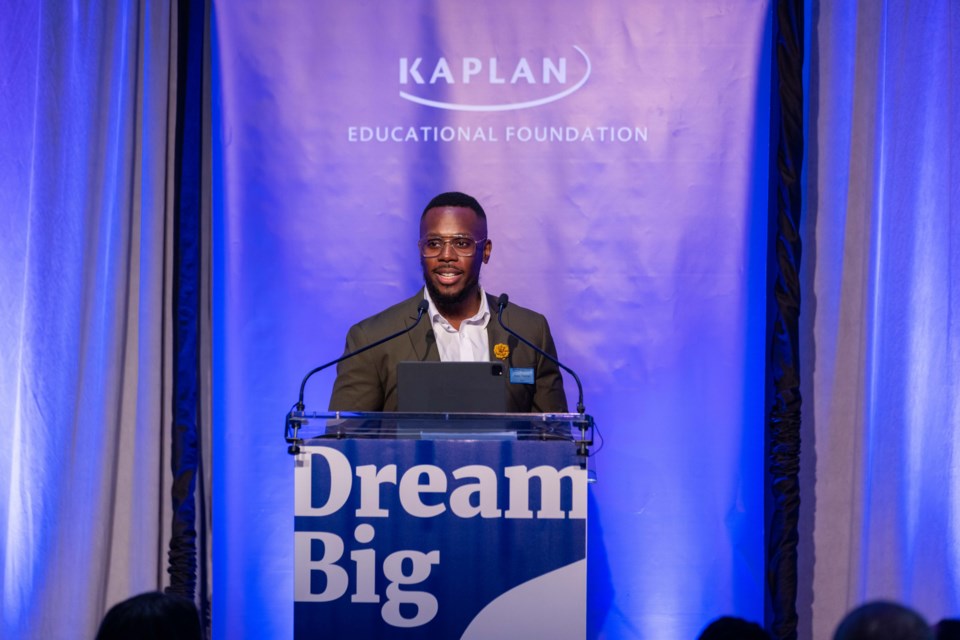 Another Kaplan alumnus, Lavar Thomas, shares some of Frias' concerns.
"When schools begin to not look at race as a criteria for admissions it does create challenges," said Thomas, who also began his college career at Kingsborough and is now an Environmental Justice Coordinator with the U.S. Environmental Protection Agency.
"It doesn't necessarily acknowledge how wealth and economics play into access for students."
Despite the potential impacts of doing away with affirmative action policies, Delgado remains optimistic about the work organization like hers can do to soften the blow.
"This is me looking at the glass half full," Delgado said. "I'm very optimistic about community college transfer being strengthened."