Haiti needs help.
With fatalities now numbering more than 2,000 following Saturday's magnitude 7.2 earthquake, centered 80-miles west of the capital Port-au-Prince, reports are rolling in that aid and supplies have been slow to arrive and residents are being left to fend for themselves.
Although the United Nations, the U.S. and various international aid groups are collecting and sending aid to the country, The New York Times reports that it has been patchy and remained limited to those close to air strips, leaving many on the country's southern peninsula in dire need.
"I don't expect any help, we're on our own," Touric resident Michel Milord told The New York Times. "No one trusts this government here." Milord, a 66-year-old farmer, lost his wife in the earthquake.
More than 12,000 people have been injured and more than 2,189 were killed by the earthquake, which struck on the same fault line as the 2010 earthquake that killed around 250,000 people in the country. The quake came just weeks after the shocking assassination of Haiti's president, Jovenel Moïse, throwing the country further into uncertainty.
In Brooklyn -- a borough that more than 90,000 Haitian-Americans call home — the community is rallying behind those in Haiti, organizing relief efforts of much-needed supplies to send to the country.
On Monday, elected officials and community leaders, including Rev. Al Sharpton and Mayor Bill de Blasio, came together in Flatbush for a prayer vigil and to loudly call for help for Haiti -- and to ensure that help went to the right places.
Following the 2010 earthquake the American Red Cross raised $500 million only to build six permanent homes in the country. Now, officials are being more pointed in where donations should go.
The mayor's office has recommended New Yorkers donate to Ayiti Community Trust, Capracare Haiti, Hope for Haiti and Partners in Health, and Assemblymember Rodneyse Bichotte-Hermelyn is asking the community to drop off supplies at her office at 1312 Flatbush Ave.
Bichotte-Hermelyn, who is a Haitian immigrant representing much of Flatbush where New York's Little Haiti is located, will be holding the relief drive Monday to Friday between 9:20am and 5:00pm. She said the items most needed were canned goods, deodorant, toiletries, toothpaste, tooth brushes, feminine products, combs, hair brushes, baby pampers, wipes and baby food.
"The news coming out of Haiti evokes memories of the 2010 quake that shook Haiti and left the world aghast," Bichotte-Hermelyn said.
"What's troubling is that this is only the latest tragedy in what has become a terrible trifecta: the assassination of the former President Jovenel Moïse, a worsening COVID-19 epidemic, and now, what is possibly the most powerful earthquake in the nation's history."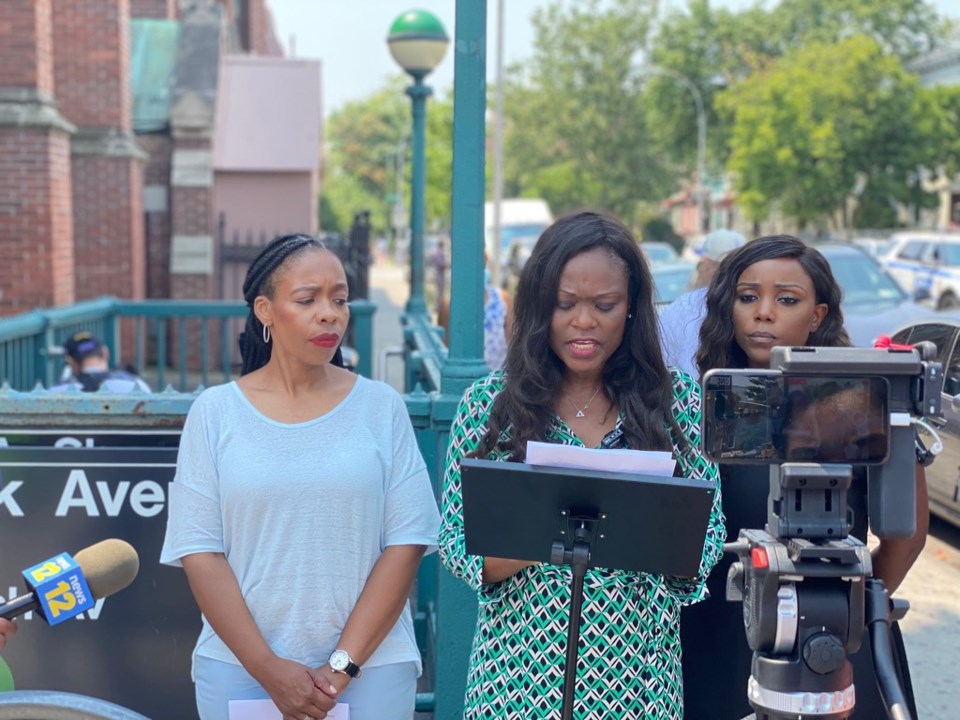 Flatbush Councilmember Farah Louis, the daughter of two Haitian immigrants, has organized grieving and counseling sessions for members of the community, running daily from 9:00am until 5:00pm until August 23.
The sessions are being held at the Haitian American Caucus training center at 495 Flatbush Ave. and the Evangelical Crusade Christian Church at 557 East 31st Street, and are free to attend.
Louis said everyone had to understand it was a difficult time for the Haitian community in New York City.
"Everyone here knows someone in Haiti who is struggling. Everyone here is worried about their family and friends back home. Haitians have had to endure a cycle of trauma over the years, and it has taken a toll," she said.
She added that Haiti had suffered many setbacks in its history, but its people had always remained resolute and resilient in the face of adversity. "Today is no different."
"The Haitian American community stands shoulder to shoulder in support of our Haitian brothers and sisters. And we remain united in our hopes for a brighter future for Haiti," she said.
Public Advocate Jumaane Williams, who previously represented Brooklyn's 45th District in the City Council, called on New York and its residents to provide support at this time of immense pain and suffering, and then beyond into the country's long-term recovery.
"In the past, people and nations have rushed to Haiti's aid in the immediate moment of crisis, when the headlines are fresh and the cameras are present, only to abandon them in the aftermath and invite future crises," he said.
"Just five weeks ago the President of Haiti was assassinated, and while that upheaval is ongoing, the world's attention has not been."
A number of other elected leaders in New York are also organizing a relief drives, including Brooklyn leaders Congresswoman Yvette D. Clarke, Sen. Kevin Parker, assembly members Diana C. Richardson and Mathylde Frontus, Brooklyn District Attorney Eric Gonzalez and Democratic Party Council Member nominee Rita Joseph.
They are calling for baby products and supplies; personal hygiene products; and medical/emergency supplies — tents, sterile gloves, batteries, emergency candles, first aid kits, gauze and bandages, garbage bags, thermometers, flashlights, alcohol pads, small scissors and hand sanitizers, according to Caribbean Life News.
Drop-off locations are open Monday through Friday from 9:00am until 5:00pm at 3021 Tilden Ave., 1st fl.; 2002 Mermaid Ave.; 330 Empire Blvd.; 350 Jay St.; Bridge Multi-Cultural Project, 1894 Flatbush Ave.; Medgar Evers College (Gym), 231 Crown St.; Zanmi Restaurant, 1206 Nostrand Ave.; 1434 Flatbush Ave.; and Madison Boys & Girls Club, 2245 Bedford Ave.