CivLab is a community approach to gentrification, rezoning and city planning, aiming to reactive East New York's Success Garden by integrating the arts into civic life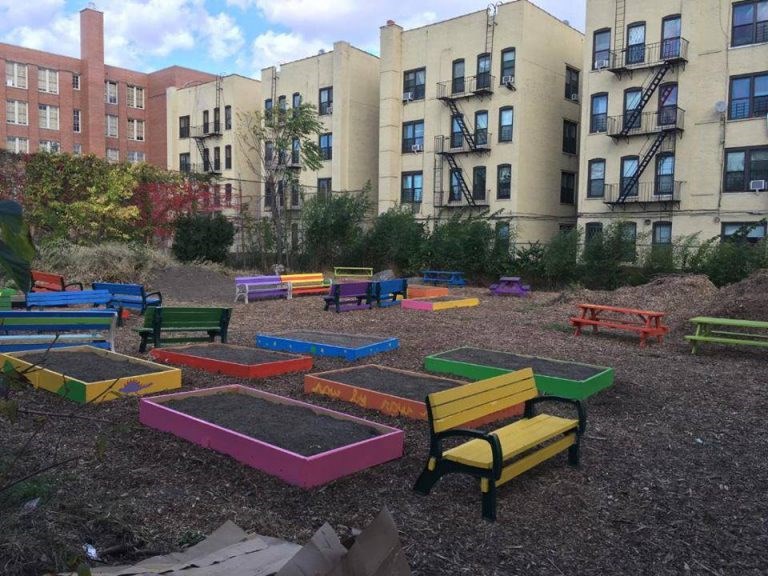 Thanks to the Mayor's Grant for Cultural Impact, ARTs East New York (AENY) and the Department of City Planning (DCP) are partnering to create CivLab, a public space activation project in East New York's Success Garden. In January, ARTs East New York was announced as one of seven partnerships to receive $50,000 in cash support from the Department of Cultural Affairs (DCLA), and an additional $25,000 match from the partnering agency.
"Our CreateNYC cultural plan called for thoughtful, innovative ways to integrate our city's creative energy into public service. Today, we continue to put that into action," said Mayor Bill de Blasio in January when he announced the grants' recipients. "When city government works hand in hand with community anchors, we can deliver the cultural access and equity which all New Yorkers deserve."
ARTs East NY will partner with the DCP to create CivLab, a public space project to reactivate East New York's Sucess Garden. This pilot program seeks to bring together city planners, local artists and residents to better integrate the arts into civic life, building on the city's East New York Neighborhood Plan. The project will revive an underused portion of Success Garden, a large 40,000-square-foot community garden that functioned successfully for decades but had been left unattended for years. While building off of the city's rezoning of the neighborhood for higher density and more affordable housing, the project will also try to integrate the arts into civic life.
"We are excited to take part in this extension of the CreateNYC Cultural Plan. This initiative will allow us to deepen our work with community members in revitalizing vacant spaces in the East New York community, replacing them with reflective beauty and pride," said Catherine Green, founder and executive director of ARTs East New York.
AENY is inviting interested community members to find out more about CivLab and how to become apart of the CivLab Creators Cohort at the upcoming information sessions on Wednesday, February 21 at New Lots Library and on Thursday, March 8 at ARTs East New York. All Community Creators will have the opportunity to attend planning workshops, an off-site trip with DCP and be involved with choosing a public art installation to be displayed in the garden. AENY and DCP have until June 30 to carry out their program.
ARTs East New York CivLab Community Creator info sessions
Wednesday, February 21st 6:30-8: 30 pm | New Lots Library, 665 New Lots Avenue, Brooklyn, NY 11207
Thursday, March 8 | 6:00 pm -8:00 pm | ARTs East New York, 534 Livonia Avenue, Brooklyn, NY 11207