Tucked away on Bergen Street in Park Slope, one might accidentally walk past Bar Goto Niban's sleek, no-frills storefront without batting an eye...
But inside, Kenta and Sarah Goto's Japanese cocktails and snacks—featuring niche flavors such as oolong, miso, and plum—are indelible.
Ni-ban means second in Japanese. Bar Goto Niban, which opened in January 2020, is the sister bar of Kenta and Sarah Goto's Bar Goto on the Lower East Side.
Though the Brooklyn location's space is bigger with a 16-seat bar, bringing the capacity to 40 people, the intimacy that the LES Bar Goto cultivated is preserved with Niban's dim lighting and dark wood shelves. Hand-painted wallpaper depicting a Japanese garden surrounds the diners, which is accentuated by the otherwise minimalist decor.
Bar Goto rose to fame through its innovative and diverse cocktails, so it's not a surprise that Kenta Goto's concoctions at Bar Goto Niban lives up to the hype. Each drink is subtly infused with Japanese flavors, whether it be shiso, a Southeast Asian herb reminiscent of basil and cilantro, or dashi salt, derived from a savory soup base.
For those who prefer alcohol-forward drinks, the Sakura Martini adds a floral hint to a classic cocktail, mixing sake, gin, maraschino and cherry blossom. As someone with a prominent sweet tooth, I leaned more towards the fruity drinks like Melon Ball, which featured gin, Calpico, honeydew, lemon and pastis.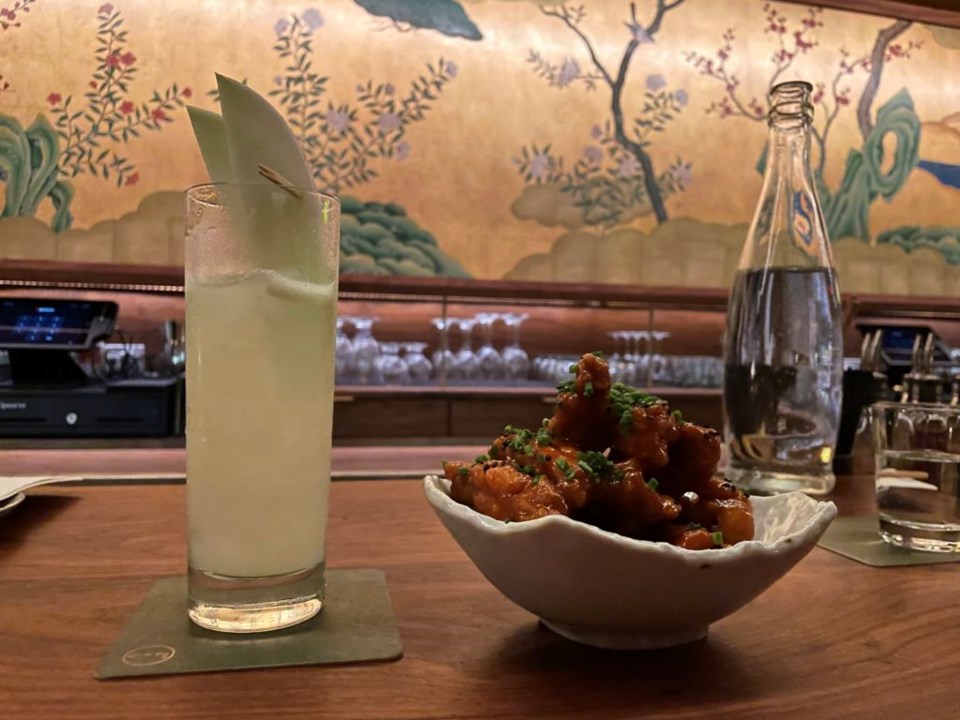 In the kitchen, Bar Goto's mastery lies in transforming classic bar snacks into unique bites packed with umami Japanese flavors. Both location's menus contain Goto's renowned spicy miso-drenched wings, which are topped with chives and sesame for extra flavor, making Eater NY's list of 14 Superior Wings in NYC.
Paired with the light celery salad, which adds texture with salted kombu, or dried sea kelp not unlike seaweed, patrons can expect a refreshing yet filling dining experience.
Other menu favorites are the three types of korokke, or Japanese croquettes: classic, with slow-cooked potato, beef, onion and ginger; chizu, with potato, bechamel, gruyère and parmesan; and kare raisu, with Japanese curry rice and sundried tomato. With two croquettes per order, korokke is perfect for sharing.
Bar Goto Niban is open Tuesday through Thursday from 5:00pm to 12:00am, Friday through Saturday from 5:00pm to 1:00am, and Sunday from 5:00pm to 10:00pm.