The room was packed with residents displaying an interesting mix of warmth, excitement and frustration at City Council Majority Leader Laurie Cumbo's Town Hall meeting on Thursday.
City Council Speaker Corey Johnson joined Cumbo for the meeting at Medgar Evers College Prep in Crown Heights where residents, community leaders and a number of advocacy organizations gathered, eager for a chance to speak publicly and directly to the councilwoman about the State of District 35.
Crumbling sidewalks, dangerous intersections, the loss of trees in Fort Greene Park-- all were important hyperlocal issues raised. However, those issues ultimately took a major back seat to what more residents expressed over and over as their greatest concern: affordable housing.
For every question about sanitation or traffic safety or trees being cut down in Fort Greene Park, three more were raised about what the councilwoman was doing to address the housing crisis in New York City where, from 2005 to 2017, more than 400,000 apartments renting for less than $1,000 have disappeared from the housing inventory, while median rents have gone up by 75 percent.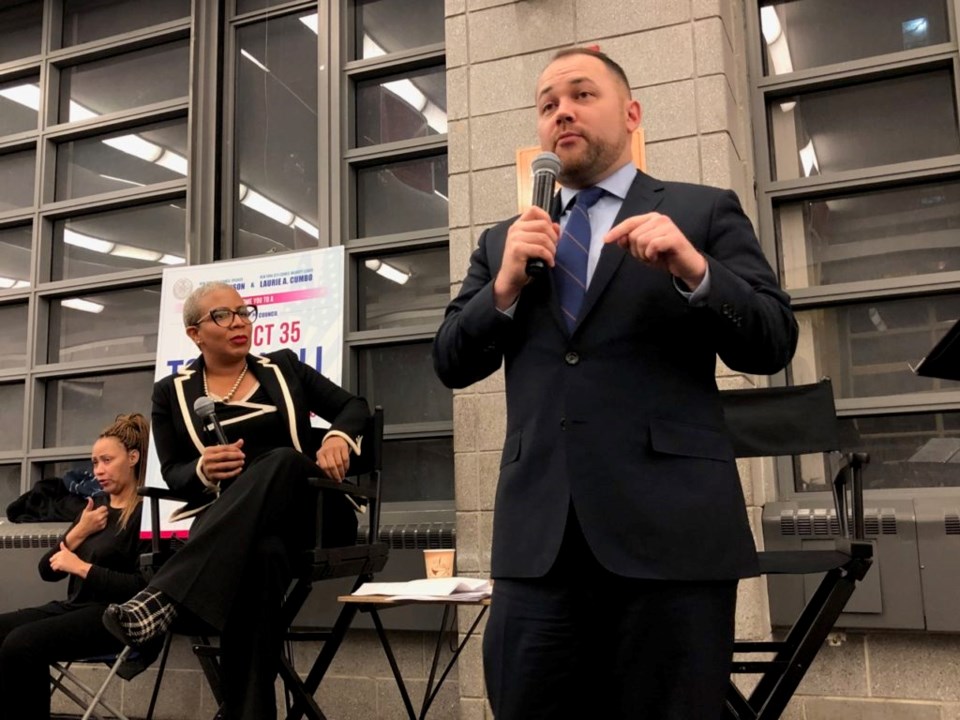 Johnson introduced Cumbo, highlighting some of her past and most recent accomplishments in the council on behalf of her district. However, when he mentioned the majority leader's fight around housing, his statement was met with light laughter.
Cumbo responded, pointing out her most recent successful negotiation surrounding the Carroll and Crown street lots near Franklin Avenue, where developers Cornell Realty Management and Carmel Partners want to build two luxury towers with a small portion of units set aside as affordable. Opponents argued the towers would cast harmful shadows on the adjacent Brooklyn Botanic Gardens. For months, the project stalled, awaiting an up-zoning approval from the city council. Cumbo had been asking the developers first include more affordable housing.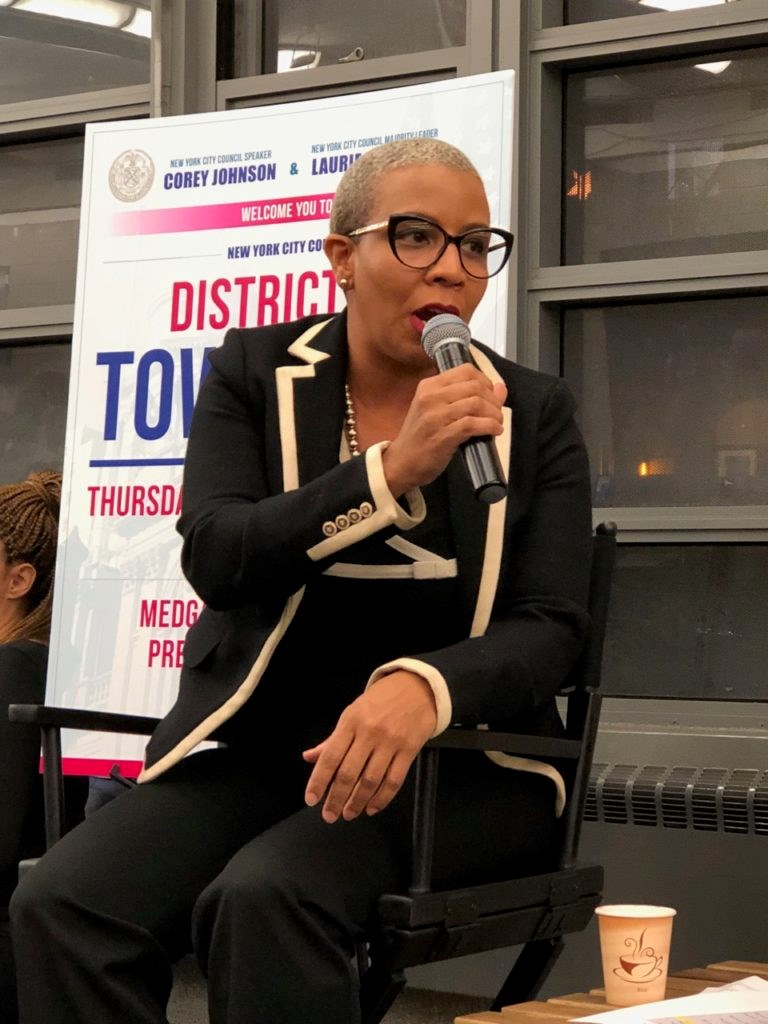 "Today, we were able to vote on increasing the amount of affordable housing from 140 units to 258 units with an average AMI of 60 percent. A 60 percent AMI for a family of four is approximately two people making minimum wage living in New York City," said Cumbo of her recent victory.
"It's something that I've never seen before. It's now a 40 percent affordable project. When I came into this deal, I thought I would have voted it down, which would have meant that we would have had 278 luxury condominiums that start at $900,000. So this is huge win and victory for our community."
"And you know the majority leader is doing a good job when the developer was calling the speaker's office saying 'Laurie Cumbo was being unreasonable in her asks,'" Johnson told reporters earlier. "Well, ultimately, they must have thought it was reasonable, because they got to what she was asking for."
It was good news for some of those long-time opponents of the Cornell-Carmel project. But for others, the complaints around housing were just warming up. Other personal stories detailed illegal foreclosures; shoddy landlords; the third-party transfer system; persistent mold, lead and broken elevators in NYCHA buildings and a "questionable" housing lottery system.
One young resident, a recent college graduate, shared he was accepted through the housing lottery for an apartment at 333 Schermerhorn. He said he was later denied because of his outstanding student loan.
"I pay it off every month, but I don't think a person should be denied on the fact they have a student loan. That tells me that going to college was a waste."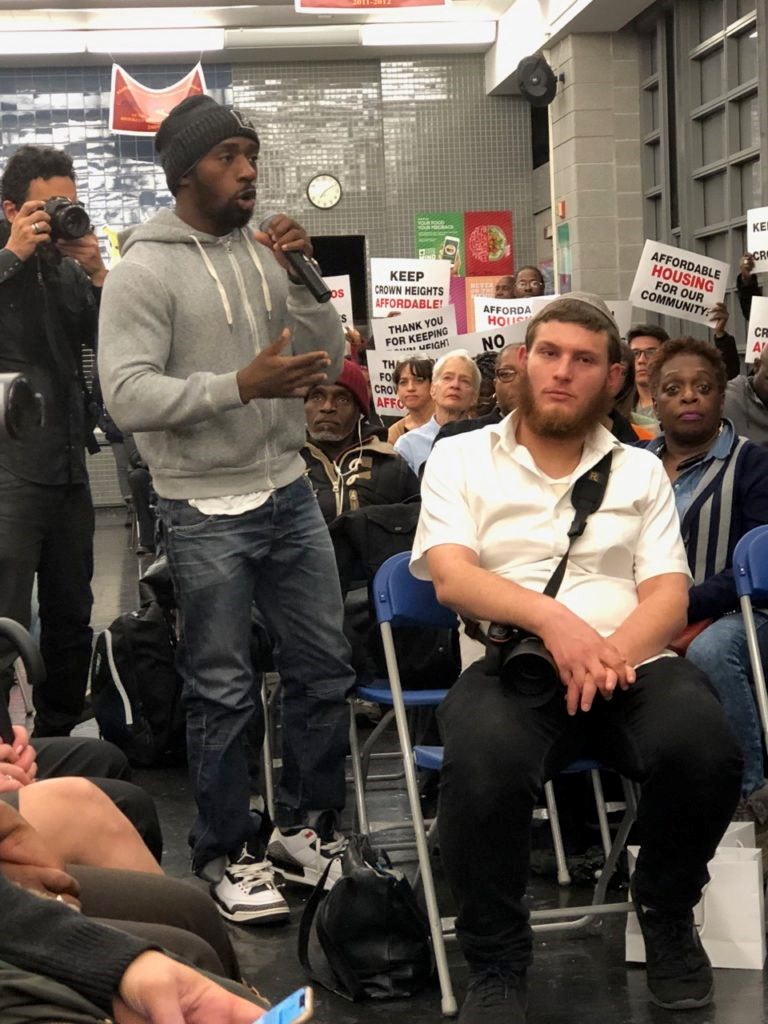 Cumbo said the council would be holding a hearing, "either in January or February of 2019" on revamping the housing lottery program. "We want to pull back the layers," she said.
Cumbo and Johnson were careful to respond to most complaints with sympathy while pointing out the progress they were making or by explaining their own frustrations with circumventing the red tape in City Hall.
Another resident griped, "You don't have to look hard to find sidewalks that are so broken that someone with a wheelchair or walker cannot traverse them.
"You don't have to look very hard to find any intersection that doesn't have auditory cues so blind people can access them," she added.
"The Americans with Disabilities Act was enacted 28 years ago. How much longer will disable New Yorkers have to wait for the rights they're legally entitled to?"
The city's laws dictate that certain areas of sidewalks that are in front of private buildings are not considered the city's responsibility, explained Johnson. The owner is required to fix the sidewalk in front of their building. The city council this year secured $150 million in capital funding to make schools more accessible to the disabled, he added.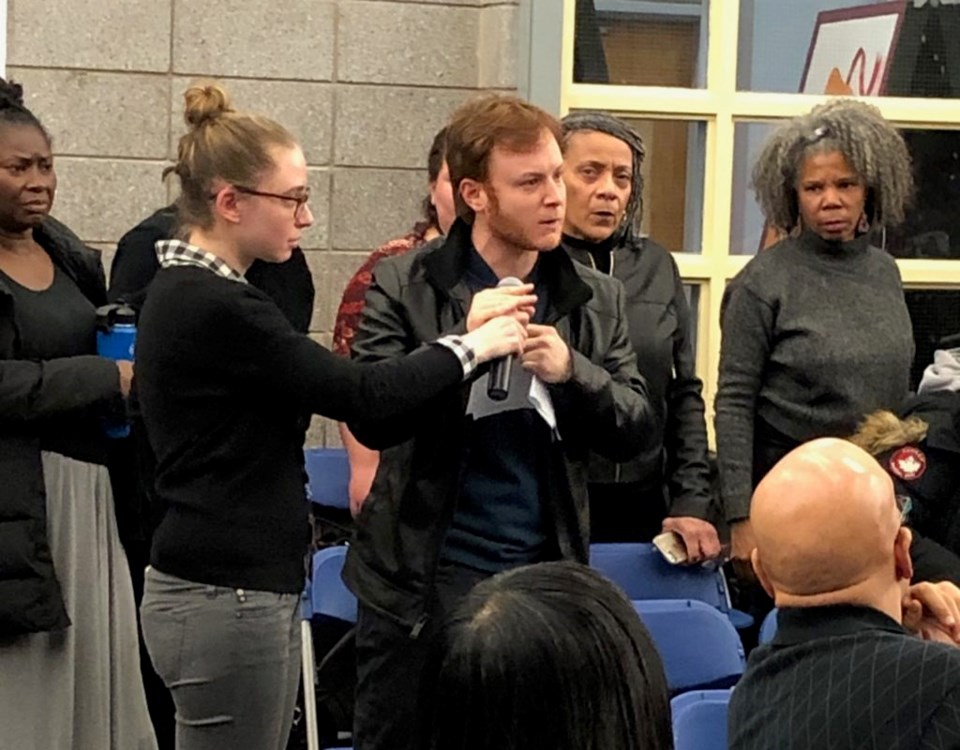 A representative from the group Friends of Fort Greene Park stood up to complain about the city's decision to cut down 71 adult "pollution-absorbing" trees in Fort Greene Park. "What is the justification for this?" the resident asked Cumbo. "So that you can see the unobstructed view of the monument? What are you doing to stop this arboricide in our premium park?"
Cumbo responded, "This is an opportunity to bring over $10 million in resources to a park that hasn't had renovations since the 1970s. The issue with the removal of those particular trees, part of it that is not often told in these types of conversations is that for every tree that will be removed will be replace by three additional trees."
"You cannot compare saplings with 40- to 60-foot shade trees in a park," the woman countered. "You cannot make a comparison, in terms of the pollution they draw back."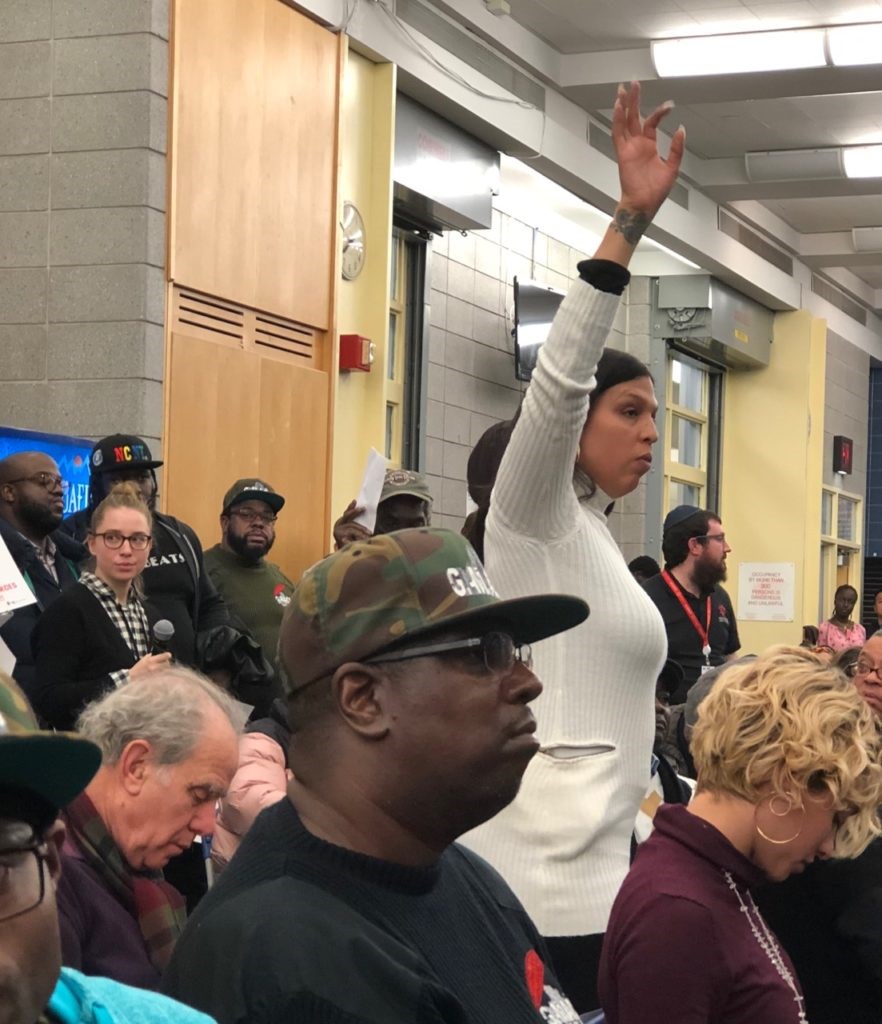 "I support the renovation of this park," continued Cumbo. "It's going to create new athletic opportunities, new sprinkler systems; it's going to now be handicap accessible. I know that your organization has filed a law suit, so all we have to do now is let the court decide."
Cumbo also pointed to some of her most recent legislative successes, including increasing the Summer Youth Employment program from 28,000 to 80,000 local young people who now have summer jobs.
"And we're not going to stop until every single child that applies has a job," said Cumbo.
"Also, we just passed a very significant package of bills that help mothers and children; we're about to pass a package of bills that deal with lead in housing.
"Also, it's really important for us to talk about what happened last Friday," said Cumbo, referring to 23-year-old Jazmine Headley, whose son was torn from her arms by officers following an altercation at an HR office in the 35th District. Cumbo led a a rally outside City Hall on Tuesday calling on the mayor to encourage an investigation into the matter.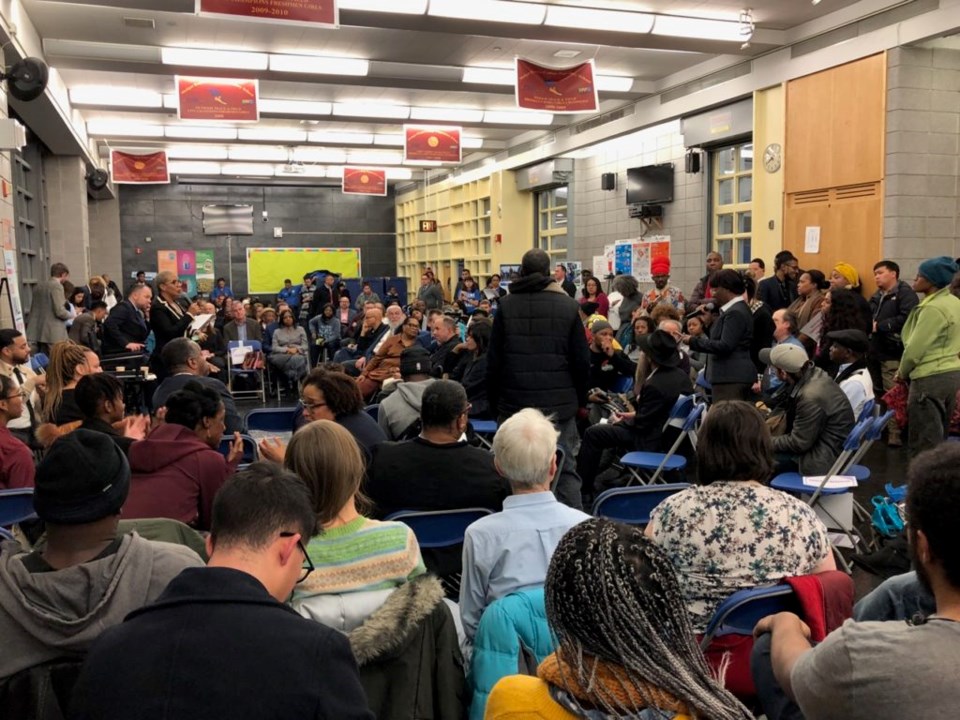 "Why was the mother waiting for 4 hours? Why were there not enough chairs for people to sit? Why were the peace officers behaving in that way? And why was the NYPD even called to begin with?" asked Johnson. "What happened was unacceptable. So we're going to have hearings in City Council about the operation."
One tenant hinted at not seeing Cumbo at community board committee meetings where she was requested to advise and update tenants on some of the more controversial housing projects in the district: "I know you're very busy, you're a new mother, but I feel like it's difficult to take in good faith a negotiation where we haven't had any opportunity to interact with you," he said.
"I'll be honest with you, the first year has been a bit challenging. I've been trying to get around as effectively as possible," responded Cumbo, who is a new mother of a one-year-old. "But you will see a more visible Laurie Cumbo in 2019. I do appreciate you bringing that up and I thank you for that."