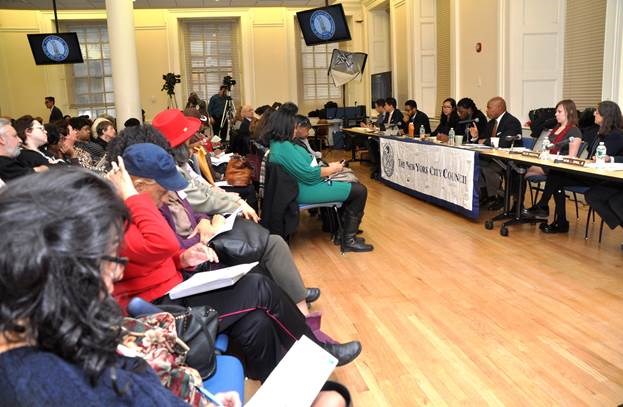 Mitchell-Lama housing, a statewide program created in 1955 that supported the construction of 105,000 units of affordable housing — of which 18,000 are located in Brooklyn — for middle-income residents, in recent years has seen a steady decline in its number of available units.
According to state records, in just a six-year span between 2003 and 2009, the number of Mitchell-Lama complexes decreased from 135 to 97 because of privatization and buy-outs.
Designed to encourage private developers to invest in housing developments that are subject to government regulations, the program was once a huge success. But in today's hyper-development climate, a lot is changing: Property owners are slowly converting units to market-rate and subsequently imposing dramatic rent increases.
To address this problem, on Tuesday, Council Member Jumaane D. Williams, chair of the Committee on Housing and Buildings, and Brooklyn Borough President Eric L. Adams co-hosted an oversight hearing on the program at Brooklyn Borough Hall, where more than 300 Brooklynites came out to testify on their experiences with the program and concerns with maintaining the affordability of their housing.
"New York City — and Brooklyn in particular — is facing an affordable housing crisis, and there is no better place to focus on the preservation of these precious units than in our Mitchell-Lama complexes," wrote Borough President Adams.
"Attacks on [this] affordable housing stock are unacceptable; HPD and DHCR must do more to support these developments and protect the affordability for current and future residents — not [throwing] roadblocks to affordability through policy changes."
As a part of his affordable housing agenda, Adams formed a Brooklyn Mitchell-Lama Task Force, comprised of community leaders living in developments across the borough. The task force works to persuade the State Legislature and the City Council to protect at-risk units from privatization.
In his testimony to the City Council, Adams outlined a series of recommendations to support the at-risk housing stock, including:
Regular oversight hearings to hold the New York City Housing Preservation and Development (HPD) accountable
Comprehensive management training and education from HPD for development board members
Increased low-cost financing from both York City Housing Development Corporation (HDC) for capital improvements to developments
The establishment by New York State Division of Housing and Community Renewal (DHCR) of its own low-cost financing program for Mitchell-Lama housing
Also attending the hearing were several City Council Members whose districts have been deeply impacted by the affordable housing crisis, including Robert Cornegy (36th District), Laurie Cumbo (35th District), Mark Levine (7th District), Helen Rosenthal (6th District) and Rafael Espinal, Jr. (37th District).
"Today's Mitchell-Lama hearing exposed many flaws in the system that need to be fixed — most importantly, that some managing companies and boards do not have the tenants' best interests in mind," said Council Member Helen Rosenthal.
"Their actions result in the loss of affordable housing. The hearing was a reminder that interested residents should add their names to the Mitchell-Lama wait list using HPD's Mitchell-Lama Connect, which can be found online. We must close every loophole to ensure the permanence of affordable housing. I am grateful to Borough President Adams for hosting and Chair Williams for leading this hearing."