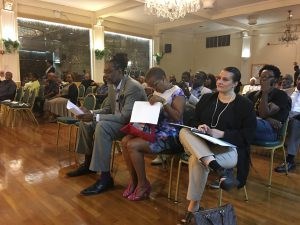 According to The Black Institute, a Manhattan-based think tank for social justice, residents of color in New York City account for 65 percent of the city's population, yet black-owned businesses received less than 5 percent of the city's contracts.
"That's outrageous," said Bertha Lewis, founder and executive director of The Black Institute. "Sixty-five percent of us are paying into a tax system that funds these city agencies, yet we're receiving a fraction of the contracts."
Thursday night, Lewis, in conjunction with the Black Latino and Asian Caucus, held a town hall meeting at First Baptist Church of Crown Heights, inviting owners of Minority- and Women-Owned Business Enterprises (M/WBEs) to weigh in on some of the specific issues they've experienced in trying to secure contracts and financing from the network of banks and city agencies that for decades have shut them out.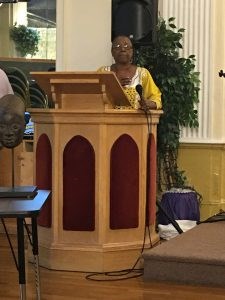 Also attending the meeting were City Councilmembers Laurie Cumbo, Robert Cornegy and Antonio Reynoso, along with Assemblyman Walter Mosley and State Senator Jesse Hamilton. On the panel were three successful business owners of M/WBEs who shared their stories of the challenges they faced in trying to secure funding.
The landscape is abysmal, as far as the number of contracts that go to MWBEs, said Cornegy, who is the chair of the Small Business Committee in the City Council and the co-chair of the Black Latino and Asian Caucus. "It's almost embarrassing at this point, as far as what we've been able to [not] accomplish in the last decade," adding that he is working through both the Small Business Committee and the Caucus, hand-in-hand with TBI, to pressure Mayor Bill de Blasio take substantive steps in addressing the problem.
"This MWBE fight is one of social justice and economic empowerment. Access to capital and access to technical assistance to small businesses creates jobs," said Cornegy. "I read a statistic that if businesses, like the ones that are in this room, could hire at least one person full-time, you could decrease unemployment by 50 percent."
"We are really not a minority; we are a majority in the city of New York," said Cumbo, who is chair of the Women's Caucus in the City Council. "So if we think of ourselves as minorities and the title 'minorities,' we begin to be accepting of a minority share of resources. We need to begin to change our vocabulary and our narrative so that we see ourselves as the majority we truly are, with a significant history and contribution to City of New York."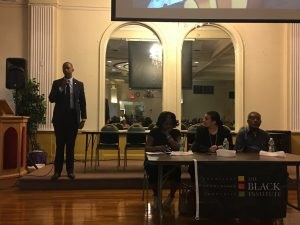 "We've got to have minimum standards," said Lewis, "because we are talking about being locked out of a system of wealth creation."
She went on to explain how hedge funds in the city are not investing in M/WBEs, and depository banks not are giving M/WBEs fair loans. Minority and women-owned businesses, as a result, open their doors with half of the average capital of a non-minority firm owned by men.
In June 2016, the Black Institute published a report entitled, "Access Denied," that addresses capital discrimination towards New York's M/WBEs and recommends policies and practices that would end discriminatory capital. To download the report, go here.
Lewis said that TBI is working with Comptrollers Scott Stringer and Thomas DiNapoli, requesting they help allocate 1 percent of the city and state's pension funds towards investment in New York's M/WBEs. This would create a pool of $3.4 billion "for direct investment into M/WBEs in our community," said Lewis.
Lewis also is asking that that depository banks are directed by the State to create a $1.6 billion fund for fair rate loans to NY M/WBEs and that depository banks are diversified to include more black-owned lenders.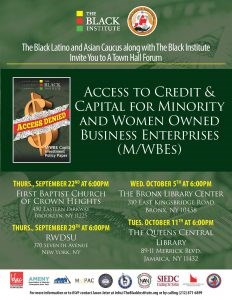 Cumbo said she also has created a menu of legislation that addresses wealth disparity in the communities, including two bills that speak specifically to M/WBEs: Intro 981B would create an oversight board for M/WBE contracting; and Intro 923A, a local that will require the Department of Small Business Services to submit an annual report regarding the satisfaction of MWBE goals.
Cumbo said that a thriving minority small business community goes a long way in changing how young people view their future job prospects, because they would begin to see themselves as potential entrepreneurs.
"We have so many social ills throughout our community. I'm passionate about this issue, because if we could get this one right, if we could change the dynamic of resources in our community, we would be able to create jobs, create a pipeline of education and change how young people see themselves, see their future."
TBI and the Black Latino and Asian Caucus will hold three more town hall forums-- one each in Manhattan, Queens and the Bronx-- in the coming weeks. For more information, visit www.theblackinstitute.org.