Fifteen years ago this month, Brooklyn's Frantz Metellus opened Rustik Tavern, a neighborhood restaurant and bar he hoped would fill a much-needed gap in Clinton Hill and Bed-Stuy.
Today — after weathering a global financial crisis, a pandemic, and the daily struggles of being a restaurant in New York City — Rustik is a beloved community staple that regulars simply describe as "special."
Along the way, like many New York restaurants, it's also found itself hundreds of thousands of dollars in debt. But Metellus assures customers: Rustik is not going anywhere.
"Rustik is good. Rustik is only going to get better," he said.
A tavern that feels like grandma's house
When BK Reader stepped into the tavern at 471 Dekalb Ave. this past weekend, Metellus was "not making a big hoopla" about its birthday.
There were no balloons, no banners. Just Metellus doing what he's done every Friday for the past 15 years: greeting every customer, many by name — he knows "thousands" — and making sure everyone was comfortable.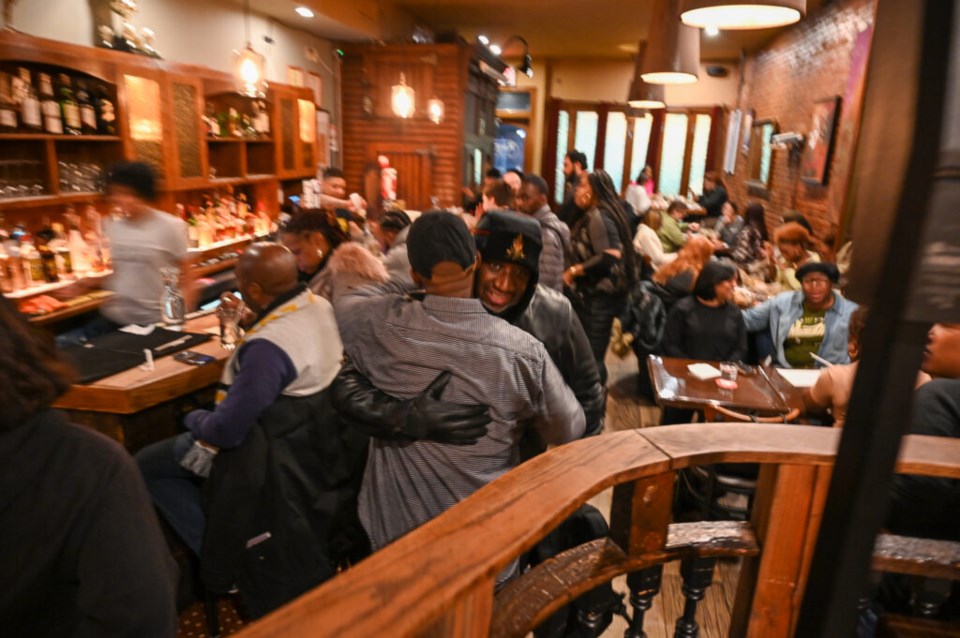 "You really do walk in and you feel like you're at grandma's house — you know everyone and everyone knows you," Metellus said.
"We're a regular, simple, very good, very fun and very easy-going place."
Metellus had been working as a real estate attorney for 10 years when he decided to open Rustik. He didn't have much experience in hospitality, just two years working as a waiter, but he had business experience and felt the neighborhood desperately needed a place for people to "sit down and have a decent time."
He used his savings and opened Rustik Tavern on Super Bowl weekend, 2008. It was a good day, for a few reasons.
"The Giants -- my favorite team -- was in the Super Bowl, and we beat Tom Brady for the first time," Metellus recalled.
"It was the greatest time. And I opened a restaurant, surprisingly."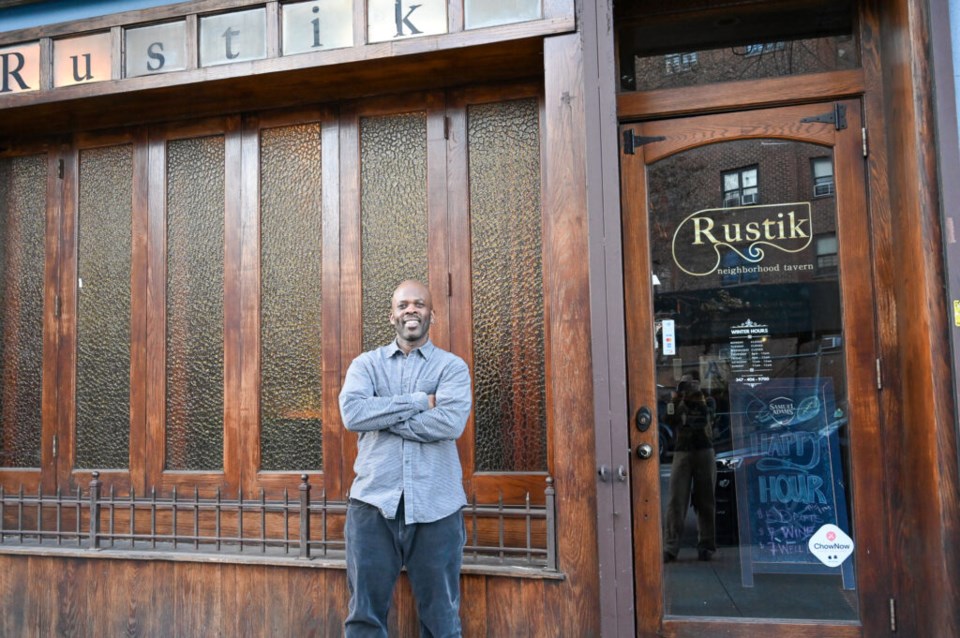 Over the years, Rustik has become an essential part of the community, often functioning like a town square.
It's a meeting place for people running for office and local elected officials, including Laurie Cumbo, Eric Adams and Letitia James. One of the best nights at Rustik was when Barack Obama was first elected president, Metellus said.
"It was amazing; hugging and loving and screaming and utter joy."
Rustik is also a place for community events. It hosts a wedding at least once a year, Super Bowls — of course — and is designed to be a comfortable spot where everyone is welcomed with open arms for a drink and a meal.
"Over the years you get to meet these people, and they're part of your life, they're a part of your fabric, you get to know so much about them," Metellus said.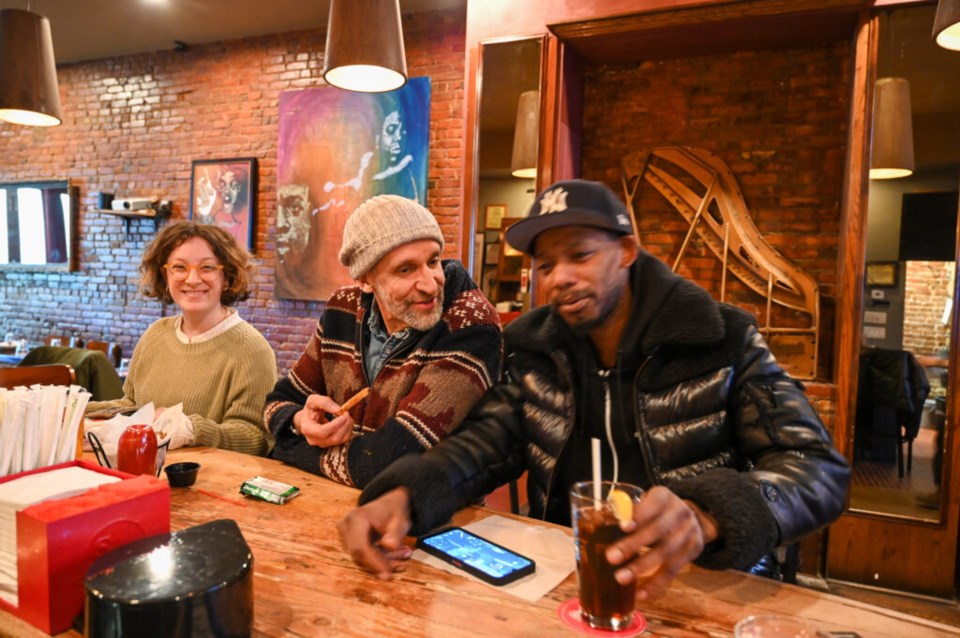 Rustik has also held a Friday happy hour for teachers since it opened.
"I feel like this establishment is a special place," teacher and 13-year regular Paul Joseph told BK Reader.
"We teach up the road, and the whole building congregates here. For me, it's really a place of civic life and community, and it's been amazing."
Joseph pointed to another regular at the bar.
"I met that man over there, he introduced me to my wife; we have a kid now. This place is literally baked into the story of my family, and not just me, other people I know, too."
Rustik is ready to come back strong
Rustik has weathered a few financial storms in its time, but the establishment has recently found itself more than half a million dollars in debt. It's more than Metellus has ever faced before.
He attributes this to loans taken out during the pandemic, repairs, the costs of navigating the pandemic — including staffing shortages — and consumers' habits changing after long lockdowns.
Despite this, Metellus is certain Rustik will only continue to improve.
"Rustik isn't closing. We've been through too much," he said.
"The sky is falling for everyone in business at some point. The sky has fallen for us like a million times, we know how to deal with it."
Thankfully, Metellus owns the building that Rustik is in. His debt is spread over monthly payments for "a very long time," but he hoped the city could ease off on regulatory fines. He said he's lucky to be a part of Phi Beta Sigma Fraternity Incorporated, a Black Greek letter "Divine Nine" fraternity that has held him down over the years.
"I don't think I would still be open today if it wasn't for that," he said.
"They're everywhere: presidents of this, VPs of that, and they all meet at Rustik."
Delicious food and great vibes
And you can see why. Rustik is a cozy, woody tavern with a long bar, several high and low tables, and a raised DJ platform. Out the back is a large courtyard, which Metellus opens up in the warmer months.
The menu has stayed fairly similar over the years, Metellus said, mainly because there are some staples that can't come off "because the customers would kill me."
These include chicken and waffles, shrimp and grits and wings.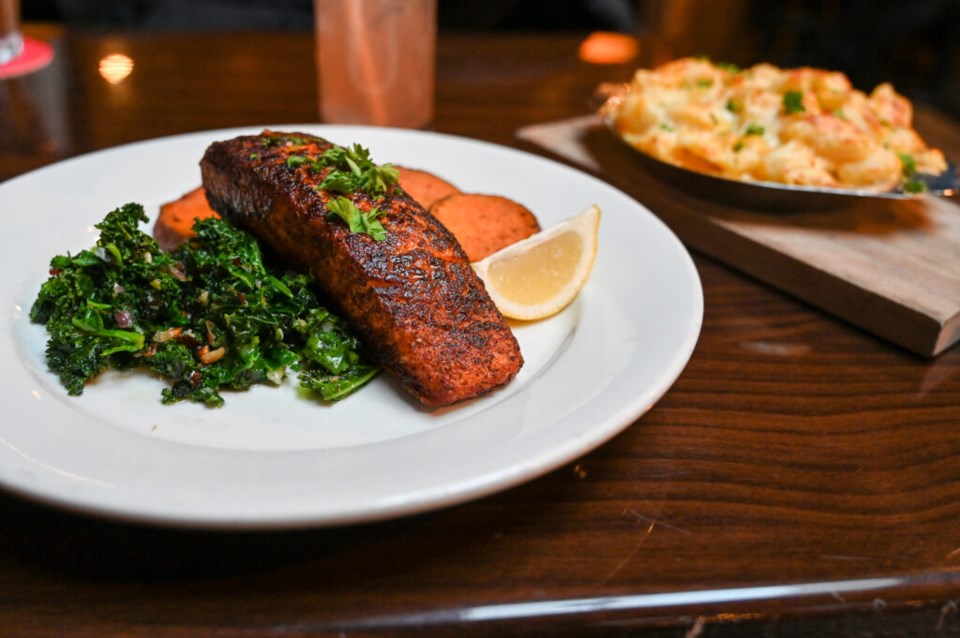 Metellus may call Rustik "regular," but the food is exceptional.
BK Reader recommends the grilled salmon — skin crisped to perfection — served with a beautifully-dressed kale salad with toasted garlic, and warm sweet potato. The mac 'n cheese is top-notch. Made with pasta shells, the dish is rich, creamy, and topped with the ideal crispy cheese crust.
By the time we'd finished up, a DJ was playing — shouting out the teachers on the mic — the tavern was packed, and BK Reader didn't want to leave.
"Yeah, I'm the owner, but I don't even think I can take credit for it," Metellus said.
"I think this place just sometimes has its own spirit and its own magic in and of itself that I can't control."
In the summer, Rustik will open another location at Brooklyn Navy Yard. Its winter hours are Thursdays 4:00pm-12:00am, Fridays 3:00pm-12:00am and Saturdays and Sundays from 11:00am-12:00am.