A brand new Target store opened last week in Flatbush, but neighbors have mixed feelings about it—about half of the store's products are behind anti-theft barriers accessible only by an employee's key.
Unlike the other Target stores across the city, where only the electronics and a few select items are in anti-theft boxes; at the Target on the corner of Flatbush Avenue and Church Avenue, everything from baby formula and fabric softener, to face wash and toothpaste is behind plexiglass, including both generic items and name brands.
BK Reader counted at least 9 of the 15 aisles-- not including the clothing section-- housed more than 3 locked shelves. And in 5 of those aisles, more than 50% of the products were locked up.
Stacy Richards, a Flatbush local, said that for Target to open a store in Flatbush—a majority Black and Brown neighborhood—with severe anti-theft measures is falsely criminalizing the neighborhood.
 "I find it very weird how Target moves onto Church Avenue and Flatbush Avenue, and this is the only Target I've ever been in that has a lock on their cleaning supplies and laundry supplies," Richards said in an Instagram video posted on July 17, the day the store had its grand opening.
"Like what? Seriously? Come on now, Target. What are you trying to say? Because you're on Flatbush and Church Avenue you're going to put a lock?" .
Richards' video was posted by the official Little Caribbean Instagram account where it got over 10,000 views and 330 comments.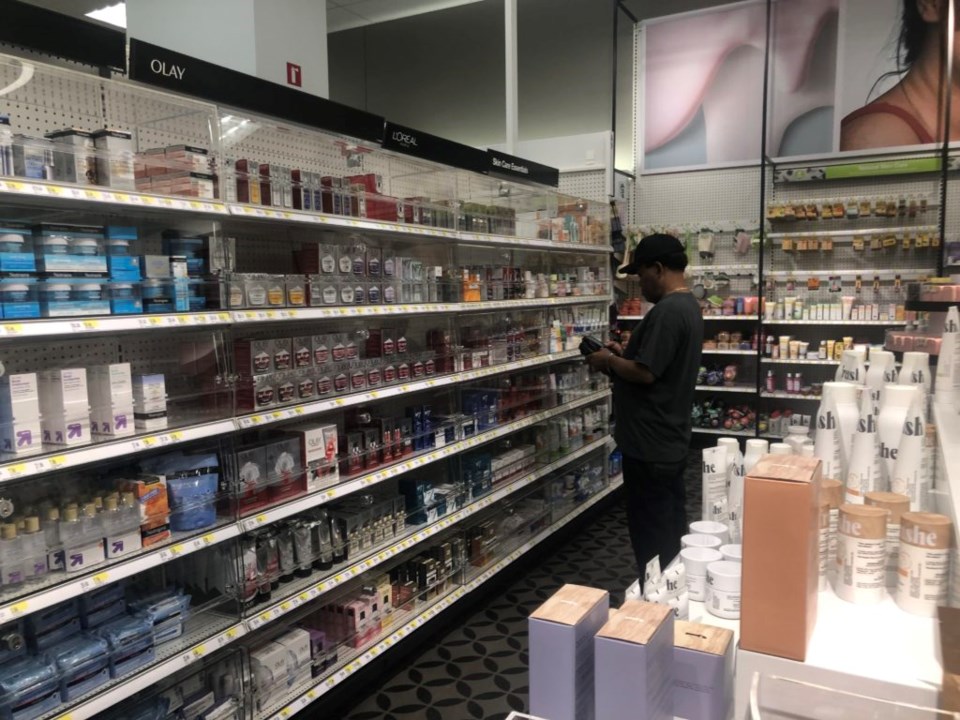 Shelley Worrell, who runs the account and was one of the community leaders behind the mission to officially name Flatbush 'Little Caribbean' in 2017, said that these anti-theft measures represented stereotyping and discrimination of the neighborhood.
"This is a very Black and Brown neighborhood and it just feels blatantly disrespectful to our community—it's disgusting," Worrell said.
"There are some people who are like 'Well this has been happening since the pandemic, and this happens in other stores.' However, a lot of people feel like this is treating the community like we're hoodlums and thieves," Worrell said.
"One or two people are even commenting calling for a boycott."
The Flatbush Target store manager, Idala Carranza, said the barriers were to protect inventory. "We want to have the products in stock for our guests," Carranza said.
For one Sunday Target shopper, the anti-theft boxes were no big deal and, at worst, an inconvenience.
"I understand the need, because people sometimes swipe, but it doesn't necessarily bother me," said Blair, who agreed to comment with her first name only for privacy reasons.
"However, it is really annoying because there is no call button [to open the boxes], so you have to hunt someone down. The last Target I went to was the Downtown Target and it wasn't like this—it's a lot more open," said Blair, who recently moved to Flatbush from the Bronx.
BK Reader did find one call button, but was informed by a Target employee that it actually was not working.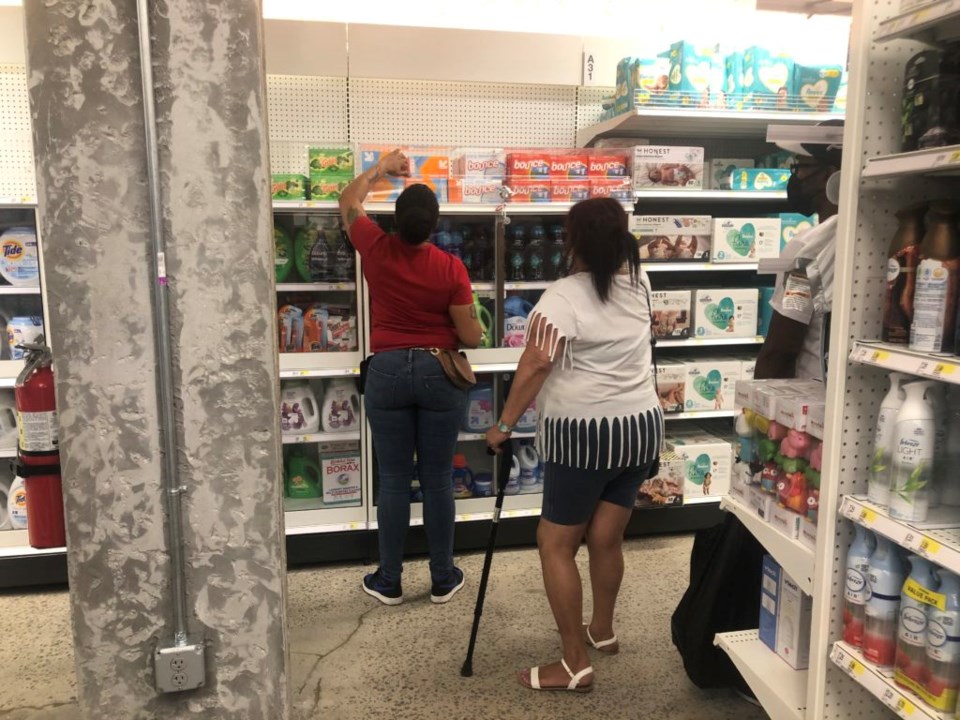 Between January 1 and July 3, 2022, there were 730 robberies at commercial locations citywide, compared to last year's citywide numbers of 350 commercial robberies during the same timeframe, according to the New York Police Department's Deputy Commissioner of Public Information, Julian Phillips.
In Precinct 70, where the Flatbush Target is located, grand larceny is up by 19%, compared to last year's numbers. And petit larceny is down by 2% year-to-date compared to last year's numbers, according to public records. Both of these are considerably lower than the citywide statistics—across the five boroughs where grand larceny is up 49% and petit larceny is up 42% year-to-date compared to last year's numbers.
"The Target only just opened over the weekend, so like, what type of data did [they] pull in order to actually put everything under lock and key?" Worrell said.
While Target was unable to share any site-specific information, a Target spokesperson said the anti-theft boxes were for categories Target determined were commonly stolen.
"The safety of our guests and team is Target's top priority, and our security procedures include in-store technology, training for our security team members and partnerships with law enforcement. On a limited basis, we also employ theft-deterrent merchandising strategies, such as locking cases, for categories that are prone to theft," the spokesperson said.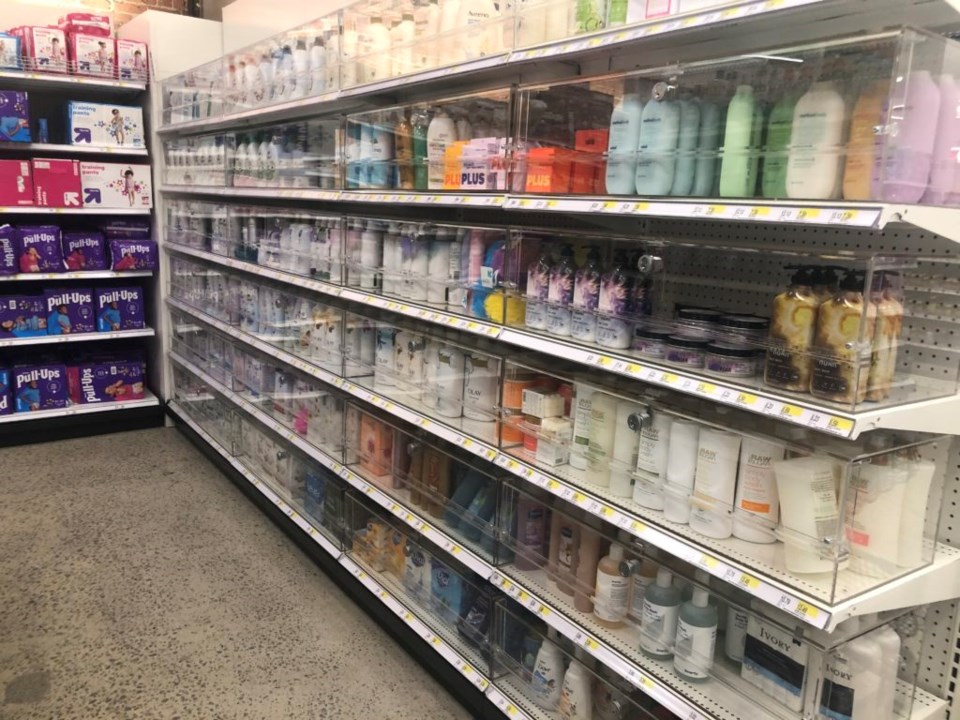 Worrell also said that since there are already 6 other Targets in the borough, this location could have been something much more contributive for the surrounding area.
"It's like, was there a better use of this space? A lot of people called for a community center, or another theater," Worrell said.
The Target occupies a location that initially operated as a movie theater, hinted at by the marquee lightbulbs on the awning of the store.
"It felt strange for me from the beginning, and now that I see the lockboxes, it's just very disheartening," Worrell said.