When artist Deborah Kass first visualized and then completed her sculpture in 2015, it was during a time of great optimism for her. Barack Obama was president and the ideals of diversity and intersectionality appeared to be an approaching reality.
In fact, measuring in at 8x17x5 feet, Kass's massive sculpture OY/YO was an instant eye-catcher when it was first installed on Brooklyn Bridge Park's Main Street lawn.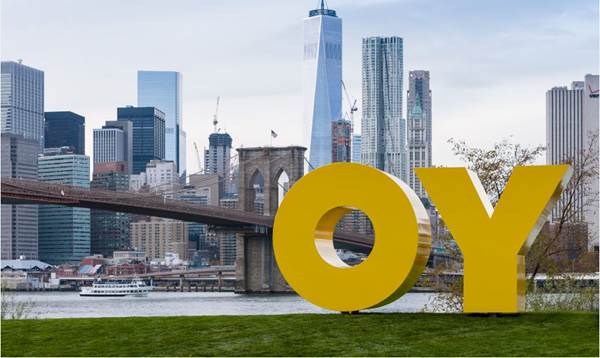 "When I created OY/YO, the American promise of equality and fairness was writ in the most diverse administration ever, working to make the country a better place for all," said Kass, who was born and raised in Brooklyn.
The art's universality has the unique ability to speak across generations, cultures and ethnicities, holding very simple yet profound meanings within Spanish-speaking, Jewish and Black American communities. It is a call to action, an expression and an acknowledgement of self.
"I think this is a really optimistic, hopeful piece," said Kass, "One of the most optimistic pieces I've made in years. The resonance, I didn't quite realize until I saw it. But part of the magnitude is seen in the scale of the piece--17 ½ feet tall, shiny and yellow."
Three years later, the sculpture has moved from DUMBO, to the North 6th Street Ferry, and most recently has returned to Brooklyn as part of a public art activation entitled, "Something to Say," at the Brooklyn Museum.
But since its inception and until now, so much has changed in America in the way of its leadership and the now polarized views on diversity and intersectionality.
"I'm so in shock still every day," said Kass. "I never thought I would live in a time with such constant outrage and what the country is going through now.
"Now, [the sculpture] seems a little nostalgic. But it doesn't change the meaning of the piece. New York has its own narrative. Brooklyn is still Brooklyn; New York is still New York; and the people are still the people."
And so now, the sculpture stands less as a reflection but more as a declaration-- one of hope and peace.
OY/YO will be installed outside the Brooklyn Museum's front entrance in a yearlong activation emphasizing the Museum's role as a civic space for conversation and shared learning. Joining Kass are Brooklyn-based artists and sculptors Brooklyn Hi-Art! Machine, Kameelah Janan Rasheed, and Hank Willis Thomas.
Something to Say is on view at the Brooklyn Museum starting October 3 through summer 2019.