WHAT: Ai Weiwei: According to What? Ai Weiwei is one of China's most prolific and provocative contemporary artists. Featuring over thirty works spanning more than twenty years, Ai Weiwei: According to What?explores universal topics of culture, history, politics, and tradition, showcasing the artist's remarkably interdisciplinary career as a photographer, sculptor, architect, and activist. These works spotlight issues of freedom of expression, as well as individual and human rights both in China and globally. Many use minimal forms and methods, while others manipulate traditional furniture, ancient pottery, and daily objects in ways that question cultural values and challenge political authority.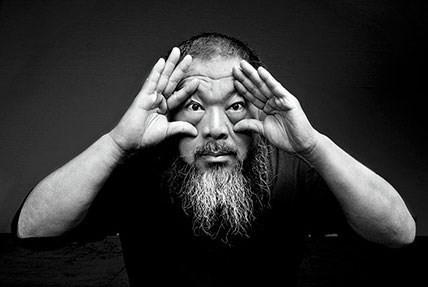 WHEN: Opening Friday, April 18 - August 10, 2014
WHERE: Brooklyn Museum, 200 Eastern Parkway
HOW MUCH: Special admission fee. On-site ticket sales end 5:00pm Wednesday, Friday, Saturday, and Sunday, and 9:00pm Thursday. Free for Members.
WHAT: Palisades906 Presents: FOURTEEN—"Fourteen" showcases work by 14 stylistically unique photographers. Placed in pairs, our photographers shoot one another forcing them out from behind the camera while highlighting the duality between model and photographer. Matt FX on the ones and twos. Open bar 7-10pm.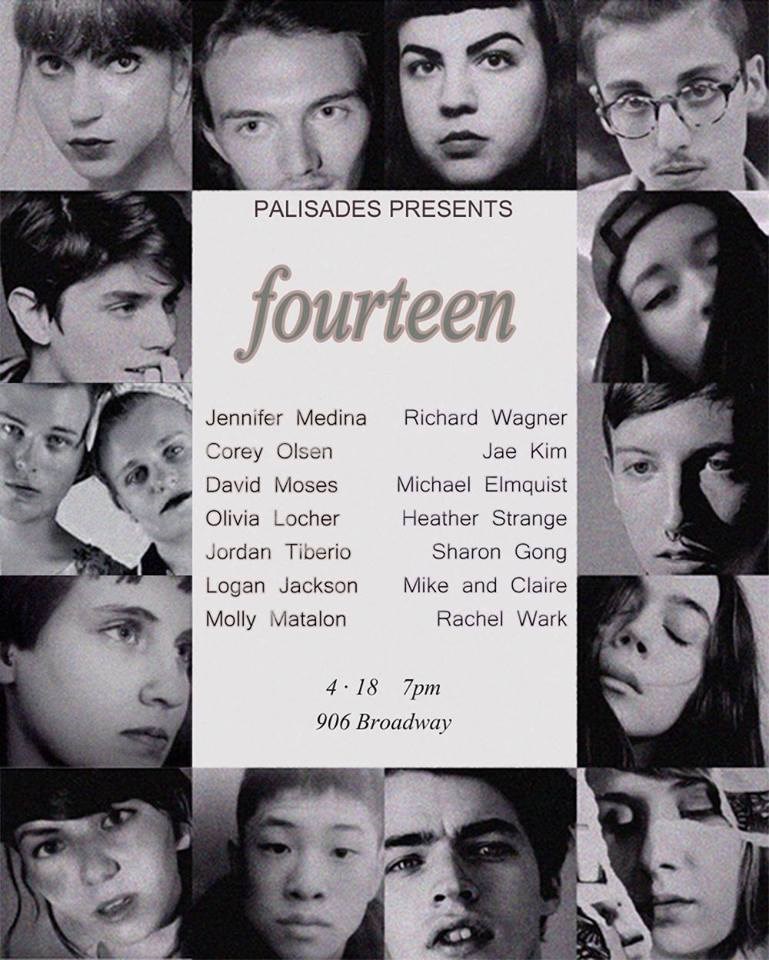 WHEN: Friday, April 18, 7:00pm
WHERE: Palisades906, 906 Broadway, Bklyn
HOW MUCH: Free
WHAT: Brown Girls Burlesque in association with Kumble Theater present: BGB Gets REAL —BGB's Gets REAL is a multi-media theatrical burlesque spectacular spectacle, made to disrupt and distort the senses through the looking glass of Reality TV. Using Reality TV as a framework to thread together elements of competition and reality genres, culminating in a live audience vote (via text/tweet) for the winner! Because in the Real World there can only be one winner.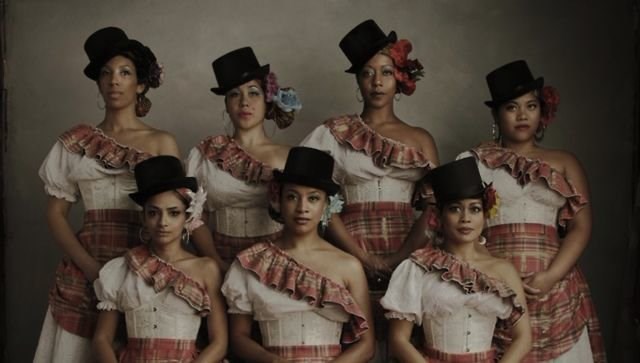 WHEN: Friday, April 18, 8:00pm
WHERE: Kumble Theatre, One University Plaza, Bklyn
HOW MUCH: $25, To purchase Tickets, go here
WHAT: BAMcafé Live Presents: Oscar Peña-- Catalan-born jazz guitarist Oscar Peñas brings a distinctive Spanish flavor to his seductive original compositions. A recipient of the prestigious ASCAP Plus Award, he's joined onstage by an ensemble of bass, drums, and violin. Collectively, they weave intricate harmonies that are cool and contemplative one minute, infectiously upbeat and energetic the next.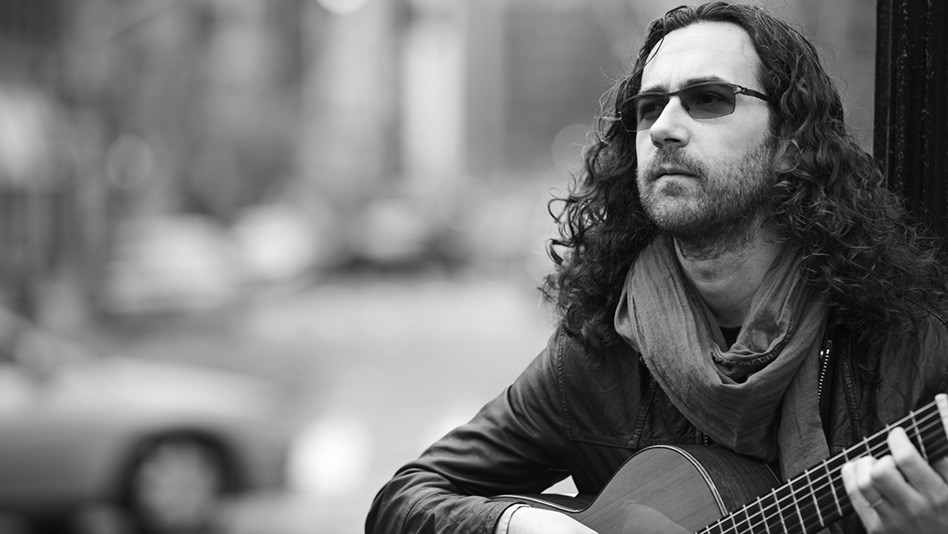 WHEN: Friday, April 18, 9:00pm
WHERE: Brooklyn Academy of Music, 30 Lafayette Ave, Bklyn
HOW MUCH: Free
WHAT: Alumni Presents: Muralist Misha Tyutyunik's "Man is a Universe within Himself" Painting & Celebration—Crown Heights, Brooklyn's premier footwear boutique Alumni teams up with multimedia artist Misha Tyutyunik for an exclusive mural done inside the shop titled, "Man is a Universe within Himself," inspired by a quote from the legendary Bob Marley. To commemorate the occasion, Alumni and Misha have joined forces to host a celebration event along with an exclusive t-shirt release, music, refreshments, and giveaways.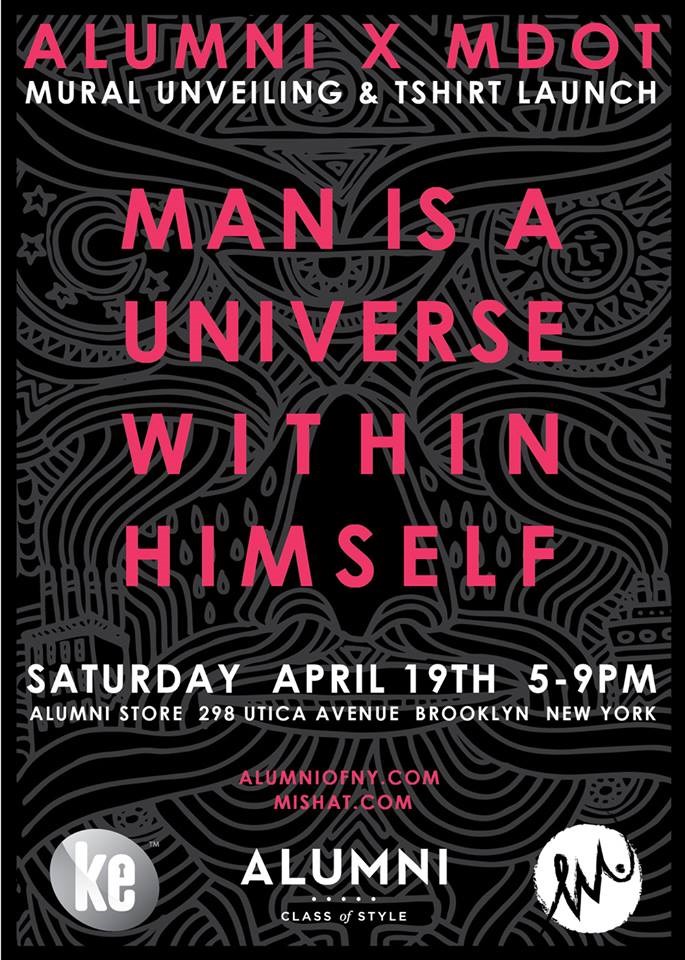 WHEN: Saturday, April 19, 5:00pm - 9:00pm
WHERE: Alumni, 298 Utica Avenue, Bklyn
HOW MUCH: Free
WHAT: Earth Day Celebration-- In celebration of Earth Day, Peace & Riot is welcoming home decor specialist and DIY expert A. Bernadette, who will lead a workshop on how to use recycled plastic bottles to grow your own salad. Start time is 11:30am. A. Bernadette works with 100 artisans from Uganda who create accessories from recycled materials using traditional weaving techniques. In New York, A. Bernadette invites you to explore the unknown by participating in its 'Trash to Treasure' youth programs geared towards innovative recycling education. Check out her site for more info.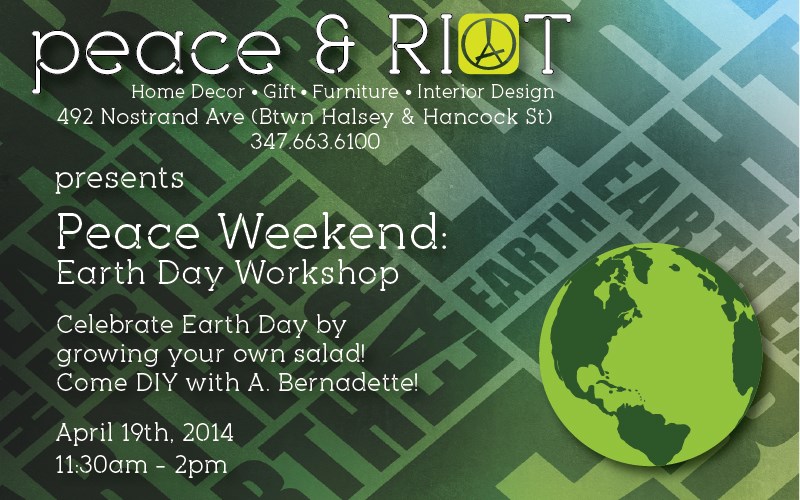 WHEN: Saturday, April 19, 11:30am - 2:00pm
WHERE: Peace & Riot, 492 Nostrand Avenue (between Halsey and Hancock), Bklyn
HOW MUCH: Free
WHAT: Shirley + Alice One-Year Anniversary Celebration— This special little vintage and indie designer boutique will celebrate one year of being in business with a spring sale, fish fry and beer!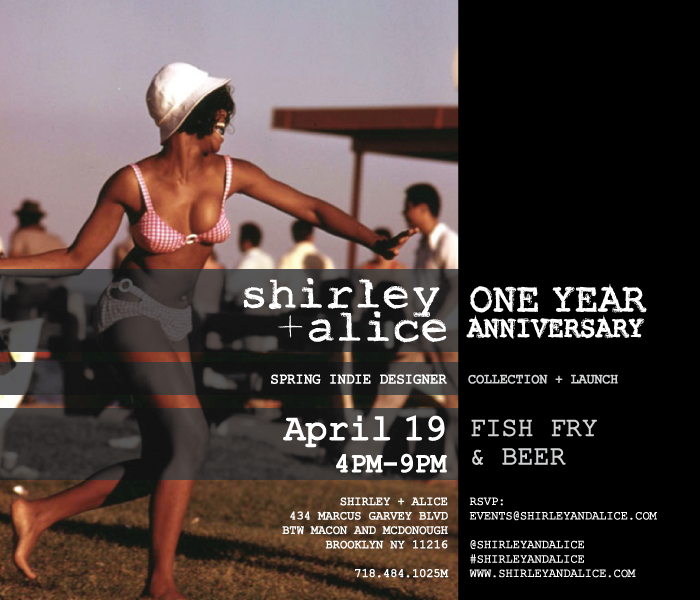 WHEN: Saturday, April 19, 4:00pm - 9:00pm
WHERE: Shirley + Alice, 434 Marcus Garvey Blvd (btwn Macon and McDonough), Bklyn
HOW MUCH: Free
WHAT: The Booty Dance Class Twerkshop with B-randi—The Booty Dance Class is a Caribbean inspired fitness workout. It emphasizes movements in one's waistline. The instructor creates an energetic dance choreograph routine for women to have fun while engaging their gluteus maximus muscles, legs and core muscles!! Nothing beats working out and not even knowing you are working out.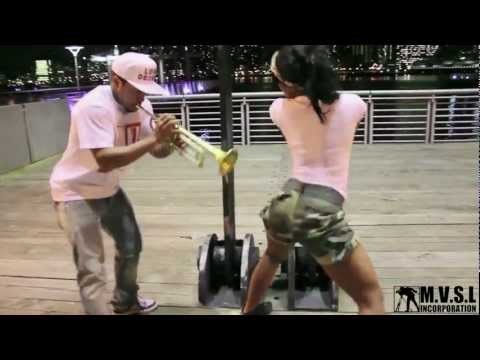 If you missed her live at Sacred's student showcase, you can still check her out here:
WHEN: Saturday, April 19, 7:00pm
WHERE: Sacred Brooklyn, 197 Clifton Place
HOW MUCH: $20 Register here https://bit.ly/1lIQqMd
WHAT: Artisanal Poppers — a debut gay dance party, featuring your favorite DJs, in your favorite bar, inspired by your borough's victorian DIY ethos applied to your favorite recreational magnetic tape head cleaner, because things really need to be a lot more specific in Brooklyn, don't they. Expect to dance.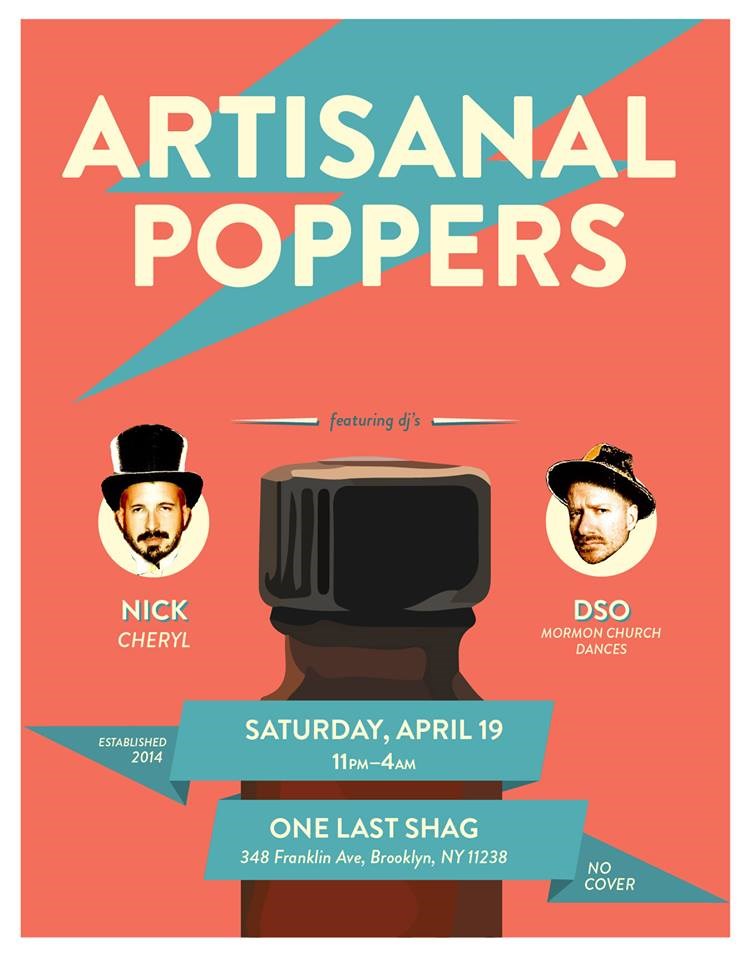 WHEN: Saturday, April 19, 11:00pm
WHERE: One Last Shag, 348 Franklin Avenue, Bklyn
HOW MUCH: Free
WHAT: It's a Spring Affair @ United Spirits/Frank's Lounge. Every 3rd Saturday of the month with Resident Butch SOS & Host Mari Oliver w DJ Dres!! This month MENU is inspired by Spring. And for Dessert Coconut Rum Bread Pudding.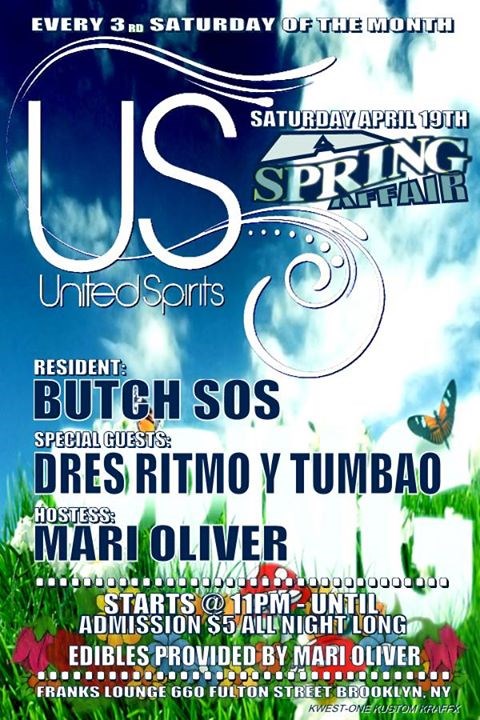 WHEN: Saturday, April 19, 11:00pm - 6:00am
WHERE: Frank's Lounge, 680 Fulton Street
HOW MUCH: $5
WHAT: Slapdash Celebrates two years at LaunchPad! After two years of amazing events at LaunchPad, the Slap Dash team is changing things up: we're returning to our monthly art/variety show format and we'll be moving into some new venues in Brooklyn. Come celebrate a wide of array of art, artists and craftspeople who all helped make these last two years so incredibly unique! Also featuring home brewed beer by Honest Pete, Vegan Hot Dogs by Yeah Dawg! and Chocolate samples curated by Chocolate NYC.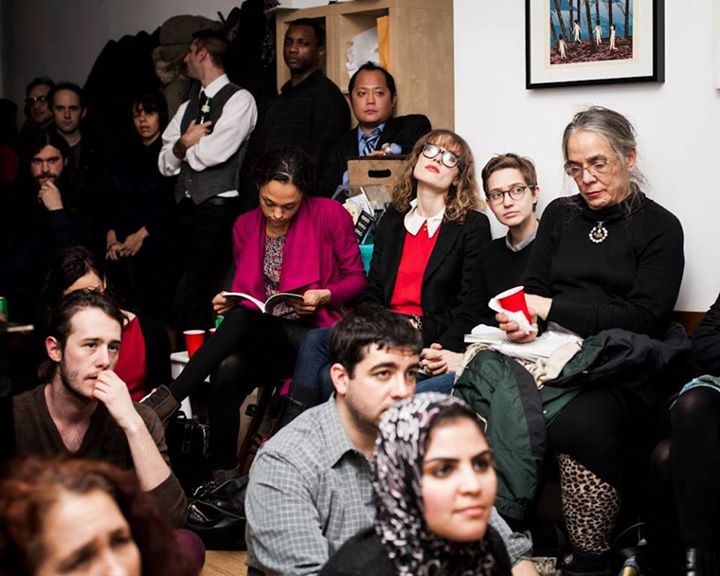 WHEN: Saturday, April 19, 6:00pm - 1:00am
WHERE: LaunchPad, 721 Franklin Avenue, Bklyn
WHAT: "BACK TO BASICS" BASHMENT PARTY (#BUNNYEDITION)— Lesbian Fetish Entertainment and Go Hard Entertainment Present "Back to Basics," 18 to Party; 21 to drink. Aries/Taurus are free with RSVP.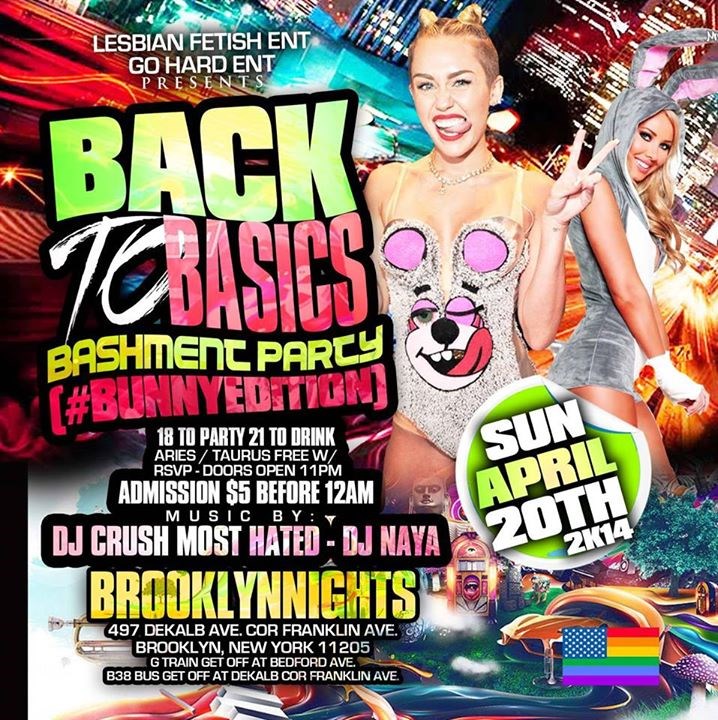 WHEN: Sunday, April 20, 11:00pm
WHERE: 497 Dekalb Ave. Cor Franklin Ave.
HOW MUCH: $5 before midnight