WHAT: Brownstone Jazz Presents: Latin Madness with Willie Martinez. Martinez will be joined by a young, supremely gifted pianist by the name of Adan Perez, veteran reed-man and flutist Ed Jackson and "Bassist to the Stars", the incomparable Eric Lemons! Brownstone Jazz is a wonderfully intimate experience that takes place in a 19th century brownstone in Bedford Stuyvescent, Brooklyn. Doors open at 8pm and the music goes from 9pm to midnight with a southern style fish fry in between sets! Proprietress Debbie McClain is the quintessential "hostess with the mostest" and she'll be happy to make a reservation for you. Just give here a call at 917-704-9237. Hope to see you there for an evening of smoking hot Latin Jazz!
WHEN: Friday, May 23, 8:00pm
WHERE: Brownstone Jazz at Sakofa Aban 107 Macon Street, Bklyn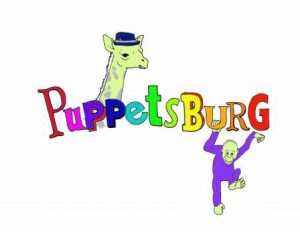 WHAT: Puppet Show by Puppetsburg
WHEN: Friday, May 23, 4:00pm
WHERE: Pipsqueak Children's Shoppe, 1124 Bedford Avenue, Bklyn
HOW MUCH: $12
WHAT: Selebrasyon Presents: An n' Pale | Café Conversation with singer & author Mimerose "Manzè" Beaubrun—Join in on the Selebrasyon at a a conversation and book signing with Manzè Beaubrun, lead singer and co-founder of Boukman Eksperyans, about her new book Nan Domi: An Initiate's Journey into Haitian Vodou.
WHEN: Friday, May 23, 6:00pm — 11:00pm
WHERE: FiveMyles Gallery, 558 St Johns Place, Bklyn
HOW MUCH: Suggested Donation $10 (includes drink ticket). Click Here for more information!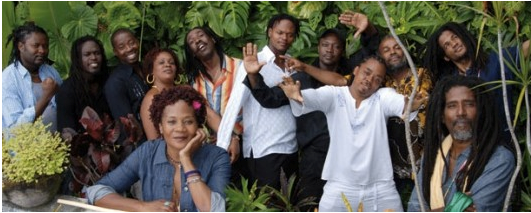 WHAT: BAMCafe Presents: Earthman Experience-- Don't miss the highly anticipated return of THE EARTHMAN EXPERIENCE featuring DJ Hard Hittin Harry performing live. The Fela-Kuti inspired 10-piece ensemble will kick off DANCEAFRICA 2014 and you can always count on The Earthman Experience to deliver a high-powered LIVE Performance of World Music, AfroHouse, Afrobeat, and much more!!! Tonight Special guest performing LIVE Cradle In The Rock Youth Ensemble, CeddyJay (RAAA), Soleil Laurent & her band Quantum Split and returning from last year Kanu Dance Theater.
WHEN: Friday, May 23, 10:00pm
WHERE: BAM Café, 30 Lafayette Avenue, Bklyn
HOW MUCH: Free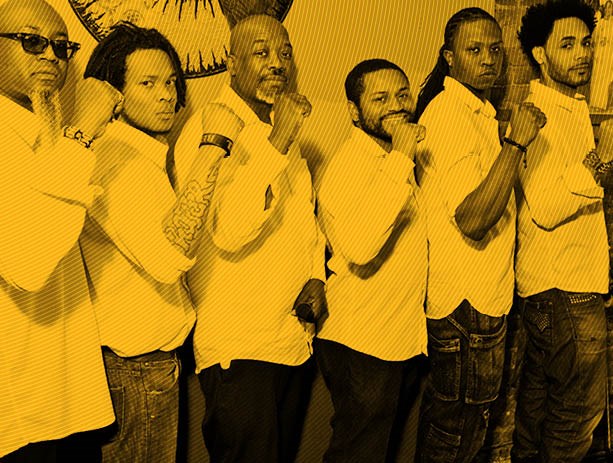 WHAT: Brooklyn Artistry Presents: 50 Shades of Spring—A 50-artist exhibit, with wine, art and more wine!
WHEN: Saturday, May 24, 2:00pm — 6:00pm
WHERE: E Gallery, 459 Vanderbilt Avenue, Bklyn
HOW MUCH: Free
WHAT: The 5th Annual Makossa Brooklyn Cookout-- Make your way over to Brooklyn Tap House this Memorial Day weekend for a proper intro to summertime. And most importantly, make sure to RSVP via SplashThat! Once the venue starts getting close to capacity, they'll only admit guests that are on the list. The guests for the season opener? San Francisco's own DJ Haylow and (back by popular demand), Pure P from Sweden!
WHEN: Saturday, May 24, 2:00pm — 10:00pm
WHERE: Brooklyn Tap House, 590 Myrtle Avenue
HOW MUCH: Free. RSVP here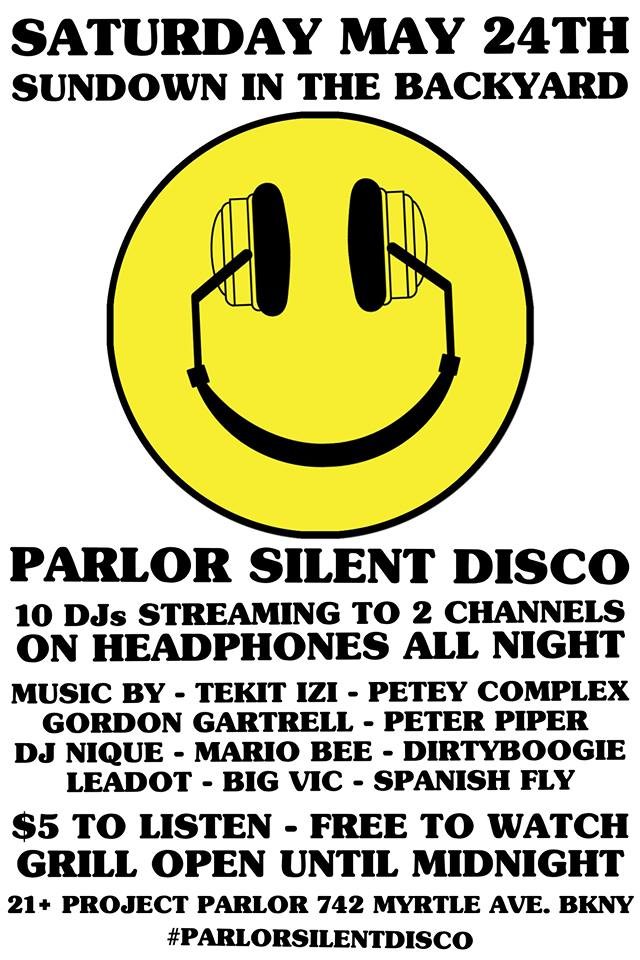 WHAT: Parlor Silent Disco-- It's back!!! Join us this Memorial Day weekend for the return of... PARLOR SILENT DISCO ((( ? ))) If you tuned in last year you KNOW WHAT TO EXPECT! If this is your first time here's what goes down at SUNDOWN: 10 DJs STREAMING LIVE to 2 CHANNELS on HEADPHONES...ALL NIGHT LONG! Simply flick the switch on your headphones, select your DJ and get busy in the yard!!!
WHEN: Saturday, May 24, 8:00pm — 3:00am
WHERE: Project Parlor, 724 Myrtle Avenue
HOW MUCH: Free
WHAT: DanceAfrica Bazaar-- Celebrate the rich and diverse cultural heritage of Africa and its diaspora at the DanceAfrica Bazaar. More than 200 vendors from around the world transform BAM's surrounding streets into a global marketplace offering African, Caribbean, and African-American food, crafts, and fashion.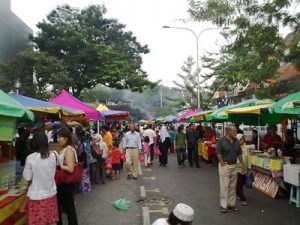 The Bazaar also features entertainment for families with face painting and crafts at the Children's Village, and guest artists roaming through the marketplace throughout the day.
WHEN: May 24- May 26, starting at 12:00noon
WHERE: Ashland Pl btwn Hanson Pl and Fulton St & inside BAM Fisher (321 Ashland Pl)
HOW MUCH: Free
WHAT: Le Retour Dimanche-- What began as a cultural experiment at Vodou Bar quickly grew into the Dimanche Day Party monthly summer series! Spinning TOP 40s | Kompa | Dancehall | Reggae | Hip Hop | Afrobeats | Soca | Calypso | R&B | House | Classics. Leave all pretentious vibes at the door! It's strictly good vibes, good folks, excellent drinks and tons of food! (Oh, and the Mac-N-Cheese is amazing)!
WHEN: Sunday, May 25, 4:00pm
WHERE: Vodou Bar, 95 Halsey Street, Bklyn
HOW MUCH: Free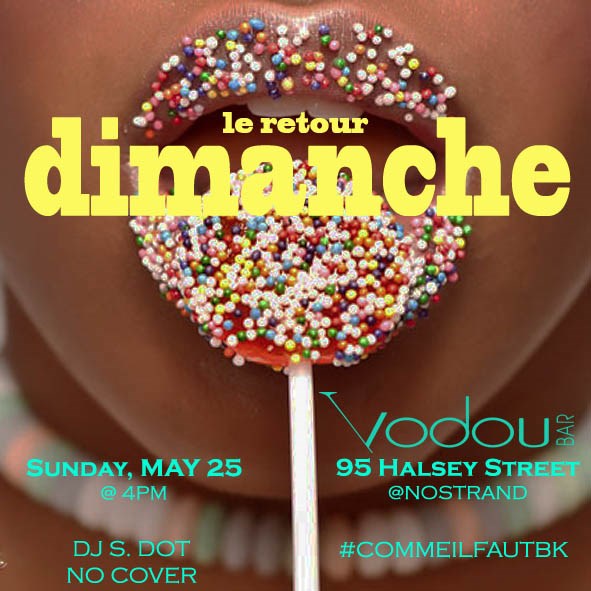 WHAT: Walk of Art Discovery Tour-- Walk of Art invites you to be its special guests on our Memorial Day weekend where the tour will showcase Bushwick neighborhood art, most of which is commissioned, all of which has been created by local and international artists. Guests will have the option to begin the excursion with aromatic tea or coffee at a local cafe. Following a brief introduction that provides historical context to what we're about to see, we'll set out on an expedition to view over twenty works of art (not to worry-all the works are in proximity to each other and the tour, all told, is less than a mile). There'll be plenty of time for an in-depth look into each piece and ample opportunity to take photographs.
WHEN: Sunday, May 25, 2:00pm
WHERE: Tour will leave from the corner of Dekalb and Wyckoff, outside of Café Nunez
HOW MUCH: Starting at $20. Go here to book your tour now.