Moko Jumbie first premiered at the 2017 LA Film Festival and is the next film in the Caribbean Film Series at BAMcinématek.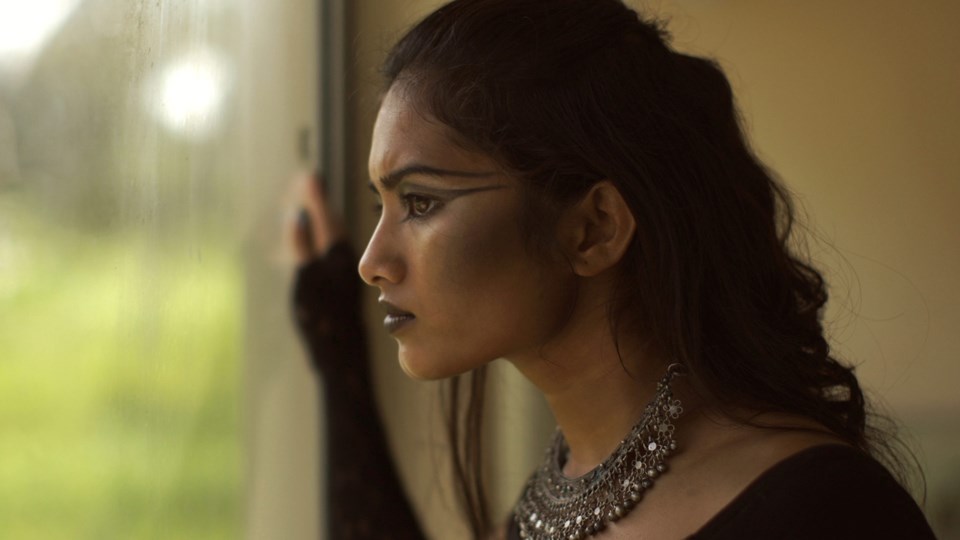 Vashti Anderson's new film Moko Jumbie will be screened as a part of the Caribbean Film Series at BAM on Wednesday, September 6, just as Moko Jumbies lined the streets yesterday at the Brooklyn J'Ouvert celebration in Crown Heights.
The film begins with text that reads,"Long ago, the spirit MOKO left Africa, walking tall across the sea, following his people to the Land of Sugar. The MOKO JUMBIE will return."
And the Moko Jumbie did return.The origin of the term "Moko" comes from an African word that means God and "Jumbie" is the West Indian word for ghost or spirit. On Monday, stilt walkers of the West Indian Parade dressed in colorful garb and festive masks channeled the spirit of Moko Jumbie, just as Vashti Anderson's new film does.
Anderson is a Trinidadian-American woman who was born in Wisconsin and later lived in Trinidad, England, and India. Many remember her due to her impressive thesis film Jeffrey's Calypso. As with her new film Moko Jumbie, Anderson's content reflects her mixed heritage. In an interview with the Trinidad + Tobago Film Festival, she said,"I'm trying to create characters and stories that reflect an authentic point of view. I think so far audiences have proven to me that there is an interest in these two worlds and in my point of view as a Trinidadian-American." [perfectpullquote align="full" cite="" link="" color="" class="" size=""]"I'm trying to create characters and stories that reflect an authentic point of view. I think so far audiences have proven to me that there is an interest in these two worlds and in my point of view as a Trinidadian-American." [/perfectpullquote]
Opening with an aerial shot of the light turquoise waters of Trinidad and Tobago, Moko Jumbie presents the turmoil that often accompanies forbidden love. The film focuses on the explorations of Asha, a young Indian woman who left England to find her roots in rural Trinidad. Asha lives with her lonely and disapproving aunt on a coconut plantation. Eventually, she falls for a young black fisherman named Roger. Despite her aunt's warnings, Asha immerses herself in Roger's life, never able to control her innate curiosity as the spirits of Moko Jumbie inhabit her world.
The film maintains an ominous tone throughout; disjointed and short scenes paired with low-key lighting bring out the superstition that Asha and her family endure. The music is anticipatory and foreshadows each scene; before Asha sees the spirit for the first time, the music is mystical and suspenseful. Asha's desire to know more about her culture and her past lead her narrative as she explores rural Trinidad with Roger. The film embodies familial disapproval, fantastical spirits, and racial tension with unequivocal grace.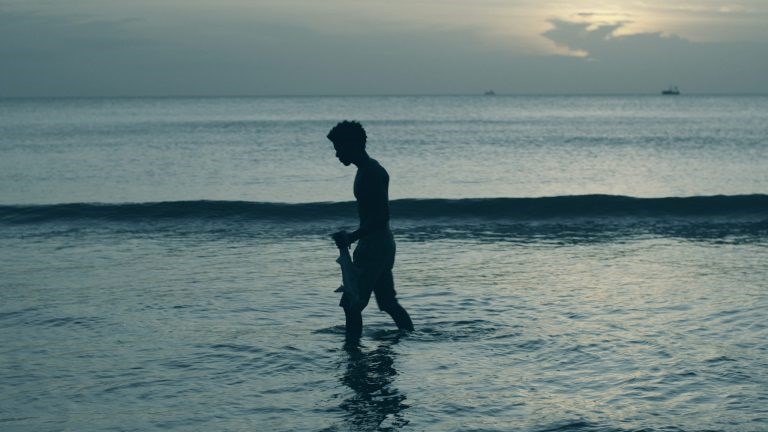 Roger, Asha's love interest in Vashti Anderson's "Moko Jumbie"
It is clear that Vashti Anderson is no stranger to film. She completed her master's degree at NYU for film studies and has worked with world renowned filmmakers like Spike Lee. Selected for the LA Film Festival in 2017, Moko Jumbie is Anderson's first feature length film. Anderson radiates in her short, crisp clips.
Throughout the story, much of Asha and Roger's relationship is highlighted through close-up shots of their faces and their wide eyes. Perhaps Anderson does this to focus on the differences in their appearance; to further suggest the racial tension that is so present throughout. Despite their difference in background, however, Asha and Roger understand each other—and these short scenes feature the deep connection they have. Their eyes say everything.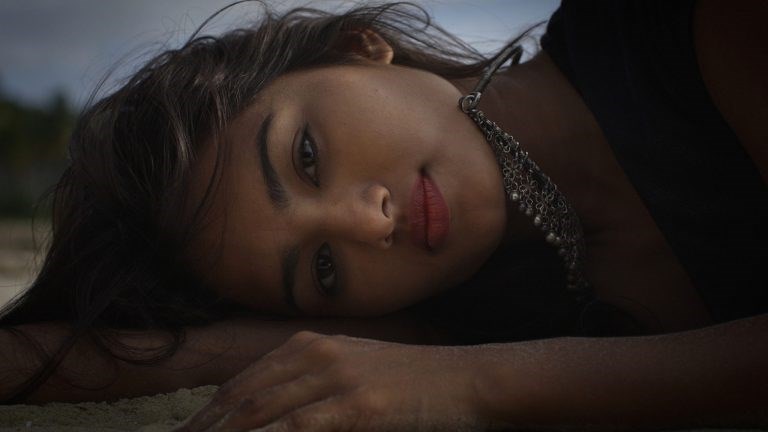 This film comes at a time where political turmoil is present and racial tensions are high. Yet, its colorful cinematography and astute storyline purports that perhaps a forbidden romance will not end in a stab wound or poison, but instead by watching dozens of colorful Moko Jumbie dance in the sunset. At the beginning of the film, Asha's uncle says to her, "Anything that can happen. Does happen. Every possible outcome exists somewhere. In another universe." In Moko Jumbie, every possible outcome does exist somewhere. Anderson creates a spectacle worth seeing.
The Caribbean Film Series has screened other films such as Play the Devil and The House on Coco Road, each encompassing different themes regarding Caribbean culture. Co-presented by the Caribbean Film Academy, BAMcinématek and the Brooklyn Cinema Collective, Moko Jumbie will screen at BAM Rose Cinemas on Wednesday, September 6, at 7:30pm. The film will be preceded by Jamaican filmmaker Nile Saulter's short film Coast.