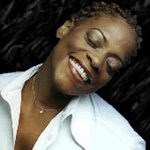 Do you know this lady?
She is Karen Bernod, a world-renowned singer born and raised right here in Bed-Stuy (and she still lives here).
The Brooklyn Reader spent a little "Face Time" with her back in August. We shared a video profile of her with our readers, which you can find right here.
And tonight, October 21, from 6:00pm - 10:00pm, she will be holding her album release party for her latest project, "Planting Seeds," at Rustik Tavern, located at 471 Dekalb Avenue, on the border of Clinton Hill and Bed-Stuy.
Check it out, and let her know The Brooklyn Reader sent you!