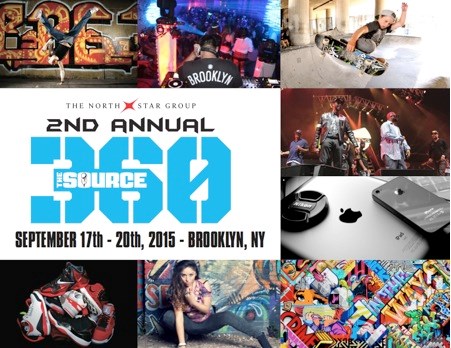 The SOURCE360 Festival returns to Brooklyn for its second year, with an all-new fresh lineup of hip hop artists performances, panels, workshops, parties and more!
Last year's inaugural festival brought out 38,000 attendees over 4 days with performances by such old-school heavyweights as Wu Tang Clan, Lil Kim, Bone Thugs N Harmony and The Diplomats.
This year's festival will kick off on Thursday, September 17 and continue through Sunday, September 20 at venues all around the Brooklyn's Downtown Cultural District featuring musical performances by Waka Flocka Flame, Scarface, Faith Evans, Chase N. Cashe, Smoke Dza, Brand Nubian, Doug E. Fresh, Joe Budden, Dead Prez, Casey Veggies, DMC, OG Maco and other special guests, as well as a few surprise pop-up concerts.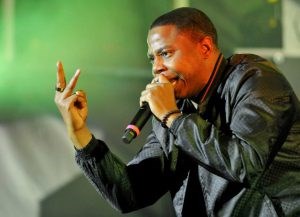 The SOURCE360 Speaker Series will offer panel discussions conducted by thought leaders and entrepreneurs in the art, music, film & television, media, tech and fashion industries. There will also be a number of workshops and classes, including a Hip-Hop Dance Class this Friday, from 7-9 at Mark Morris Dance Studio!
Some of the industry thought leaders and tastemakers participating in this year's panel discussions include Tuma Basa (Spotify), Lenny S. (Roc Nation), Lisa Evers (Fox, Hot 97), Gareb Shamus (Comic Con), Angela Simmons (Celebrity Entrepreneur), Miko Branch (Miss Jessie's), April Walker (Walker Wear), Dr. Charles Johnson-Bey (Engineer), Maya Azucena (Singer-Songwriter), Carmen Perez (Justice League NYC), Malcolm Lee (Film Director), Mayor Ras Baraka (Mayor of Newark, NJ), and L. Londell McMillan (Attorney and Publisher), just to name a few!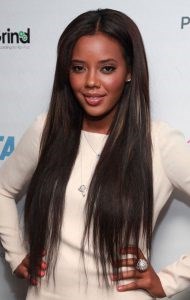 The SOURCE360 Festival Block Party will take place on Saturday, September 19th on Rockwell Place, offering activities on street art, fashion, break dancing, poetry slams, a Kids360 talent show, DJ spinning, music performances and more.
To highlight Hip-Hop's up-and-coming talent, SOURCE360 will also be hosting The Unsigned Hype Competition. Credited for discovering artists such as Biggie Smalls, Eminem, Common, and Kendrick Lamar, The Unsigned Hype Competition allows unsigned artists to battle it out for the opportunity to join a storied lineage of rappers, artists, and creators to perform live on stage.
SOURCE360 will also feature a very special tribute party to The Notorious B.I.G. in his hometown and neighborhood.
Purchase your tickets, on sale now here.
FULL EVENT SCHEDULE
Thursday, Sept. 17:
Educate & Elevate | 12pm-3pm | Roulette | FREE
SOURCE360 Kick-Off Concert and Party | 9pm-12am | Roulette | Gen. Admission: $35 and VIP: $50
Friday, Sept. 18:
SOURCE360 Speaker Series | 3pm-7pm | BRIC Arts | FREE
Hip-Hop Dance Class | 6:30pm-8:30pm | Mark Morris Dance Center | $20
Unsigned Hype Competition and Concert | 9pm-1am | Roulette | $20
Saturday, Sept. 19:
SOURCE360 Block Party | 12pm-6pm | Rockwell Pl. B/T Dekalb & Fulton | FREE
Beat Making 101 | 3pm-5pm | BRIC Arts | FREE
SOURCE360 Concert | 8pm-12am | BRIC Arts | GA — $35, VIP — $50
SOURCE360 Tribute Party Honoring The Notorious B.I.G. (Time and Venue TBA)
Sunday, Sept. 20:
SOURCE360 Brunch and NFL Game Watch | 12pm-7pm | Woodland
Follow the festival on Twitter: #SOURCE360