The "Signs of Life" exhibit will hold its closing reception, from 4:00pm - 8:00, at the at Rush Corridor Gallery, located at 334 Grand Avenue in Clinton Hill, Brooklyn.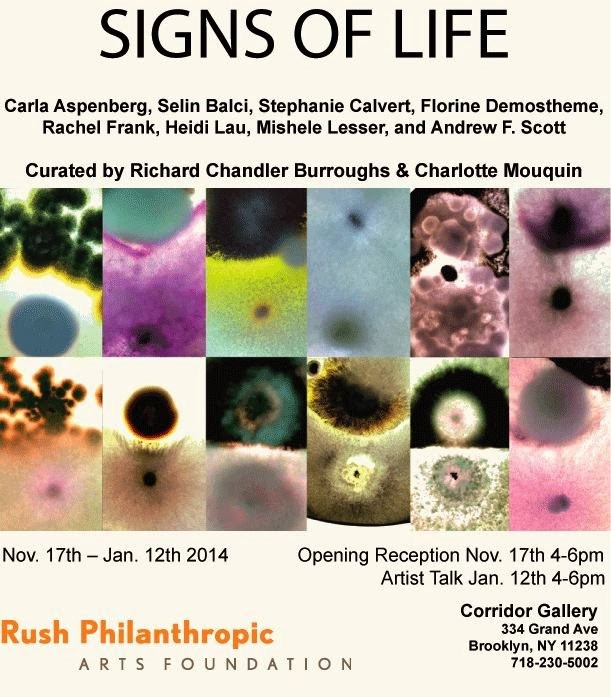 Signs Of Life is a group show of paintings that examines man's experience with life and the tireless efforts to make sense of it all.
Drawings and sculptures are featured by artists Mishele Lesser, Heidi Lau, Stephanie Calvert, Florine Demosthene, Andrew F. Scott, Rachel Frank, Selin Balci and Carla Aspenberg and is co-curated by guest curator Richard Chandler Burroughs and Charlotte Mouquin, Curatorial Director of the Rush Galleries.
In addition to the last opportunity to view the Signs Of Life exhibition, the closing reception will also show video of the creative process of exhibiting artists Selin Belci and Mishele Lesser and will be high- lighted by a panel formatted talk with the artists and curators.
"The tonality of the exhibition is alive with a heady blending of right brain/left brain func- tionality, with laser technology, biology, chemistry, genomics, and sociology. Signs of Life exhibition has a strong bio-art element and proudly shines light upon the artist whose work is starting conversations that transcend traditional, visual art narratives," quoted Wall Street International Magazine.
The closing celebration party will be directly after the reception, from 6:30pm-9:30pm, at Bed Vyne Brew, located at 370 Tompkins Avenue in Bed-Stuy.