The New York Liberty women's basketball team kicked off its first preseason game on Wednesday, May 7, at Barclays Center against the Connecticut Sun. The Liberty lost 57-63.
Still, this is hardly predictive of the year to come, as they are still gelling as a group. This year's Liberty is practically a brand-new assembly, with a few veteran players and a longer list of rookies and new recruits signed to training camp.
Already, they're viewed as one of this year's biggest competitive threats, boasting a roster of the country's top-notch basketball talent: Breanna Stewart, Courtney Vandrsloot, Jonquel Jones, Betnijah Laney and Sabrina Ionescu are just a few of the many superstars offered training camp contracts this season.
The "superteam," as they've been dubbed, held a press day at Barclays Center on Monday, providing sports writers a chance to talk to the owners and players and offering a glimpse into what to expect from this year's season.
One thing was clear: A change is afoot for women's professional basketball. The effects of the new collective bargaining agreements are playing out in real-time, bringing about the opening of free agency, salary cap increases industry-wide and a greater commitment to increasing the league's public profile.
More professional independence for the players has brought an entrepreneurial spirit and, in many ways, higher stakes to perform. Fans can expect harder-fought games, more positionless basketball, wildcard outcomes, glossier marketing and an overall more exciting vibe.
"This is a great opportunity for something that's pretty unprecedented," said Liberty General Manager Jonathan Kolb at the press conference. "Players are getting a chance to choose their location and their legacy, and I think that's really important.
"You're going to have the opportunity to cover the greatest players in the world in one spot."
Liberty Coach Sandy Brondello stressed the importance of building a culture and environment with values that players could agree on, "because ultimately, they have to drive it," she said.
In 2014, Brondello was named the WNBA Coach of the Year after she led the Phoenix Mercury to a WNBA regular season-record 29 wins and capped the season with a WNBA Championship and then another championship again in 2018.
"Teamwork, trust, accountability, respect," Brondello said. "We have to have a winning culture in place before we can do anything. We've got our word what we're going to live by this year."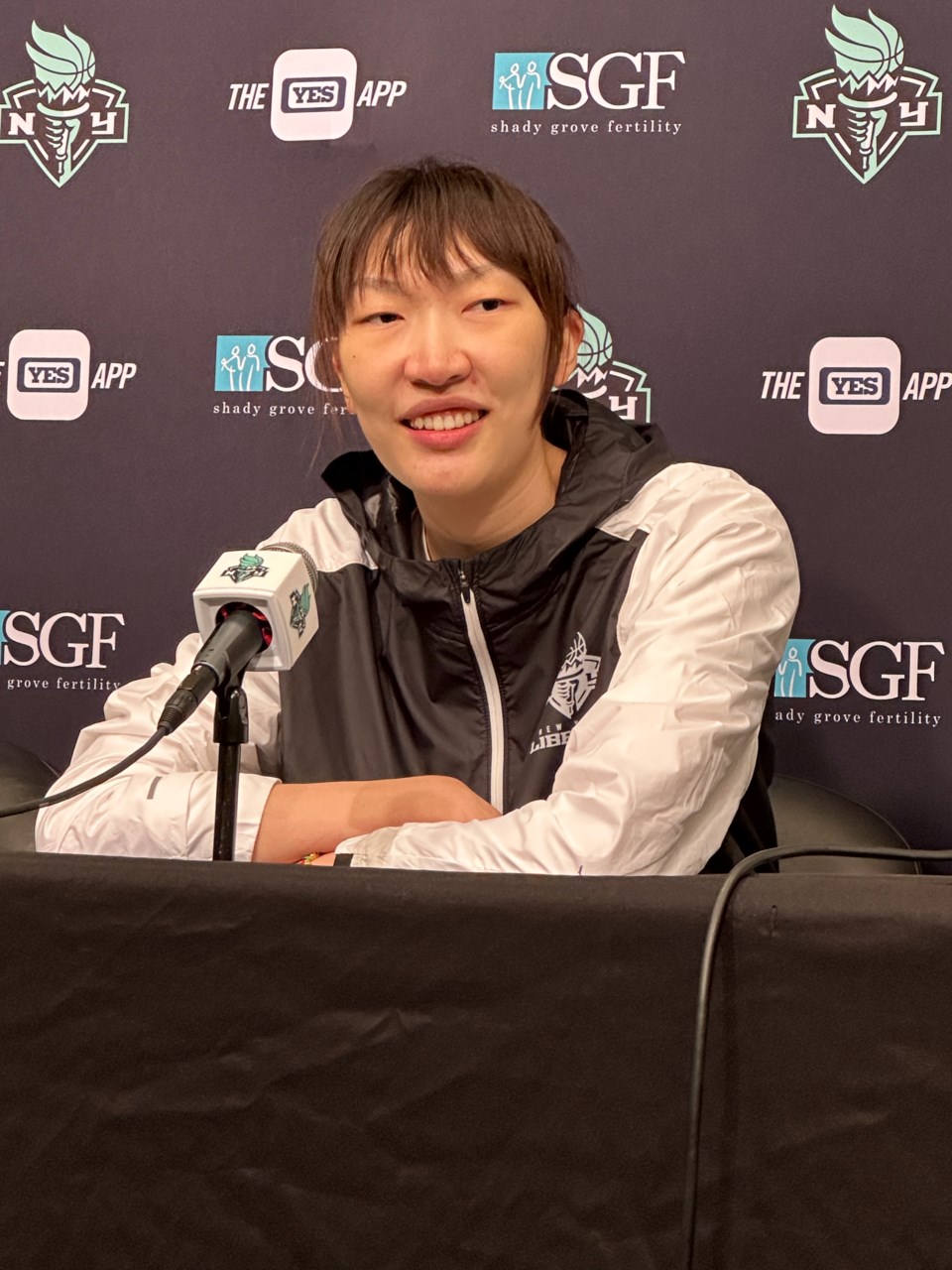 The final-FINAL team roster hasn't been selected as of yet, since the current group of 26 players is undergoing training camp. But following a one-hour open practice on Monday, 12 of the team's highly probable players spoke about what it's like to be playing in New York City and how they see the season shaking out.
"We've worked our way into becoming a desirable team that others want to come and be a part of. Now it's our job to go out there and perform and build chemistry and do what we can in the pursuit of a championship," said point guard Sabrina Ionescu.
"I think for me, being able to have my first healthy off-season and being able to train the day the season ended last year until this point has been rewarding already. I couldn't be more thankful for this opportunity to be here and give it my all."
Many of the veteran players spend the eight months of their off-season continually playing, either for the World Cup and/or an overseas league, due to a desire for higher earnings and more exposure than what the WNBA has offered historically.
In her off-season, Han Xu, a 6-foot-2 center from China, played for both the World Cup and a tournament in her home state in China.
"I learned a lot from these two games. So this year, I hope to play more patient. Because I'm not 19; I'm 23 now. I need to play more patient and do better with defense and rebounding," Xu said.
Many of the players don't take a break at all, leaving them at greater risk for injury. For these reasons and more, many of the players are speaking out about the importance of greater protections, higher salaries and playing a bigger role in the decisions that are made around them.
"We want to get to the point in the WNBA when our first response to a question is not a 'no,' but is a 'yes, maybe' or a 'yes, and,'" said Breanna Stewart, who plays a forward. "It's a part of raising the [bar], setting the standard."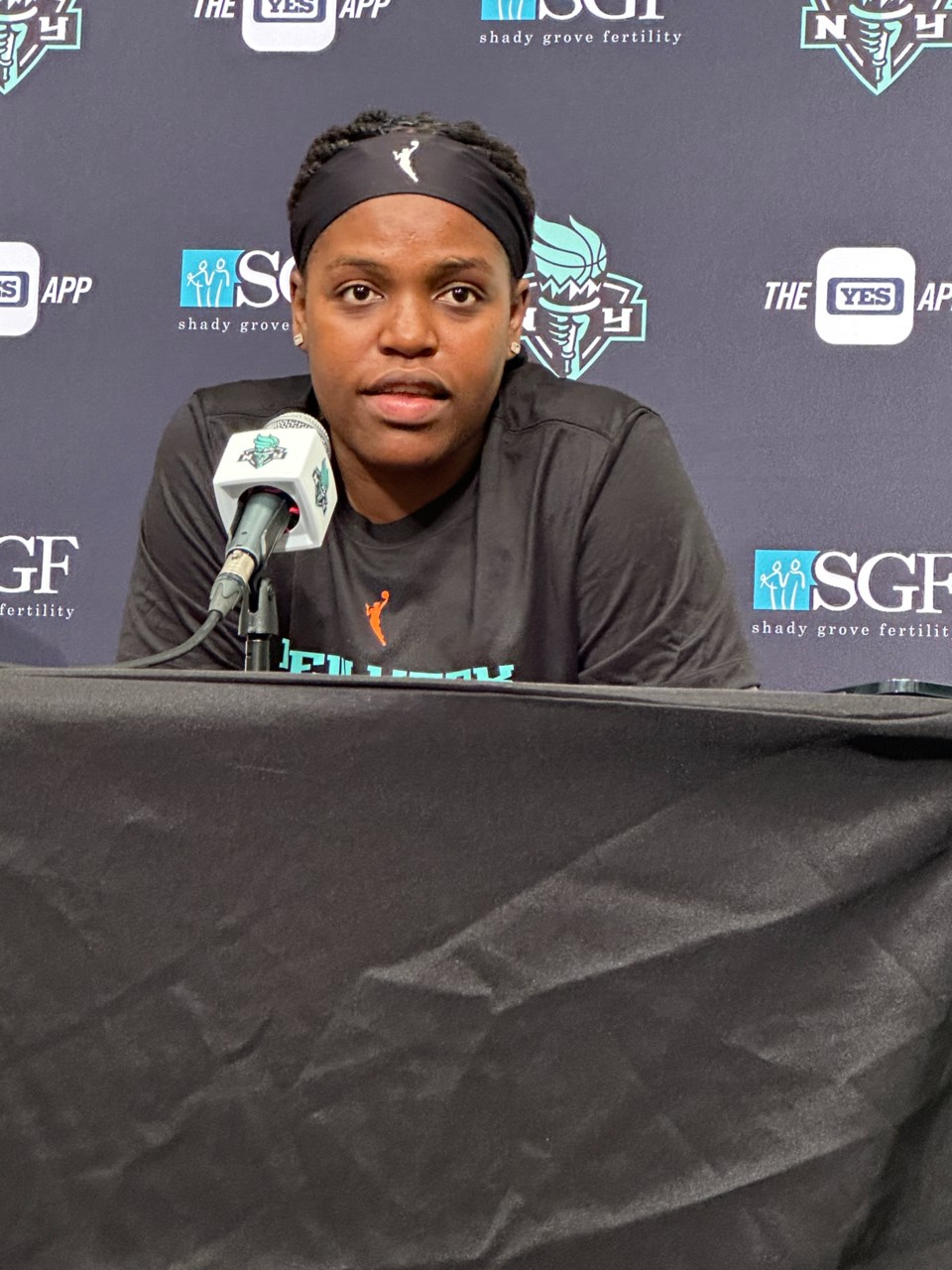 These top-brass players are all coming to New York because the owners and managers recognize this and are doing just that: raising the bar.
Jonquel Jones, a power forward, was traded from the Connecticut Sun to play with the Liberty this season and shared her excitement about playing in the New York market.
"It's a big difference between Connecticut and New York obviously. I feel the energy of the people; I just know that [the fans] are going to show up and be loud for us. I can already see a level of professionalism and more attention with us being here in such a big market," Jones said.
Playing with a superteam roster was also a huge motivation.
"I'm just excited because I know there's going to be a lot of space on the court," said Jones, referring to the fact all of the players were strong enough to scatter the defense during scoring.
Brooklyn basketball fans and all sports fans can check all of these players out in just a week when the regular season kicks off.
The excitement certainly is mounting for what is shaping up to be a transformative time in women's basketball: The WNBA and The E.W. Scripps Company recently have signed a multi-year agreement to televise games on Friday nights during the regular season on ION, a national entertainment network that reaches every U.S. TV household over-the-air and on all major pay TV and connected TV services.
Or, if you are in Brooklyn, you can buy season tickets here.