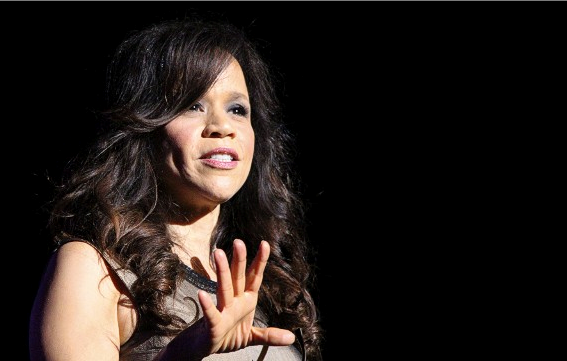 Oscar-nominated actress and Emmy-nominated choreographer Rosie Perez will be back in her home borough of Brooklyn on Friday, May 9, at Restoration Plaza to discuss her new book, Handbook for an Unpredictable Life: How I survived Sister Renata and My Crazy Mother and Still Came Out Smiling (With Great Hair).
Perez, a Williamsburg native, is known for her effervescent personality and memorable roles in such movies as Do The Right Thing, White Men Can't Jump, Fearless, and Pineapple Express.
She is one part glam and one part 'round-the-way girl-- a woman with unique personal style, boldness and raw talent who has always represented Brooklyn throughout her mercurial rise in Hollywood.
But most of her fans would be surprised to learn that the successes of her adult life tell an entirely different story than that of her childhood, which was wrought with a lot pain, separation and abuse.
Abandoned by her schizophrenic mother shortly after her birth, she was raised by a loving aunt—whom she thought to be her mother—until she was about three. One fateful day, her mother showed up, took her from her aunt and, without any explanation, sent her to live at a Catholic home for boys and girls.
"I didn't really want to write about this story of mine, yet felt like it was a responsibility that I couldn't avoid," says Rosie. "I held back because I didn't have the emotional strength to lay out the years of abuse for the entire world to see. But I'm now ready to share my journey, communicate how good it feels to no longer live in fear of what others may think, and move on."
Handbook for an Unpredictable Life is the unflinchingly honest story of Rosie's life. Despite the trauma of her childhood, Rosie's inimitable voice and bubbly demeanor make this handbook a funny, raw, riveting and inspirational read.
WHAT: Conversation and Booksigning with Rosie Perez: HANDBOOK FOR AN UNPREDICTABLE LIFE: How I Survived Sister Renata and My Crazy Mother, and Still Came Out Smiling (with Great Hair)
WHEN: Friday, May 9, 7:00pm
WHERE: Restoration Plaza, 1368 Fulton Street
HOW MUCH: Free. To RSVP, go here.