Bright, thought-provoking murals with political messages are popping up all over Brooklyn before it gets too cold to paint, and it's all thanks to street artists like Amanda Phingbodhipakkiya, Sophia Dawson and Bianca Romero.
Following the global trend of using technology to connect with others, some recent murals in Brooklyn have interactive features like an augmented reality app or virtual guided tour. Nearly all of them contain messages fitting for 2020 -- politics, pandemic and the resilient spirit of humanity.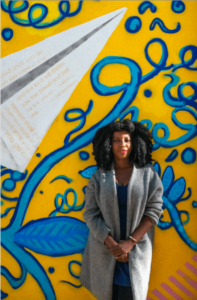 Sophia Dawson's mural at Industry City in Sunset Park engages with the political moment by manifesting a better future for her son.
"I initially was going to paint a scene of protestors, but when I thought about it -- the mural is a projection of what I want to see in the world," Dawson said. "I want [my son] to play, like other children, dream and create things. I think a lot of young people of color don't have the opportunity to be children."
Dawson's mural, called "Paper Planes," is based on a short film she made of her son reading a letter written to him by a member of the Black Panther Party who is still a political prisoner to this day.
Much of Dawson's body of work focuses on Black liberation. She has a mural near the Barclays Center, the site of many Black Lives Matter Protests, and she painted part of the Black Lives Matter mural at Foley Square.
All the murals at Industry City use QR codes to create a self-guided outdoor art tour that highlights the five new murals inspired by themes surrounding the pandemic, gender, and racial equality.
Augmented reality, but make it art
Multidisciplinary artist Amanda Phingbodhipakkiya's mural in Fort Greene also uses technology to delight and educate the public with an augmented reality feature.
This mural is part of FINDINGS, a public art series that celebrates science and women across the country.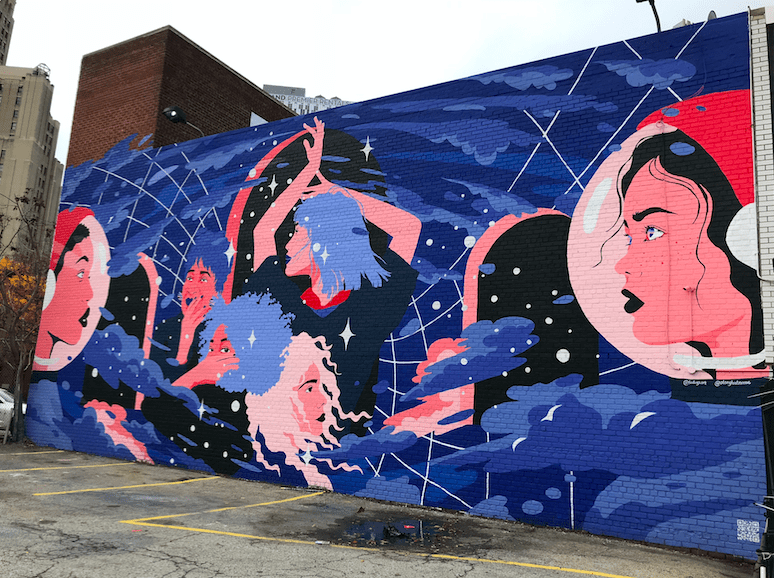 Phingbodhipakkiya, who has a background in neuroscience, said her Fort Greene mural was about the feeling of belonging.
"Neuroscience tells us that when we are ostracized or feel like we don't belong, our bodies react as if we had experienced physical harm," Phingbodhipakkiya said.
"My art is about creating a sense of belonging in communities that might not get the investment they deserve."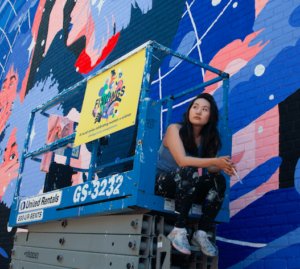 With this same ethos, Phingbodhipakkiya took on anti-Asian racism in a public art subway-takeover at the Atlantic Avenue Barclays Center subway terminal.
Phingbodhipakkiya said her Fort Greene mural celebrates brown dwarfs, which, despite its name, is a luminous blue and red feature of outer space that does not fall into the category of either a star or planet.
These galactic bodies are somewhere between the two and are ever-evolving, thus nicknamed the misfits of the galaxy. When learning this, Phingbodhipakkiya said she immediately saw the connection to womankind in New York City.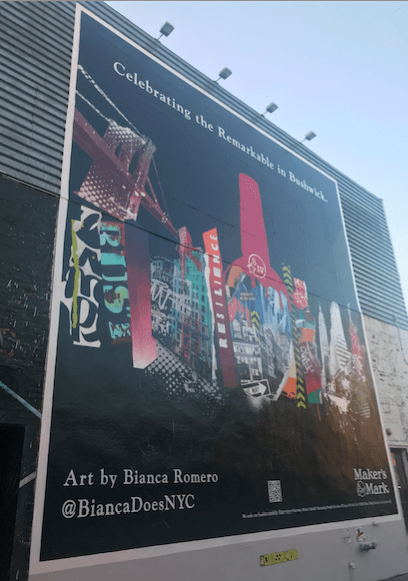 "What if we depicted brown dwarfs as the diverse women of New York City who are luminous and irrepressible and just kind of hard to pin down, but totally badass and incredible?" Phingbodhipakkiya said.
City of resilience
Bianca Romero is one of those hard-to-pin-down but totally badass women.
She partnered with whiskey company Makers Mark to create 11 murals across Manhattan and Brooklyn celebrating the resilience and identity of New York City.
"There's been a lot of talk about 'New York is dead' due to the pandemic, so the goal of these murals is to remind people that New York is and always will be this resilient energy," Romero said.
For the 11 artworks, Romero deconstructed the NYC skyline and pulled out different icons and textures that give the city its personality, including subtle nods to current events, like a Black power symbol and block letters spelling 'RESILIENCE.'
"Street art and public art, in its nature, is about taking up space," Romero said. "Just kind of owning it. It's important for women to occupy this type of space."