Valentine's Day is a week away and-- love it or hate it-- you undoubtedly will begin to feel something as February 14th draws near.
The holiday of love has a somewhat shadowy history dating back to the Romans and its celebration has created two distinct camps: Perhaps you're the super "into it" type, who loves dinner, drinks and dancing, or the triumvirate of chocolate, flowers and champagne. Conversely, it's also a good chance that you're a Valentine's Day denier allergic to celebrating a holiday whose only purpose is to move product (And we're talking over 1 billion Valentine's Day cards, 35 million heart-shaped boxes of chocolates and enough roses to make the opening scene of Coming To America look like the flacid flower section of your local bodega).
So whether you're a willing contributor to the over 20 billion bucks that Americans spend on this lovers' day, or whether you fancy a more alternative mode of celebration, here are some excellent, Brooklyn suggestions for you.
FEBRUARY 11TH

4 Course Dinner with Live Performance by Eric Roberson, Amarachi Restaurant, 189 Bridge Street, Feb 11th, 4pm-7pm (DUMBO)
Having a sumptuous, 4-course meal and a complimentary glass of wine is an offering that can be found at many restaurants across Brooklyn, to celebrate Valentine's Day. It's a plus that it's at Amarachi, which is a beautiful restaurant and lounge in DUMBO, serving delicious African fusion fare and amazing cocktails; but what their V-Day celebration as standout, is that Eric Robeson will be performing live and for the price of dinner. Hearing the smooth and soulful voice of a twice grammy nominated singer and writer for artists like Jill Scott, Vivian Green and Dwele, in an intimate environment, for the price of dinner will surely be greatly appreciated by your significant other.
Click here for more info and to make reservations.

Date & Dash Fundraiser, Therapy Wine bar, 364 Lewis Avenue, $15, Feb, 11th, 8pm (BedStuy)
Single folk are either an afterthought on Valentine's Day or bludgeoned with the ridiculous idea that life is totally incomplete without being in love, and I'm just sick and... I mean, that's such an archaic life view in 2017.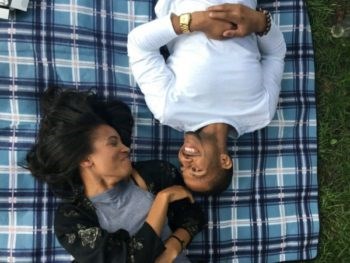 So if you in these Brooklyn streets, living single like Khadijah and Kyle, check out this speed dating event brought to you by the cast and crew of the web series Makeup X Breakup, which is about the ups and downs of looking for love in NYC. The series garnered a significant and engaged audience for its inaugural season, and this event will double as a season 2 fundraiser.
Who knows, you might find love or an intensely creepy coup d'un soir, that will need phone number and Facebook blocking...but such is that single life. Click here for more information and to get tix.

INDULGE: A Valentine's Date Night, House Of Juice, 642 Rogers Avenue, $40-$70, Feb 11th, 4pm-10pm (Prospect Lefferts Garden)
If celebrating Valentine's Day includes indulging your palette AND treating your body right, then you should definitely click here to get more information about celebrating this VDay at House of Juice. It bills itself as the world's first and only Juicery & Brewery sharing the Seed to Spirit beverage experience with plant based kitchen dishes. The celebration will include: Drinks by "Island to Island Brewery". Dishes by "Plant Based For You" Chefs. Live performance by "Shorelift" among other bands and 3 Course Meal with 3 Cocktail Pairings (mocktail options available).
It's not a couple centric celebration either, as it's a single mingle situation as well. Cover fee includes drinks and tapas.

It Takes Two to #BKBLove, Brooklyn Boulders, 575 Degraw Street, Feb 11th, 5:30pm-10:30pm, $28 (Boerum Hill)
Brooklyn Boulders is a fitness and rock climbing situation, which it will still be at this event to celebrate Valentine's Day, which will feature a chocolate fountain, sponsored cocktails, fizzy beverages and wine, as well as a silent auction to win date prizes, on Valentine's Day, at places like Pies n Thighs and Royal Palms Shuffleboard. You can also grab your poo bear and compete in the partner climbing competition (with prizes), which can only strengthen your relationship as the competition toughens your unified resolve in the face of obstacles. It can also break you up, when you see your significant other is a simp quitter and wilts under pressure.
Either way, there will be a DJ providing a soundtrack to the ascension or downfall of your relationship...just get custody of the dog in the breakup and click here for more info.
FEBRUARY 12TH

Valentine's Day Paint & Sip, The Jolie Studio, 1131 Nostrand Ave, 5pm-8pm,$35-$45 (Prospect Lefferts Garden)
Paint and Sip is an awesome couples activity and equally fun for someone looking to create a Valentine's Day gift for their significant other. You can sip on adult beverages, indulge in a seductive tasting experience, while listening to a finely curated, R & B flavored playlist. The fee includes all art materials, as well as an instructor and host guiding you in technique and empowering you throughout the evening. You can even bring your own bokkle, but probably should probably leave the Bacardi at home, as you're tryna channel Basquiat and not get black out drunk.
If you don't have real talent with the brush, don't play yourself and show up on VDay, with just the painting as a gift; think of it as a perfect pairing with roses or a box of chocolate. Click here for more info

FEBRUARY 14TH-VALENTINE'S DAY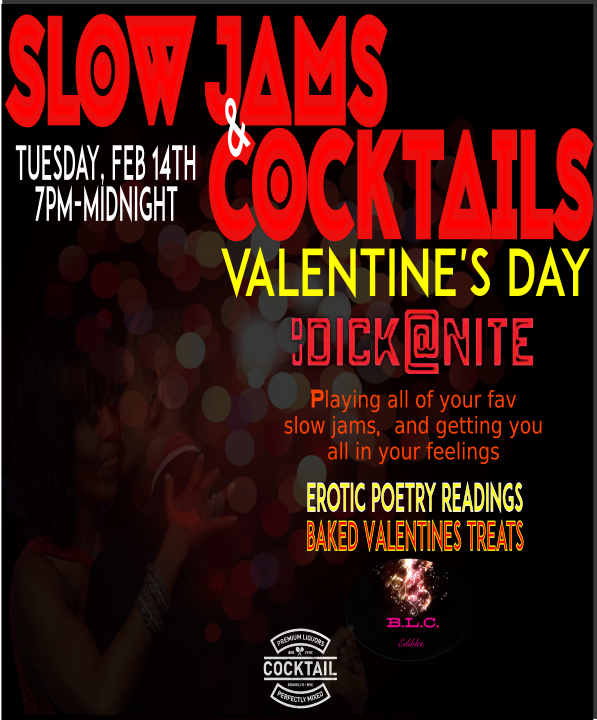 Slow Jams & Cocktails, Bed Vyne Cocktail, 305 Halsey St, Feb 14th, 7pm-Midnight, Free (BedStuy)
The night will feature DJ Dick @ Nite, playing all your favorite slow jams and getting you all in your feelings, which is a perfect way to spend some time on Valentine's day. Maybe get your significant other onto the dance floor for some slow dancing, and if you lock eyes with your future ex, you can share one of the delicious cocktails turned out by the mixologist at Bed Vyne Cocktail, indulge in the delicious baked goods sold by B.L.C. edibles or listen an open mic, erotic poetry reading. It's a no twerking zone at Slow Jams & Cocktails, where you dance face-to-face, giggle and whisper your tight game into attentive ears.
Click here for the Facebook Event page for more info.

Pele's Paradise, Arrogant Swine, 173 Morgan Avenue, Feb 14th, 8pm-11pm, $10 (East Williamsburg),
Pele is not just the futbal gawd, but also the name of the Hawaiin Fire Deity, who is the goddess of fire, lightning, wind and volcanoes and the creator of the Hawaiian Islands, so an event dedicated to a paradise of her creation is sure to be amazing. With plenty of tassels, pasties and va-va-voom, along with beautiful girls eating and fondling fire during the dinner show, you're sure to be titillated and excited at Pele's Paradise, while enjoying amazing cocktails from the venues renown mixologists. But don't be that person who gets too close to the fire and gets singed, because 1st degree burns are not a part of paradise
Click here for more information and to purchase tix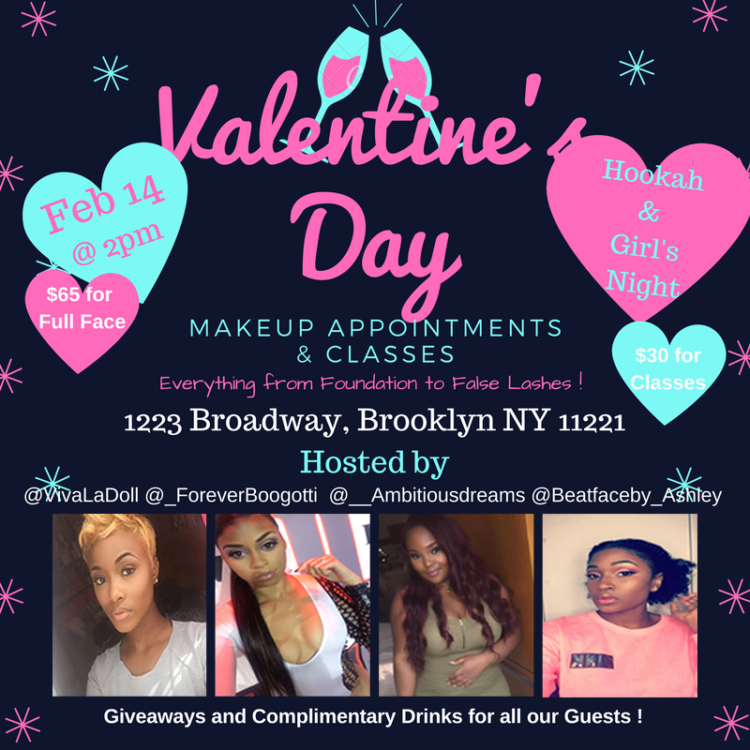 Valentine's Day Slay & Tutorial, 1223 Broadway, Feb 14th, 2pm-9pm, $30-$65 (BedStuy)
Valentine's Day comes around once a year, so many women want to get everything right. The outfit, unmentionables under the outfit, the perfume and the restaurant are all very important, but if your makeup leaves you looking like an agitated circus clown, it could ruin the night and make everything else all for naught. Don't leave anything for chance by attending this day of event, where you can get tutorials on how to "slay" everything from lashes and eyebrows, to foundation and lipstick. If you ain't got time for none of that, they can also do your full face, for the full fee. Drinks on deck as well, just don't get bent before the night even begins.
Click here for more info and to purchase tix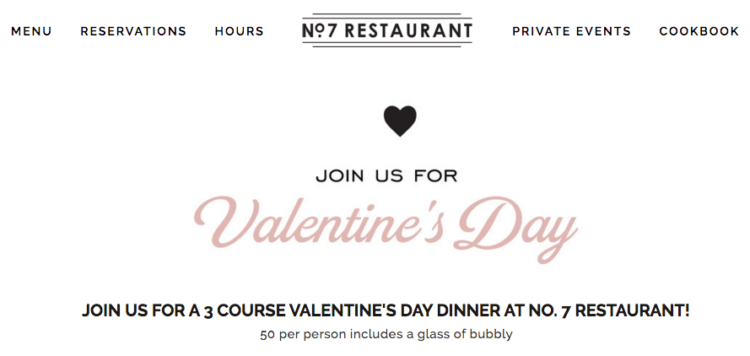 Valentine's Day Dinner, No. 7 Restaurant, & Greene Avenue, Feb 14th, $50 (Forte Greene)
For a pure delicious dining experience, and for just Fifty bucks, you can't beat No.7 restaurant on Valentine's Day. Opened by chef Tyler Kord back in 2008, and lauded by Bon Appetit Magazine, The New Yorker Magazine and The New York Times, it's been cooking up a whimsical and super tasty menu ever since. They've gone on to sate Mr. Kords rain-man like obsession with sandwiches, by opening up a string of No. 7 sandwich shops around NYC, where he doubles down on his food fanaticism by serving up the most scrumptious usage of his beloved broccoli, along with other left field ingredients like lychee muchim and pickled blueberries.
Hyperbole aside, snagging a 3-course dinner, with a complimentary glass of bubbly at No. 7 restaurant can be done by clicking here, and making a reservation.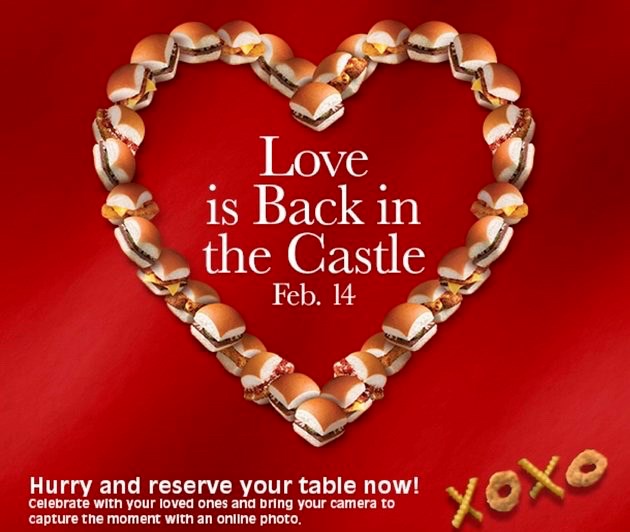 Valentine's Day Dinner, White Castles, 5 Brooklyn Locations, Feb 14th, 4pm-9pm
It's the twenty six annual Valentine's Day Dinner at White Castles, and snagging a reservation would surely be a kitschy, delicious and budget friendly V-Day dinner. If you've never been in White Castles either sober or before 3am, this is an excellent opportunity to get in there, get some table service and get to know a whole new side of your significant other. To be honest, the side will probably be a side-eye, as your bedroom buddy might not appreciate the irony of the evening, even though you'll get table side, waiter service to experience the delectable menu of murder burgers, shrimp nibblers and strawberry and cream waffles.
Don't expect the horizontal Rumba at the end of the night, mainly because you'll both be gassier than a Kellyanne Conway interview, but also because, well, because White Castles. Click here to make a reservation.
Well there you have it: an ultimate guide of how do Valentine's Day in Brooklyn! Now get out there and make me proud... And if you make babies from these amazing recommendations, you should name the baby after me. Or at least don't use one of these new names like Trabisha, which sound like a prescription drug.