I remember in the 90s the brouhaha brewing in the dance industry around classical ballet and how, as an art form, it was fraying (what, with all of those diverse people and diverse bodies now entering the study); and the longstanding assertion that upholds the "true ballerina" as delicate, slight and, well... white, was beginning to change.
Fast forward 25 years later, and that argument has been ripped to smithereens, in Brooklyn of all places, and, by none other than The Brooklyn Ballet.
In The Brooklyn Nutcracker, The Brooklyn Ballet's version of Tchaikovsky's holiday classic, dancers not only arabesque and pirouette but also pop-lock! And yes, they plié and assemblé, but that's mixed in with a little robot (dance).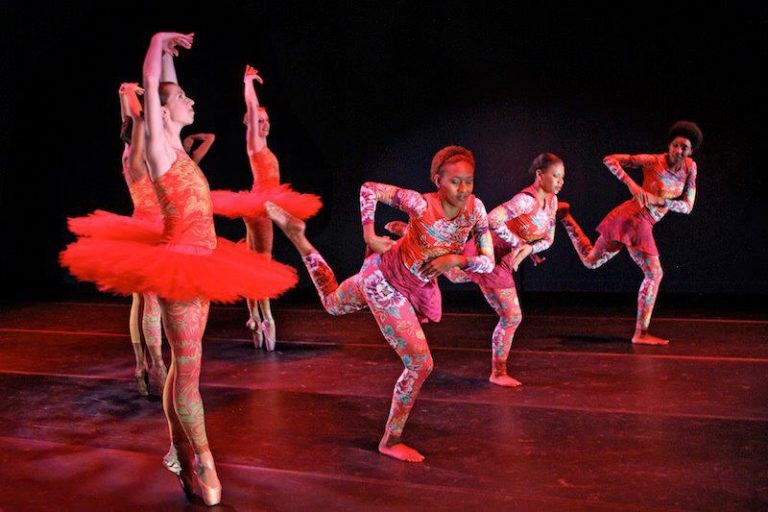 A little African dance is braided in as well, along with a thoroughly multicultural cast. It is clear from the opening scene of The Brooklyn Nutcracker, that this ain't yo momma's ballet. In fact, it's totally reimagined weaving in the contemporary melting pot culture of Kings County, starting from the point of view of old Dutch Brooklyn and leading to iconic Flatbush Avenue.
Now in its sixth year of performance, the ballet company collaborated with pop-lock artist Mike "Supreme" Fields and brought in costume designers YMX by Yellowman.
Plus... and here comes the boom... technology!
The Brooklyn Nutcracker has a digital set design, along with wearable technology, including techno tutus and a motion sensor skirt that mimics the pattern of falling snow.
In the finished production-- led by Nick Vermeer and Billie Ward of hacker collective NYCResistor-- wintry projections coordinate with the dancers' movements, triggering LED lights that flicker and flutter to create the illusion of falling snow.
This year, the Brooklyn Ballet has launched a Kickstarter Campaign to raise funds for what will be its biggest full-on production to date, opening Dec 7 - 9 & 11, and debuting for the first time at The Brooklyn Museum.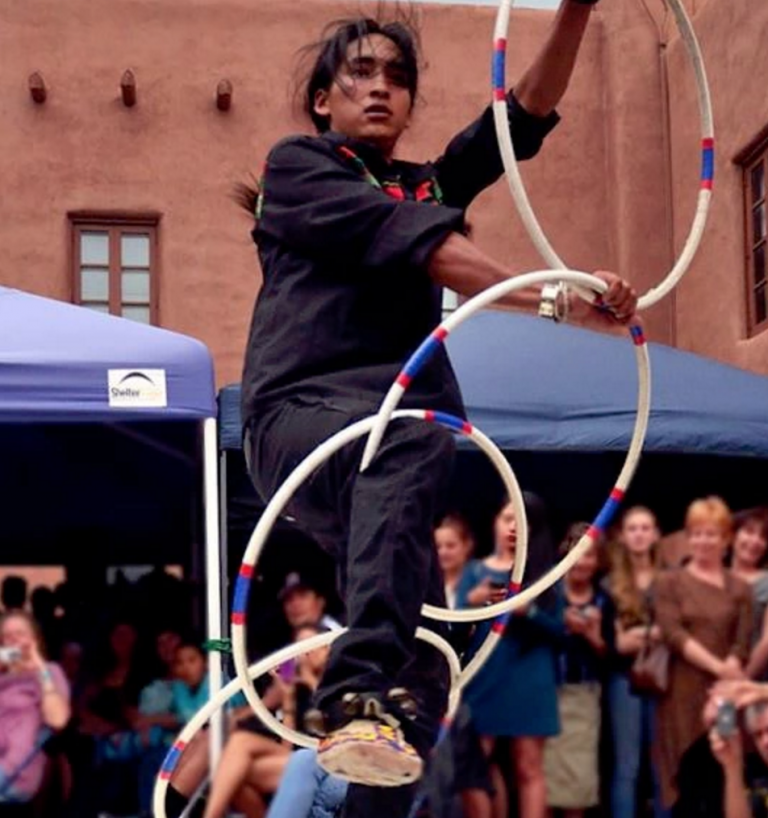 The campaign kicked off 11 days ago, and has raised so far $2,400 of the $20,000 goal, with 19 days left.
The funds are needed to support the cost of more dancers, added scenes and guest artists, including Nakotah LaRance, 6-time World Hoop Dance Champion from the Ohkay Owingeh Pueblo in New Mexico. LaRance will perform his sensational mix of traditional hoop and hip-hop dance to open the second act.
Returning guest artists include Ingrid Silva and Dylan Santos, of Dance Theatre of Harlem, playing the Sugar Plum Fairy and Cavalier; as well as Sira Melikian, a performer in the Arabian dance.
Well, lucky you: This Saturday, December 3, Target First Saturday at the Brooklyn Museum will present a preview of The Brooklyn Nutcracker! Check out this sneak peak performance on Saturday, and then stay to enjoy the rest of amazing programming and exhibits at the museum.
And oh yeah, if you like what you see in the updated version of this Christmas ballet classic, don't forget to circle back and donate to their campaign so that more New Yorkers can witness The Nutcracker and how Brooklyn does ballet.