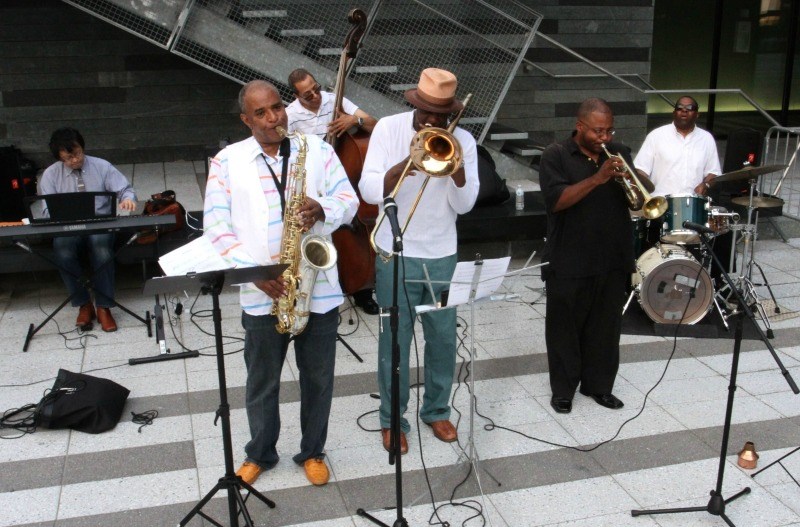 As part of Bedford Stuyvesant Restoration Corporation's 2014 Summer/Fall Events Series, Evening Jazz produced by the Central Brooklyn Jazz Consortium, returns for a second year to Restoration's newly renovated West Plaza.
Beginning every Tuesday in September, five free outdoor concerts will take place from 6:00pm - 8:00pm. Bring your lawn chairs. Food and beverage available for purchase. Also, Applebee's "Dining to Donate" program is in effect for the Tuesday Evening Jazz series.
Founded in 1999, Central Brooklyn Jazz Consortium (CBJC) is a non-profit organization, a collective of patrons, entertainment venues, faith based institutions, community organizations and musicians. CBJC is committed to preserving, promoting and supporting live music in underserved communities of Brooklyn. Over the past fourteen years, CBJC has presented an annual spring festival, established a Brooklyn Jazz Hall of Fame & Museum, as well as yearly programs that feature local jazz talent.
Performance Schedule
9/02/2014 Reggie Woods and The Organ Monk Group
Saxophonist, composer, and arranger Reggie Woods is a New York native whose jazz music influenced by legendary saxophonists Gene Ammons and Dexter Gordon. The sweet melodic mature tones of his tenor, alto and soprano saxophone leave your soul stroked and satisfied. Although Jazz is his first love, he has added a special quality to his live sessions with Rap, Pop, Funk and Blues genres.
9/09/2014 Napoleon Revels-Bey's "Nu Mo Swing Ensemble"
Versatile percussionist Napoleon Revels-Bey performs music from the Caribbean side of Art Blakey, Miles Davis, Herbie Hancock, Wayne Shorter, and Monk. Napoleon's trio features highly sought after musicians Marcus Persiani on organ and Byran Carrott on vibraphone.
9/16/2014 Steve Cromity & The Trio
Steve have been singing professionally since 2004. Influenced by Eddie Jefferson, the godfather of vocalese and Johnny Hartman. He performs regularly at Brooklyn venues: Jazz966, BrownstoneJAZZ, and Two Steps Down, where he performs every 2nd Sunday monthly.
9/23/2014 Jeff King Band-Tribute to Trane!
Tenor saxophonist Jeff King is a Brooklyn native whose jazz band is in demand throughout the metropolitan area and beyond. Jeff continues to spearhead "Jazz" in its purest form. His band performs The New Jazz Standard! This tribute performance to John Coltrane takes place on what would be the music icon's 88th birthday.
9/30/2014 Mozayik (Afro-Haitian Jazz)
Guitarist, band leader, Eddy Bourjolly group blends jazz with Afro-Haitian rhythms. Eddy's music is widely respected in Brooklyn's jazz circles and NYC's Haitian community. They recently shared the stage with music legend Chick Corea's standing room only performance.