The "borderline freak-show attraction" of death match wrestling has come out of the shadows of New York City garages and punk bars to meet a new audience in Brooklyn, with a blood-free version of the event.
Professional wrestler Casanova Valentine — large, long-haired and tattooed — is the man behind New Fear City, a production company known for putting on underground "no ring" death match wrestling shows: Brutal and bloody spectacles where objects like nail-studded props, glass and barbed-wire are allowed.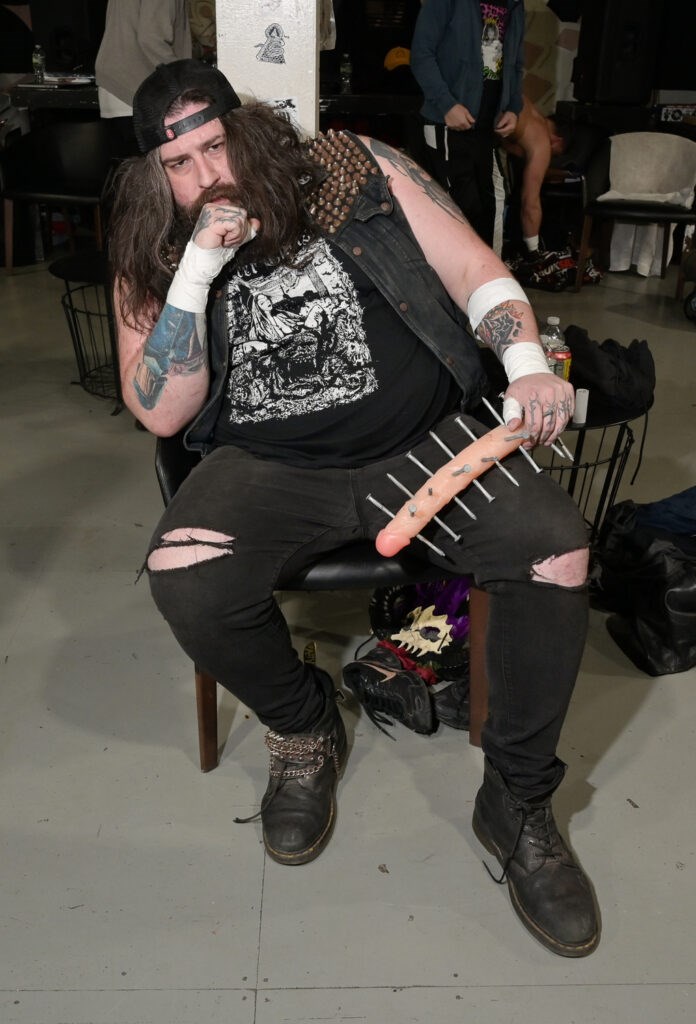 The shows are typically held in underground music venues or garages alongside bands and other performers.
As wrestling is strictly regulated in New York State, Valentine has previously avoided the Athletic Commission's purview by classifying the underground events as performance art, he said.
However, this past Friday — looking to make the experience accessible to more people — New Fear City held its first "fully legal" wrestling entertainment show at the Brooklyn Monarch. The show was signed-off on by the Athletic Commission, and met all state regulations, including having medics on hand.
"Even though I don't like to jump the hurdles, I think it was worth it to make something cool," Valentine told BK Reader, in a husky rasp, ahead of the show.
While featuring bikini-clad dancers, horror-inspired costumes and the avant-garde characters of the original shows, there would be no nails, no glass and no blood for the event, which was contained in a ring on a stage.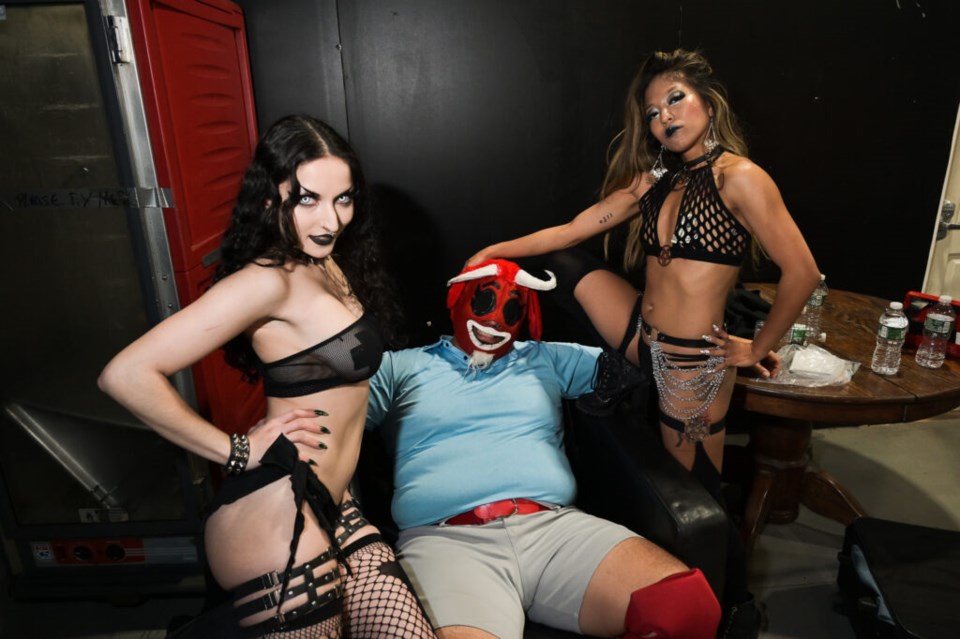 "Unfortunately, this is going to be just fun entertainment, we'll leave the bloody stuff for another time," Valentine said.
Nearly 200 people packed the main room at Brooklyn Monarch ahead of the first bell, which saw pigtailed Texan wrestler Allie Katch go head-to-head with slick-haired New Yorker Gabriel Skye.
The crowd roared in appreciation as Katch slammed both rear cheeks into Skye's face while he sat slumped against the ring.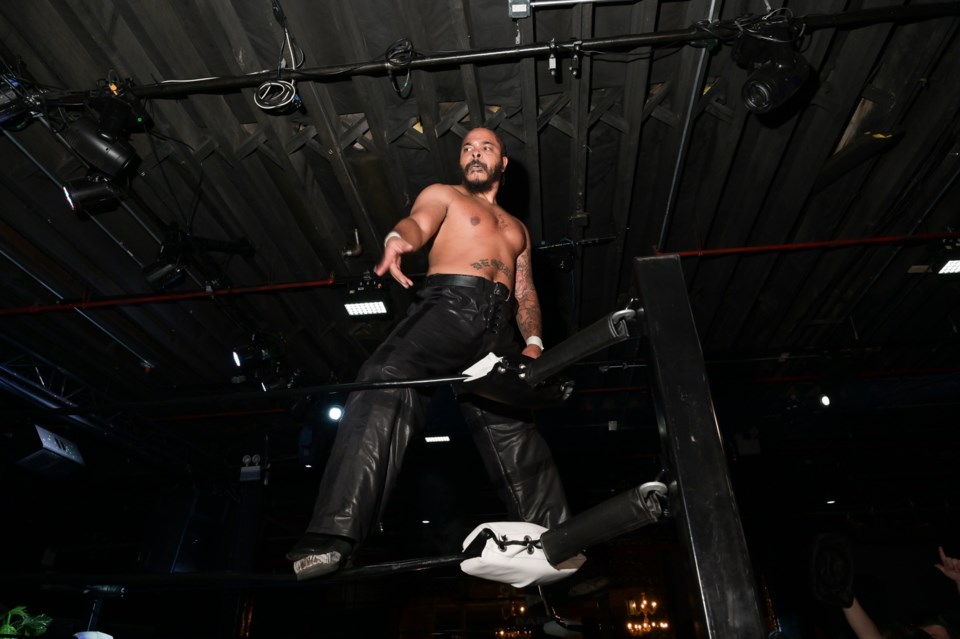 Just like WWF wrestling, the hits are glancing and intended to entertain, not maim, but the wrestlers are athletic, flying and throwing each other around the ring with impressive strength.
The audience was there for it, and would collectively suspend any disbelief to get behind the storylines playing out on stage -- whether it was a big Santa who has ripped his pants in a sandal-slapping duel with a bull-masked, dad-shoe-wearing opponent, or a Texan cowboy with braids getting thrown through a commission-approved door.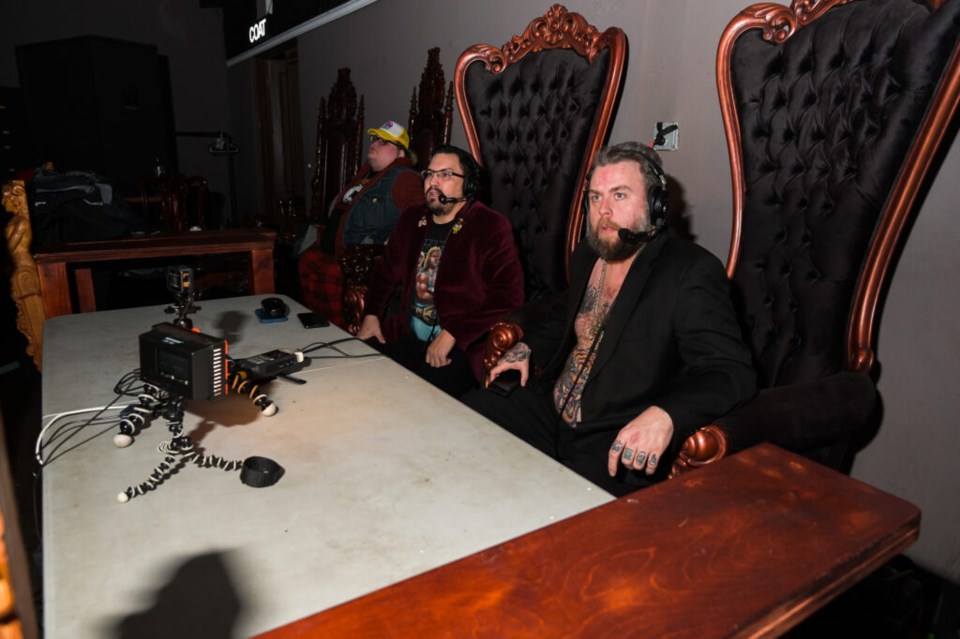 "They're very fun and exciting," ring commentator Jericho Davidson told BK Reader. Davidson first met Valentine when his band played at one of his "no ring" shows in about 2016. Davidson has been to pretty much every show since.
"It's almost like a borderline freak show attraction," Davidson said of the shows he'd been to in the past.
"It can be violent, I guess, perceived violence — lots of blood and things breaking — it's all part of the show."
The show attracted several regulars among an eclectic crowd that was heavy on bearded and long-haired men. Many came in character themselves, and would only give BK Reader their aliases.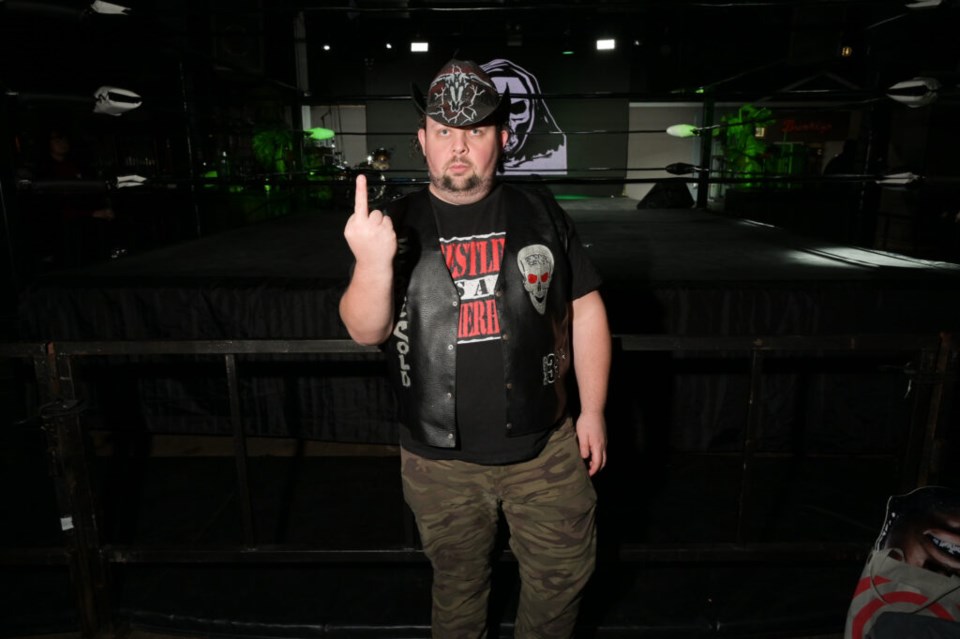 Loud and leather-vested, Cowboy Lou said it was his first time at a New Fear City production. He usually watched mainstream WWE-type shows held in arenas and stadiums, or minor-league wrestling that was typically held in churches.
"I saw in advance that they were going to have live music and go-go dancing," he explained.
Mike "Mittens" McNicholas was a regular at death match shows, and said he loved how unique the no-ring New Fear City productions were, which he likened to the film "Fight Club."
"Everyone's in a circle, it's like low-key and raw and violent, and everyone messes each other up and everything. It's great!"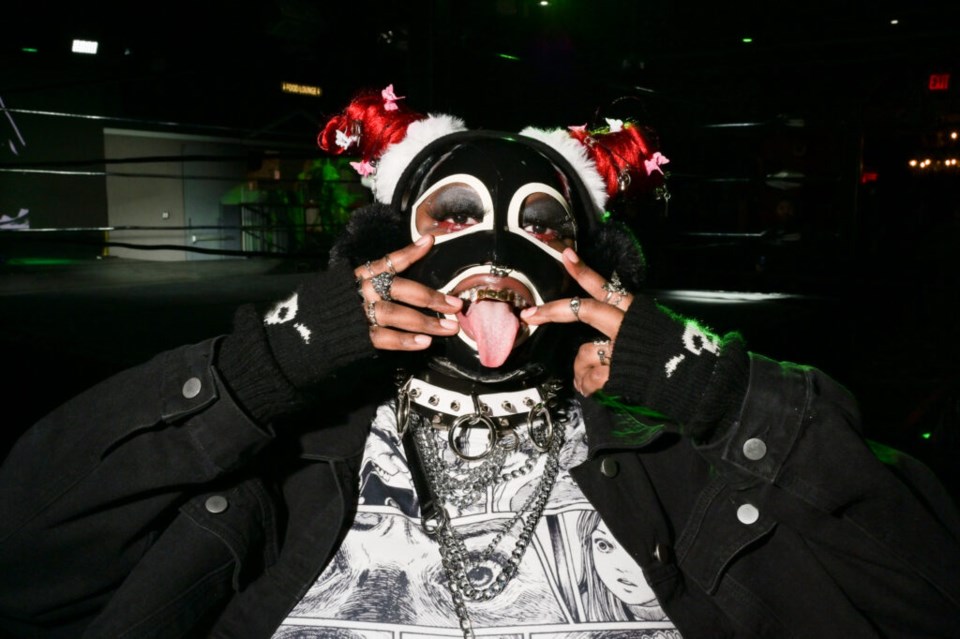 Performance artist Nymph the Enchantress told BK Reader she was a huge fan of New Fear City's previous shows and was supporting those in the ring, hoping to be in it herself one day.
She said the first show Athletic Commission-approved show at Brooklyn Monarch was "a pretty big deal," even though it wouldn't feature the blood and gore she was used to. "It will be contained chaos, unfortunately," she laughed.
Meanwhile, Valentine said he hoped the sanitized New Fear City wrestling matches would take off in Brooklyn and beyond. The professional wrestler, who is covered in scars, was also looking to build a sustainable future for himself.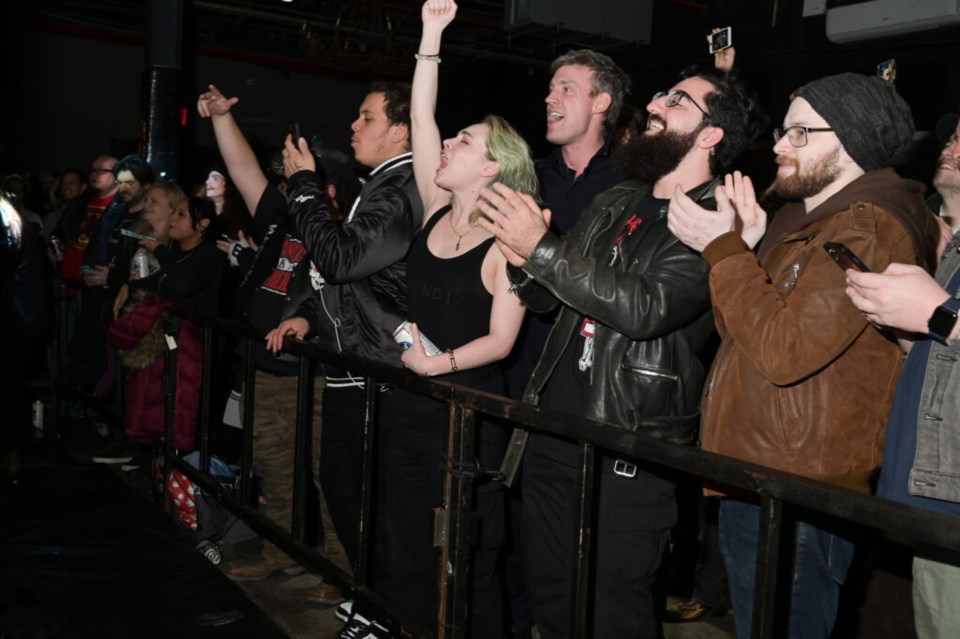 "I wish my gimmick was, 'balanced breakfast full night sleep guy,' because the 'bar fight guy' is getting pretty tired," he laughed. Valentine has been wrestling professionally for 10 years, and still travels and does no ring shows with nails, glass and blood frequently.
"No ring [wrestling] can only grow so much, and I want to grow this," he said.
"My life is very fun and very rewarding. Listen, it's been fun to be a punker and do my DIY events. But I'm 36, I probably have four years left of wrestling, it would be nice to make some money. Let's try to grow it a little bit."