David Bowie is will display never-before-seen objects and work including handwritten lyrics, original costumes, photography, set designs, album artwork and rare performance material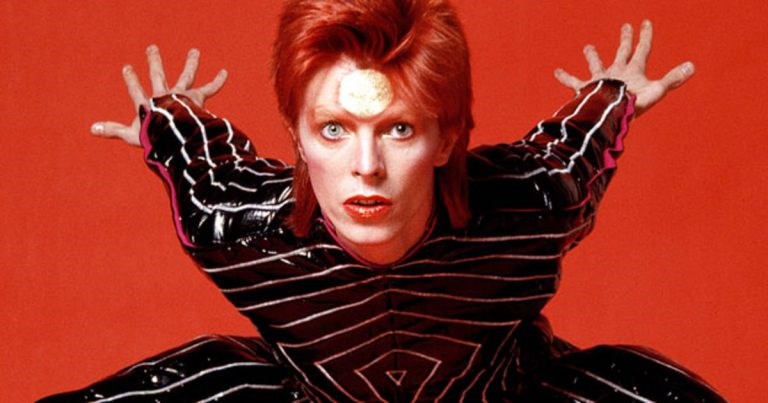 David Bowie is, the critically acclaimed touring exhibition organized by the Victoria and Albert Museum (V&A), London, is making its final stop at the Brooklyn Museum. On view from March 2 to July 15, 2018, David Bowie is will include never-before-seen objects and work exclusive to the Brooklyn Museum presentation. The exhibition is the first retrospective of the extraordinary five- decade career of David Bowie—one of the most pioneering and influential performers of modern times.
"Since David Bowie is left the V&A in August 2013, nearly 1.8 million visitors have flocked to see the exhibition as it has travelled around the world, a testament to Bowie's depth, breadth and worldwide reach and the public's interest in the processes of creation behind such a uniquely influential performer," said Victoria Broackes, curator at the Victoria and Albert Museum. "Bowie himself left England in 1974 to eventually settle in America, so we could not be more delighted that the final leg of the tour brings the show back to New York, where Bowie made his home."
David Bowie is explores the creative process of an artist whose sustained reinventions, innovative collaborations and bold characterizations revolutionized the way music is seen, inspired people to shape their own identities while also challenging social traditions. With an unprecedented access to his personal archive, the exhibition features more than 300 objects collected from his teenage years through his death in 2016— including handwritten lyrics, original costumes, photography, set designs, album artwork and rare performance material.
The exhibition explores the broad range of Bowie's collaborations with artists and designers in the fields of fashion, sound, graphics, theater, art and film. On display are more than 60 stage costumes including Ziggy Stardust bodysuits as well as the Union Jack coat designed by Bowie and Alexander McQueen for the Earthling album cover. Also on view is photography by Brian Duffy, Terry O'Neill and Masayoshi Sukita; visual excerpts from films and live performances including The Man Who Fell to Earth and Saturday Night Live; music videos such as Boys Keep Swinging and Let's Dance; and set designs created for the Diamond Dogs Tour. Alongside these are more personal items such as never-before-shown storyboards, handwritten set lists and lyrics as well as some of Bowie's own sketches, musical scores and diary entries.
"With mainstream appeal and yet an avant-garde heart, David Bowie was one of the most original artists of our times," said Matthew Yokobosky, director of exhibition design at the Brooklyn Museum. "He challenged the status quo and continually took us on new musical explorations with his forward- thinking and groundbreaking presentations. David Bowie continues to be the apex for many artists in wide- ranging disciplines."
'David Bowie is' will be a timed ticketed exhibition. Lightning Bolt tickets, which give attendees priority access, are available now through the run of the exhibition and cost $35. Member tickets will be available on November 8, 2017 before standard tickets go on sale to the public on Wednesday, November 15, 2017. To learn more about the exhibition, hours, tickets and pricing, go here.