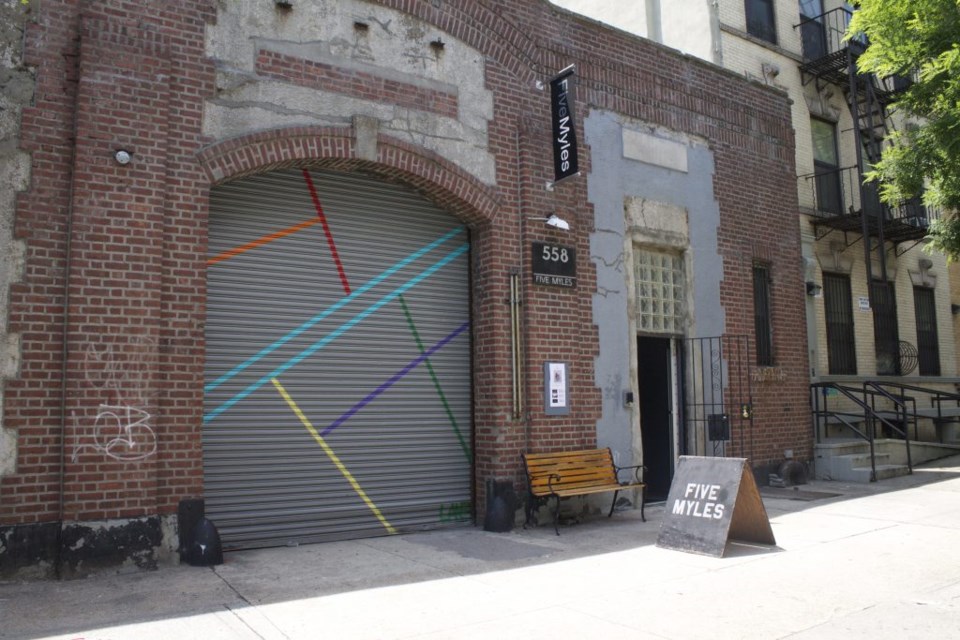 From an aerial view, if every construction site underway in Central Brooklyn today were indicated by a red dot, you'd swear the borough had caught Chickenpox.
However, there has been one salve for this real estate fever: art.
Over the past decade, the green plywood construction walls that have changed New York's aesthetic for the worse are now turning out to be an effective and efficient way to display public art.
A new art exhibition now covers a 500ft-long plywood fence that protects the construction site of a large residential building located at 560-564 St. Johns Place in Crown Heights.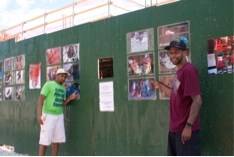 Presented by FiveMyles Gallery, the exhibition presents 27 prints of paintings by the Nigerian-born artist Francis Simeni, 41 photographs highlighting two remarkable sneaker collections, along with sun prints made from the hands of local children.
Attracting the attention of passersby, neighbors and strangers, these construction walls turn the walk on the construction side of the street into a pleasant and interesting experience.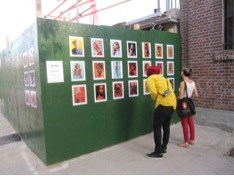 "We hope to inspire other not-for-profit art spaces to use those available public and temporary wall spaces for their exhibition programs, and to ultimately gather the interest of city officials who can authorize and support these projects on a citywide scale," said Hanna Tierney, founder of FiveMyles Gallery.
"It is a way of giving something back to each neighborhood that is being interfered with and thrown into disarray by these construction sites, and it gives much wider access to the arts to all New York residents."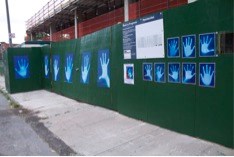 FiveMyles says it will continue this project until the completion of the building in 2017 and are accepting ideas for future exhibitions from artists, writers and poets.
Directions: Take the 2,3,4 or 5 trains to Franklin Ave. in Brooklyn. Walk 2 blocks against the traffic on Franklin; turn left into St. Johns Place. FiveMyles is located within walking distance from the Brooklyn Museum.