Certain Magic is an exhibition of complex collages that mix embroideries with digital images to explore the transformative power of love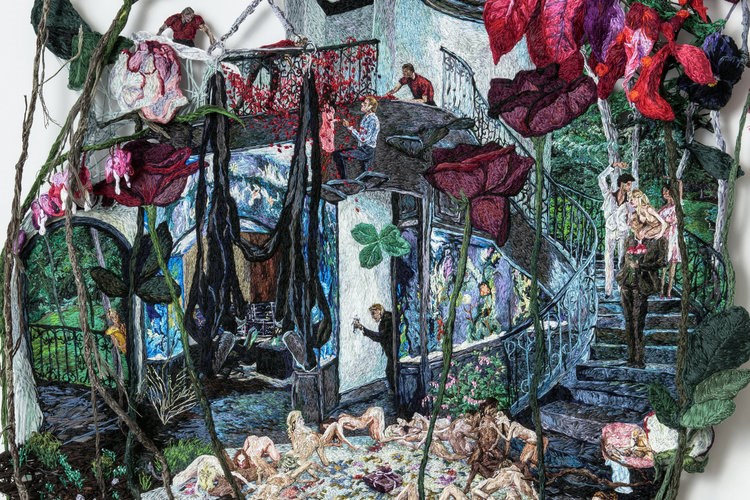 BRIC presents Sophia Narrett: Certain Magic, an exhibition of complex embroideries that express the power of intimacy and desire in the digital age, on view from Saturday, May 12 to Sunday, June 17. By casting figures sourced from the internet into carefully embroidered scenes, Narrett creates complex digital collages that respond to a world of immediate media with an idiosyncratic fantasy.
Through undulating embroidered surfaces and edges that dissolve into loose threads or sculptural flora, Certain Magic tells a disconcerting narrative of modern longing that layers the surreal with the mundane. In the exhibition, chemistry and romance transform backyards and living rooms into sites for magic and escapism, including vignettes of exhibitionism, voyeurism, flirtation and play.
While Narrett's pieces exceed the traditional parameters of embroidery, the historical associations of the medium are crucial to its content.
"Embroidery and its implicit history help specify the tone of my stories, one characterized by obsession, desire and both the freedoms and restraints of femininity," Narrett said in an interview with the NY Times.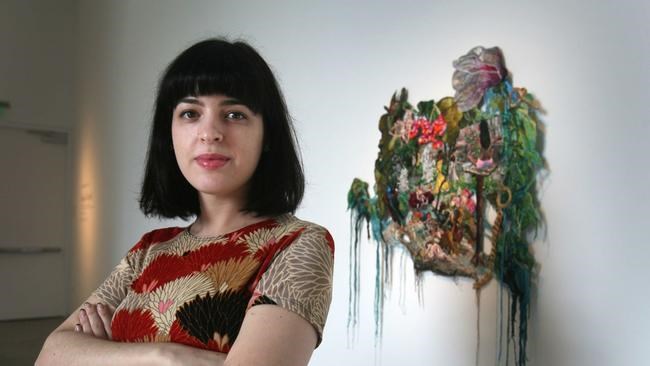 Sophia Narrett is a 2017-18 recipient of the ArtFP, an open call for Brooklyn-based visual artists to exhibit their work at BRIC House, as well as a 2018 recipient of a Pollock-Krasner Foundation Grant. Her work is currently a part of NSFW: Female Gaze at the Museum of Sex, NY and Handmade: Women Reshaping Contemporary Art at the Westport Arts Center, Westport, CT. Narrett's work has also been shown at Hunterdon Art Museum, Clinton, NJ; Lux Art Institute, Encinitas, CA; Museum Rijswijk, Holland, and various galleries in New York City.
The opening reception for Certain Magic will take place on Friday, May 11, from 7:00pm to 9:00pm at BRIC House.
BRIC Presents Sophia Narrett: Certain Magic
When: Saturday, May 12 - Sunday, June 17 | Free.
Where: Project Room at BRIC House, 647 Fulton Street, Brooklyn, NY 11217