Young Brownsville residents have spent the last six weeks hard at work on a new mural at 47 Belmont Avenue.
The colorful mural celebrating the BLM movement was done by eight youth working on arts and activism as part of the Youth Design Center's summer cohort, held in partnership with the Mayor's Action Plan.
Youth Design Center founder Quardean Lewis-Allen said the arts and activism workshop, where the youth worked on Adobe Photoshop to design a social justice themed mural, was all about the young people using their voices to speak to others in their community.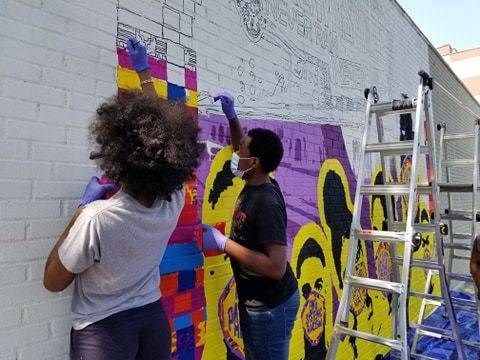 "Part of the process is understanding working together to make a single thing," he said. "Also it was about finding that one resounding message that they wanted to get across."
The Youth Design Center, formerly known as Made in Brownsville, is a nonprofit youth creative agency and innovation hub that increases access to design and tech professions for young people in Brownsville and East New York.
The six-week summer program taught graphic design for social justice and mural painting to the youth. Artist Avilda Whittmore, who was born and raised in Brownsville, led the young activists through the program. She said serving young people in her hometown with the Youth Design Center was nothing short of amazing.
"During the past six weeks I've had the privilege to teach and learn with a group of teens full of talent and aspirations," she said. "Our conversations surrounding social justice and art activism were needed and deeply valued."
She said the mural was a culmination of their experiences and collective vision of what they believed the neighborhood needed to see. Last Sunday, the young artists held a day of giving back to the community at the new mural, handing out limited edition T-shirts with the mural print, PPE and food. Lewis-Allen said it was the first civic engagement many of the young people had experienced and the message of giving back resounded with them.
To learn more about the Youth Design Project and how to get involved visit their site here.