Bank of America's Terrence P. Laughlin, arts leader Susana Torruella Leval and philanthropist Amanda Waldron are the new additions to Brooklyn Museum's board of trustees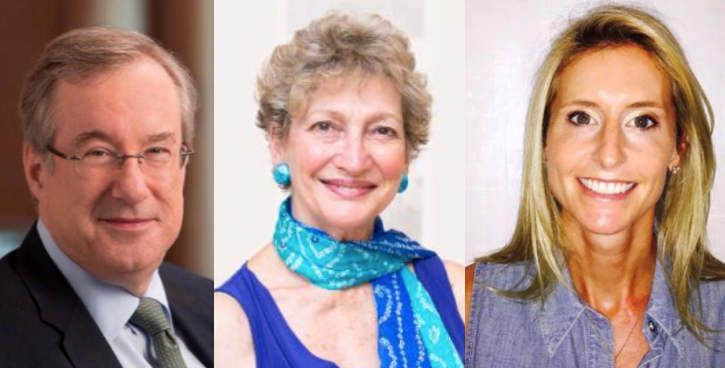 The Brooklyn Museum announced yesterday that it has elected three new members to its board of trustees: Bank of America's Terrence P. Laughlin, arts leader Susana Torruella Leval and philanthropist Amanda Waldron. With the new members, the museum's board has grown to 40 trustees. Board members include leaders in the arts, business, entertainment, media, education and technology industries.
Terrence P. Laughlin, vice chairman of the Bank of America Corporation, has extensive leadership and management experience in the financial sector, including various senior leadership positions with Merrill Lynch, FleetBoston Financial and IndyMac (now OneWest Bank). He currently serves on the boards of the Bank of America Merchant Services, the Urban Institute and the University of Pittsburgh.
Susana Torruella Leval has a long-standing career dedicated to the arts. She served as director of El Museo del Barrio from 1994 to 2002 and was named director emerita by the board of trustees in 2002. In 2011, she was appointed to the board of the Institute of Museum and Library Services by President Obama, and Mayor de Blasio named her chair of the Mayor's Cultural Arts Advisory Committee in 2015. Torruella Leval is currently a member of the advisory boards of the Center for Puerto Rican Studies at Hunter College, the Mirror of Race Project, the Association of Art Museum Directors and the Cultural Institutions Group. She previously served on the boards of the Metropolitan Museum of Art, the Aperture Foundation, the Alliance for the Arts, the American Association of Museums, the Municipal Arts Society, the Andy Warhol Foundation for the Visual Arts and the Museum of Jewish Heritage.
Philanthropist Amanda Waldron was previously a private equity investor with a focus on the healthcare industry. She currently serves on the board of directors for Peer Health Exchange, a not-for-profit organization that trains college students to teach skills-based health curriculum in under-resourced high schools across the country. She is also a member of the Leadership Council at the New York Public Library and the Children's Advisory Council for New York Presbyterian Hospital.
"We are delighted to welcome Terry, Susana and Amanda to the museum's board," said Barbara Vogelstein, chairman of the board of trustees. "They bring a wealth of expertise, and we know they will help guide the museum to even greater heights."