The Brooklyn Botanic Garden (BBG) has announced its 2023 calendar of exhibitions, programs, and seasonal highlights.
This year, the Garden is offering extended hours during spring mornings and evenings and summer evenings to give visitors more time to enjoy BBG's stunning 52 acres of specialty gardens and collections.
New spring programming invites visitors to take part in weekend and evening Hanami traditions under the cherry blossoms, and summer evenings feature live music and other new programming.
Spring in NYC is synonymous with Brooklyn Botanic Garden. From magnolia and daffodil blooms in late March, through the famous procession of BBG's 200+ cherry blossom trees in April, and into lilacs, bluebells, and more in May, the spring season is not to be missed.
Spring
Weekends in Bloom
April 22–23 & 29–30; May 6–7 & 13–14, 2023
Celebrate Brooklyn Botanic Garden's glorious spring blooms with four weekends of pop-up music and dance performances, cultural programs, workshops for kids and families in the Discovery Garden, Garden tours, and more. Free with Garden admission.
Hanami Nights
Tuesday, April 25 & Tuesday, May 2, 2023, 5–8 p.m.
Cherry Esplanade, Japanese Hill-and-Pond Garden, Atrium
Spend an evening under BBG's exquisite flowering cherry tree collection. For two nights only, visitors can celebrate hanami—the Japanese tradition of experiencing the ephemeral beauty of cherry blossom season—in the Japanese Hill-and-Pond Garden and beneath uplit trees on Cherry Esplanade, with live music and dance and specialty food and drinks. Ticketed event.
New Visitor Dining
This year, Brooklyn Botanic Garden, Union Square Events, and Restaurant Associates began a new partnership for the Garden's visitor dining and private events. Newly imagined visitor dining opens in April.
Spring and Seasonal Tours
Learn more about Brooklyn Botanic Garden and its collections, exhibitions, and history with a free Garden tour led by BBG docents, naturalists, and other experts. All tours are free with Garden admission. Learn more at bbg.org/visit/tours.
Magnolia Tours
March 25 and 26, 2023, 1 p.m., Magnolia Plaza
Explore BBG's famed magnolia collection in bloom!
Spring Equinox Tour
Nature Tours
Sundays, March 12; June 11; September 10; December 10, 2023, Various locations
Led by naturalist Bradley Klein.
Seasonal Highlights Tours
April 1–November 30, 2023, Tuesday–Sunday, 1 p.m., Meet on Magnolia Plaza
Discover BBG's plants and gardens in peak bloom on tours led by our trained Garden Guides.
Accessible Programs (Spring and Year-Round)
Brooklyn Botanic Garden is committed to making its gardens, exhibitions, programs, and facilities accessible to all who visit. Audio described tours of many of our exhibits and special events are available on select dates. Below find details on other special accessibility programs. Learn more at bbg.org/access.
Memory Tours
March 16; April 20; May 18, 2023, 1–2:30 p.m.
These 90-minute guided tours of Brooklyn Botanic Garden are designed for individuals with memory loss and their caregivers. Visitors can delight in seasonal highlights, enjoy a sensory experience and reminisce about the scents and sights of special plants, connect with nature, and engage in a hands-on activity to take home a memento of the visit. This is a leisurely Garden stroll with opportunities to stop along the way; wheelchair accessible. The tour is free, but space is limited, so preregistration is required.
Discovery Garden Early Openings for Children and Families of All Abilities
Saturdays, May 13; June 10; September 16; October 14, 2023, 9–11 a.m.
Discovery Garden Early Openings offer children with disabilities and their families the opportunity to explore the garden at their own pace and participate in multisensory activities at facilitated stations. Participants can water, weed, and plant in our fruit and vegetable garden, use real tools to explore plants, read stories, and more in a supportive environment. Early Openings are free, but capacity is kept to a limited number, so preregistration is required.
Spring Gala
Tuesday, June 6, 2023, 5:30–11:30 p.m.
Strolling cocktails; dinner and dancing on Cherry Esplanade
Brooklyn Botanic Garden's annual Spring Gala provides essential support for the Garden—sustaining collections, programs, and the well-being of our community and staff.
This year, the Garden is pleased to welcome Dr. J. Drew Lanham as our honoree at the Spring Gala to accept the Better Earth Award. Dr. Lanham, a 2022 MacArthur Fellow, is an ornithologist, naturalist, writer, and poet combining conservation science with personal, historical, and cultural narratives of nature. Lanham's research and teaching focus on the impacts of forest management on birds and other wildlife.
The evening's menu is designed and prepared by the Garden's new catering partner, Union Square Events. Each course features fresh ingredients that were sustainably grown and harvested. Learn more at bbg.org/gala.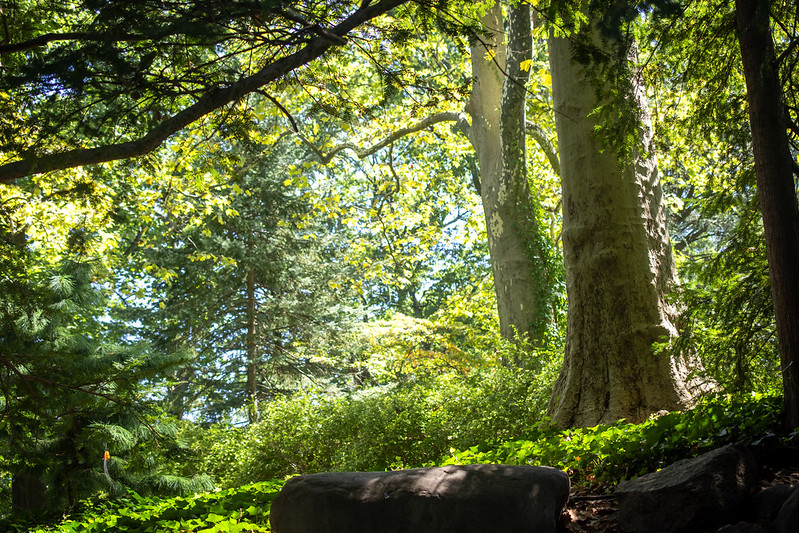 Summer
Power of Trees
June 17–October 24, 2023
Garden-wide
Trees are at the center of our ecosystem: Throughout the world, and particularly in dense urban areas such as Brooklyn, they are essential to creating healthy and hospitable environments. They help us breathe, mitigate extreme heat, protect against flooding, and so much more. Trees are also at risk from the same effects of climate change and pollution they help safeguard us from. What can people do to protect the trees that protect us? All Power of Trees events are free with Garden admission unless otherwise noted.
Power of Trees Opening Celebration
Saturday, June 17, 2023, 10 a.m.–2 p.m.
Garden-wide
Celebrate the opening of Power of Trees with a day of music, programs for kids and adults, tours, and a first look at exhibitions throughout the Garden focused on trees.
Power of Trees: Stories from BBG's Collection
June 17–October 24, 2023
Garden-wide and online
BBG highlights personal, scientific, and horticultural stories about the amazing trees in its collection through a Garden-wide signage exhibit and original web content on bbg.org.
Branching Out
June 17–October 24, 2023
Plant Family Collection, Produced with AnkhLave Arts Alliance
Co-commissioned by BBG and AnkhLave Arts Alliance and curated by Cecelia André, the Branching Out exhibit presents six site-specific works around the Garden inspired by the theme of trees as community hosts. Branching Out is part of the AnkhLave Garden Project, an ongoing series of art exhibitions in public gardens featuring local BIPOC artists.
Thursday Evening Jazz
Thursdays, July 6, 13, 20 & 27, 2023, 6–8 p.m.
Cherry Esplanade & Plant Family Central Lawn
Outdoor jazz returns to the Garden every Thursday in July. BBG has partnered with local arts organizations to program each evening's events. Thursday Evening Jazz is part of Brooklyn Botanic Garden's Art in the Garden series.
Fête with I AM caribBEING
Tuesday, August 29, 2023, 6–9 p.m.
Lily Pool Terrace & Discovery Garden
Celebrate Brooklyn's West Indian community with a garden fête presented for a second year with I AM caribBEING. Dance to local DJs, sip on specialty summer cocktails, and get ready to jump into the annual West Indian Day Parade!
Plants of Little Caribbean
June 30–September 30, 2023
Discovery Garden, In Partnership with I AM caribBEING
Plants of Little Caribbean showcases plants that are grown and eaten in Caribbean countries and territories. Check out callaloo leaves, yardlong beans, bitter karela, and other fruits, vegetables, and herbs planted in the Discovery Garden for this exhibition for kids, families, and visitors of all aged. As visitors explore, they can learn how these plants are connected to restaurants, markets, and other places in Brooklyn's Little Caribbean. Signs for this exhibit are written in three languages spoken widely in the Caribbean: English, Spanish, and Creole. Free with Garden admission.
Jean-Michel Othoniel: Treasure Garden
July–October 2023
Japanese Hill-and-Pond Garden, Fragrance Garden, Lily Pool Terrace
This summer, Brooklyn Botanic Garden presents Jean-Michel Othoniel: Treasure Garden, an exhibition of six new, monumental sculptures placed throughout the Garden. This is the artist's largest exhibition in the United States since his retrospective at the Brooklyn Museum in 2012.
Othoniel creates abstract sculptures born from the observation of nature and flowers. For Treasure Garden at Brooklyn Botanic Garden, the artist chose three locations that offered sensory and spiritual experiences. The exhibition starts in the Japanese Hill-and-Pond Garden with three golden sculptures created for display in and around the pond.
The new extended spring hours will begin April 1–May 15, 2023:
Open early and closed late: Tuesday–Thursday, 8 a.m.–8:30 p.m.*
Open early: Friday–Sunday, 8 a.m.–6 p.m.
*Except: Early close on Tuesdays, April 25 and May 2 (rain dates Wednesdays, April 26 and May 3).
Extended Summer Evenings
Tuesdays and Thursdays, May 16–August 31, 2023, Open until 8:30 p.m.
Members' Summer Evenings
Wednesdays, May 31–September 6, 2023 | 6–8:30 p.m.
Learn more and become a member