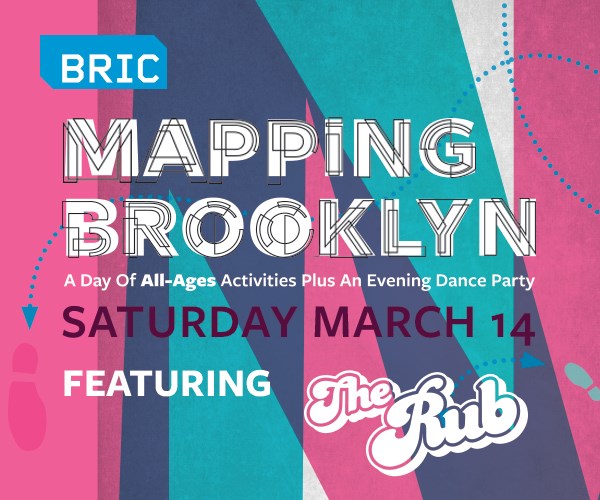 On Saturday, March 14, BRIC will host the livest all-ages, all-day party in Brooklyn!
The day starts with free, family-friendly activities and ends with a dance party featuring The Rub ($5 with code MAPPING5. Online Only. Expires 3/11 at midnight!). Check out the full schedule below!
SCHEDULE OF EVENTS
All Day | FREE | GALLERY & STOOP
Board Games!
Come play games such as Checkers, Connect Four, Candyland, Uno, Twister and more on the Stoop and in the Gallery, all day long!
2-4PM | FREE | TV STUDIO
Mapping My World: Green Screen Animations
An educational animated art-making activity for kids of all ages!
2-4PM | FREE | GALLERY
Immigration Stories with Off The Page Education
Bring us your tales, your stories, your journeys as we map the city. The collected stories will be the foundation of a newly devised show this summer, a collaboration of Off The Page, The Old Stone House and Piper Theatre Workshop.
3-8:15PM | FREE | VARIOUS LOCATIONS
Performances by NYC's Top Subway Buskers
3:00-4:30pm | Lynn Gentry Prose A Brooklyn-based musician and poet
3:00-3:30pm | Paul Mueller A veteran busker who plays the hammered dulcimer
4:00-5:00pm | Sung Lee A champion beatboxer
5:00-6:00pm | Najah Lewis A singer/songwriter who will be on the next season of American Idol.
6:30-7:15pm | Marc Mueller A multi-instrumentalist well-known for playing the didgeridoo
7:15-8:15pm | Mr. Reed accompanied by WAFFLE Dance Crew | Showtime! It's showtime! Need we say more?
3:30-4:30PM | FREE | BALLROOM
Family Dance Class with Yaminah Legohn
Map Brooklyn through dance in this class by Cumbe Center for African and Diaspora Dance instructor Yeminah Legohn.
4-6PM | FREE | BALLROOM HALLWAY
Chloe Bass Scavenger Hunt
Come and explore visual artist Chloe Bass's special project Mental Map at BRIC House, through a scavenger hunt! The hunt is for all ages and self-guided so that BRIC visitors can take part throughout the day.
5-7PM | FREE | BALLRROM
Storytelling by Five Boro Story Project
The Five Boro Story Project invites you on a journey through Brooklyn with true stories about exploring the borough and its changing terrain, from Park Slope to Bed Stuy. Master storytellers will recount personal neighborhood tales connected to artworks in the exhibition Mapping Brooklyn. Following the performances, share your own Brooklyn anecdotes, memories, poems, and more during our open mic.
5-8PM | FREE | MEDIA LAB - 2nd FLOOR
MINECRAFT Meet-Up!
Feed your obsession! Come to BRIC's Media Lab on the 2nd Floor for a group play of MINECRAFT (the super-addictive video game about breaking and placing blocks) via BRIC's souped-up video computers and super high speed internet! Mad fun for all ages.
6-6:30PM | FREE | STOOP
BROOKLYN RESOUND with The Commons Choir
Movement, voice and theater intersect to create an embodied sonic map of Brooklyn as refuge, site of arrival, microcosm and crucible for the nation in its troubled but indestructible aspiration toward peace and equity. Interested in being in a future Commons Choir performance? Click HERE for more information.
8PM-MIDNIGHT | BALLROOM
$5 w/ code MAPPING5 (Online only. Expires 3/11 at 11:59PM) | BUY NOW!
DANCE PARTY featuring The Rub
Voted "Best party in Brooklyn to dance sweatily" by The Village Voice, The Rub can spin some modern cuts, but they never forget the foundation of hip-hop, classic disco, funk and soul.