Spooky Greetings!
It's the afternoon before Halloween and if you haven't already spent all your ghoulish energy over the weekend, have a look at our list of safe trick-or-treat routes, Halloween walks and other family-friendly ghostly events! Happy haunting!
Trick-or-Treat Routes, Walks and Ghoulish Parades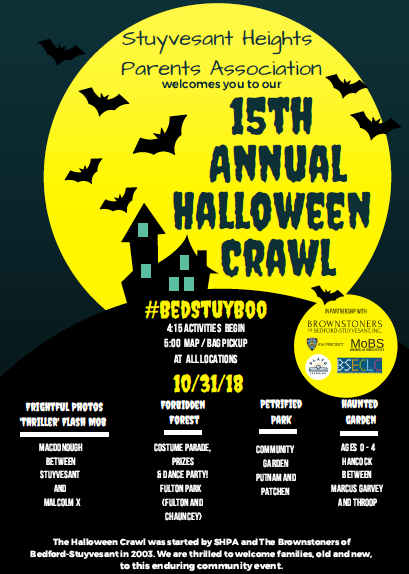 15th Annual Bed-Stuy Halloween Crawl
The Stuyvesant Heights Parents Association in partnership with The Brownstoners of Bedford Stuyvesant presents the 15th Annual Halloween Crawl, a safe space for local children to enjoy Halloween in their own community. What began as a handful of houses on a map has grown to include multiple happenings in the neighborhood: themed blocks, a parade, dance party, a toddler focused haunted garden and more! A map with all spooky destinations will be available at 4:00pm. For more information, go here.
When: Wednesday, October 31, 4:00pm
Where: Fulton Park (and other locations), 70 Chauncey St, Brooklyn, NY 11233
How much: Free!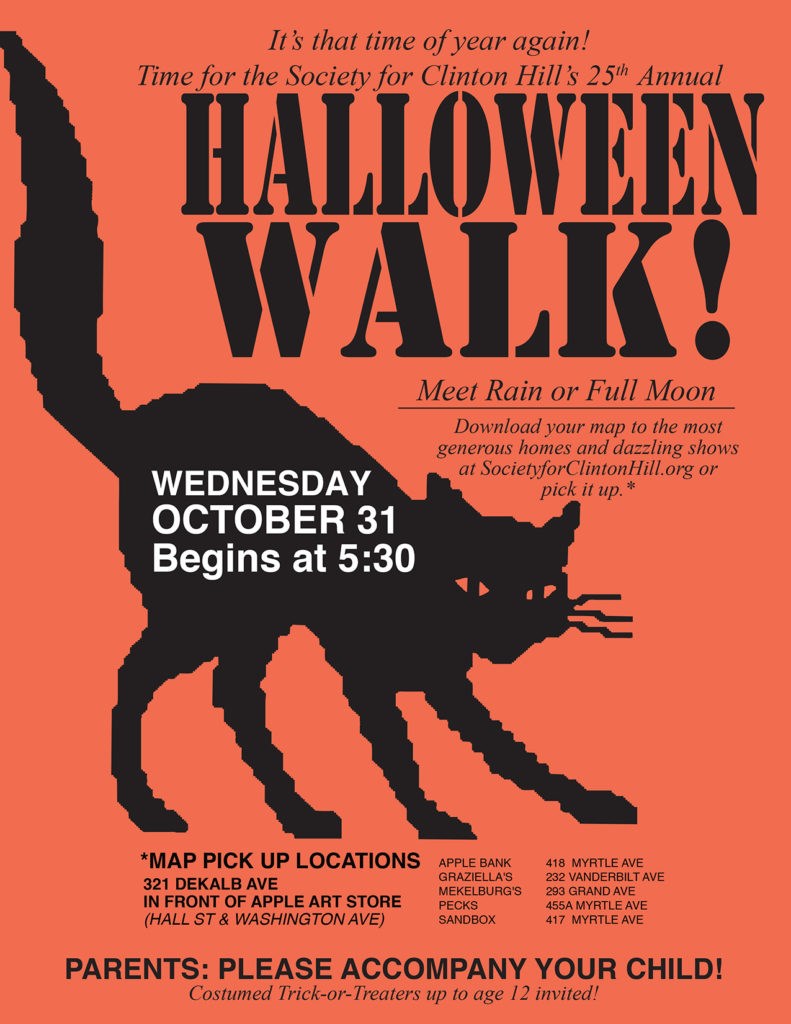 25th Annual Clinton Hill Halloween Walk
The Society for Clinton Hill is hosting its annual Halloween Walk with a host of beautiful homes and dazzling shows all around Clinton Hill. A map is available for download or can be picked up at various locations including the Apple Art Store, Apple Bank, Graziella's, Mekelburg's, Pecks and more.
When: Wednesday, October 31, 5:30pm
Where: 321 Dekalb Ave, Brooklyn, NY 11205
How much: Free!
71st Precinct Safe Path Halloween Walk
If you're a Crown Heights resident and you are looking for a protected route to take your little ones trick-or-treating, check out this notice from the 71st Precinct, covering the southern end of Crown Heights and Lefferts Garden. The route begins at Rutland/Flatbush Ave and ends at the 71st Precinct.
When: Tuesday, October 31, 5:00pm
Where: Rutland Ave & Flatbush Ave., Brooklyn, NY
How much: Free!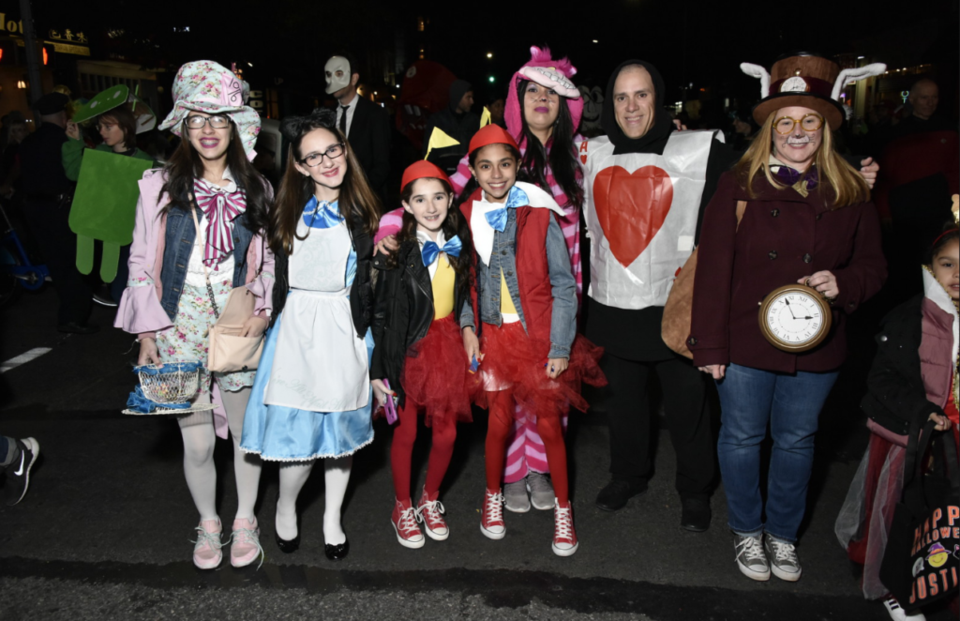 Park Slope Halloween Parade
Ghouls and goblins, get ready for Brooklyn's biggest Halloween Parade! Kick off is at 6:30 at 14th Street and Seventh Avenue in Park Slope, and then continues north on Seventh Avenue, turns left on Third Street and ends with a party at JJ Byrne Playground at the Old Stone House.
When: Wednesday, October 31, 6:30pm
Where: 7th Ave & 14th St, Brooklyn, NY 11215
How much: Free!
Monster Bashes and other Boo-tastic Events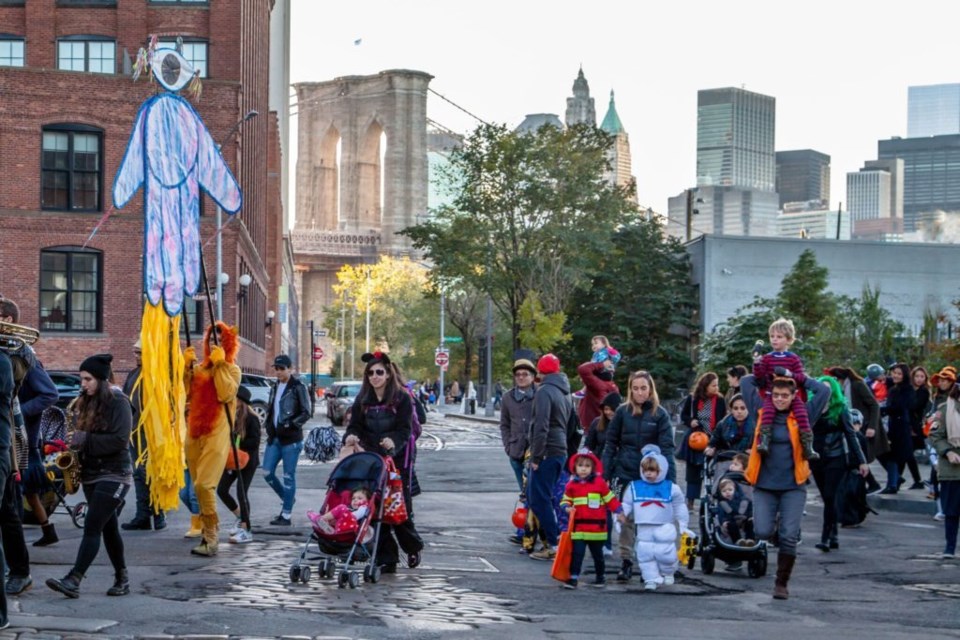 Celestine's Riverside Halloween
Swing by Celestine's riverside patio this Halloween for trick-or-treating, a crafts table, spooky snacks and a photo-booth, complete with uninterrupted bridge views and a gigantic spider web! You can decorate tiny Halloween pumpkins and create glowstick fireflies amongst dozens of glowing pumpkins carved by their staff. Free hot apple cider for parents. The event is in partnership with Brooklyn Children's Museum.
When: Wednesday, October 31, 11:30am - 5:00pm
Where: Celestine, 1 John Street, Brooklyn, NY 11201
How much: Free!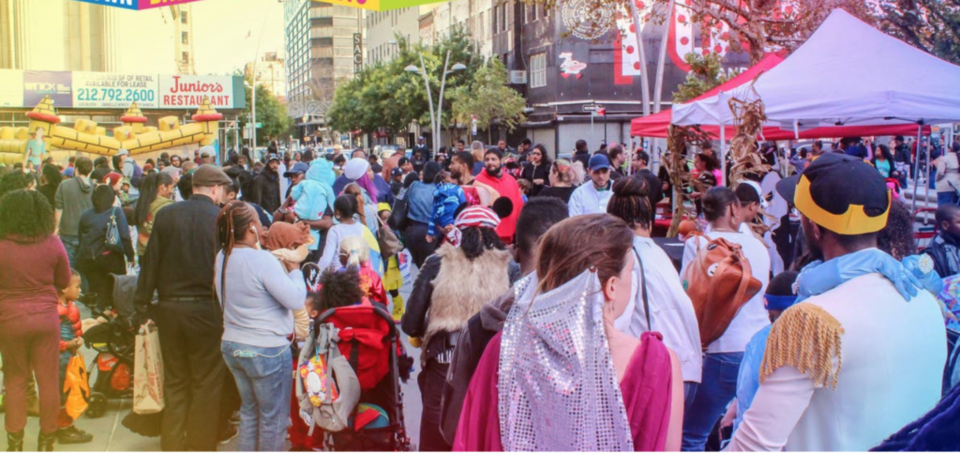 Trick-or-Beat at Albee Square
Kids in costume can boogie outside at Trick-or-Beat, a special spooky edition of dance fitness company At Your Beat's dance class! The monstrous movement will be followed by a Day of the Dead party, complete with sugar skulls, multi-colored paper marigolds and a music performance from Mariachi Real de Mexico.
When: Wednesday, October. 31; 3:00pm — 5:00pm.
Where: City Point, 445 Albee Square W, Brooklyn, NY 11201
How much: Free!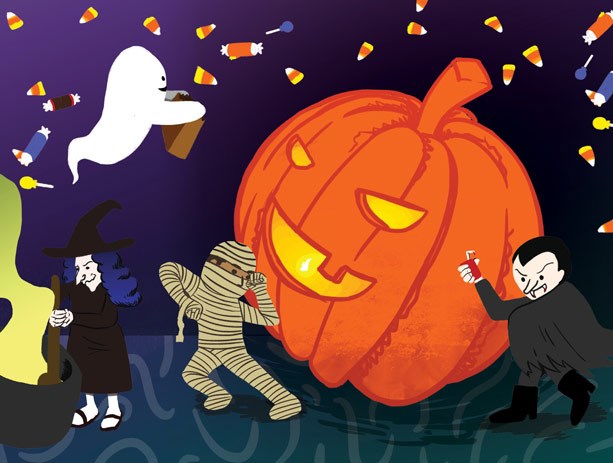 BAMBoo Block Party
Start your trick-or-treating off right at this free outdoor Halloween block party with candy giveaways, carnival games, costume contest, arts and crafts. Family-friendly music and mischief kick off at 4:00pm!
When: Wednesday, October 31, 4:00pm
Where: BAM, 30 Lafayette Ave between Ashland Pl and St. Felix St
How much: Free!
Party Like a MonSTAR
Goblins are haunting, the monsters will mash, it's time to get ready for a Halloween bash!! Enjoy the spooky fun at Brownsville Recreation Center. Dress up to booooogie down on the dance floor. Invite your family and friends for an afternoon filled with Halloween themed games and crafts.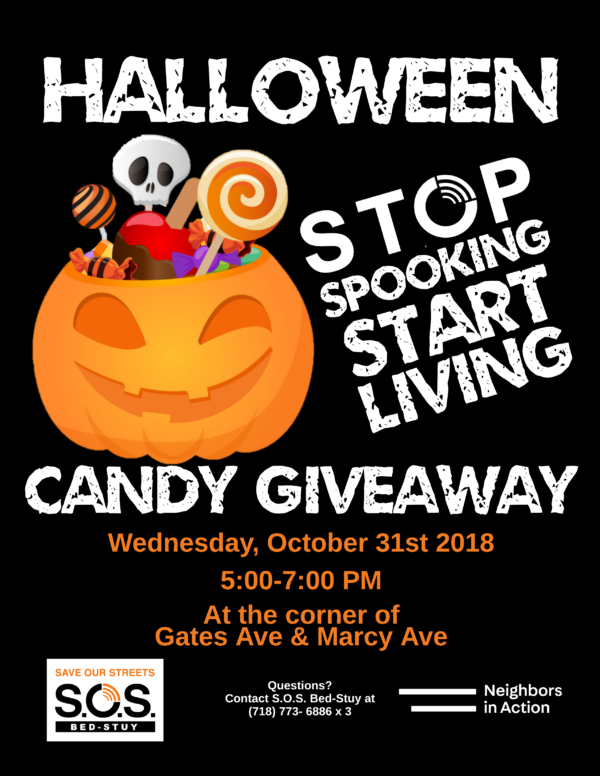 When: Wednesday, October 31, 4:00pm - 7:00pm
Where: Brownsville Recreation Center, 1555 Linden Boulevard, Brooklyn, NY 11212
How much: Free!
Stop Spooking Start Living
S.O.S. Bed-Stuy Halloween is hosting Stop Spooking Start Living so that monsters can live their best lives with this free candy giveaway.
When: Wednesday, October 31, 5:00pm - 7:00pm
Where: Gates and Marcy Avenues, Brooklyn, NY 11216
How much: Free!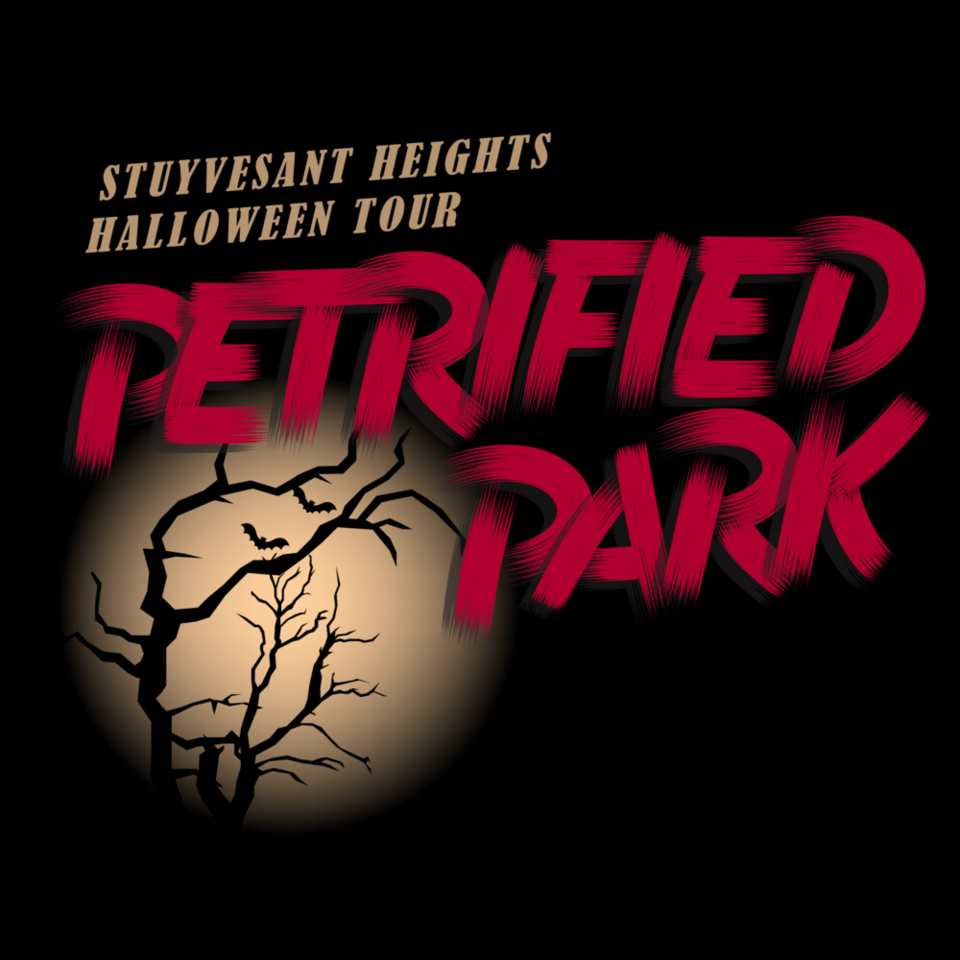 Petrified Park
This year, the Patchen Community Square Garden will be participating in the Stuyvesant Heights Halloween Tour as the Petrified Park. Of course, there will be candy and ghoulish activities for trick-or-treaters.
When: Wednesday, October 31, 5:00pm —7:00pm
Where: Patchen Community Square, 142 Patchen Avenue, Brooklyn, NY 11221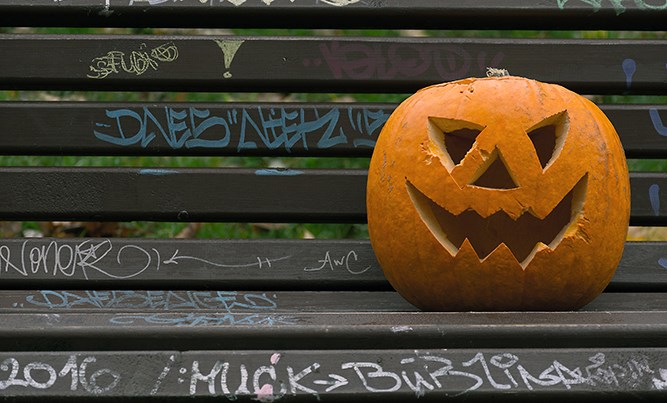 Boos in the Borough: A Brooklyn Historical Halloween
Brooklyn Historical Society opens its doors for an evening of Halloween hijinks! Join BHS for tales of Brooklyn's ghosts featuring Boroughs of the Dead founder Andrea Janes, an exploration of funerary traditions with funeral director Amy Cunningham and more celebrations of all things macabre. Come in costume and participate in a contest for the title of Best Dressed Ghoul in Brooklyn!
When: Wednesday, October 31, 6:00pm - 9:00pm
Where: Brooklyn Historical Society, 128 Pierrepont St., Brooklyn, NY 11201
How much: Free!