Mighty spooky times with safe trick-or-treating routes, Halloween walks and other family-friendly events will be descending upon Brooklyn tomorrow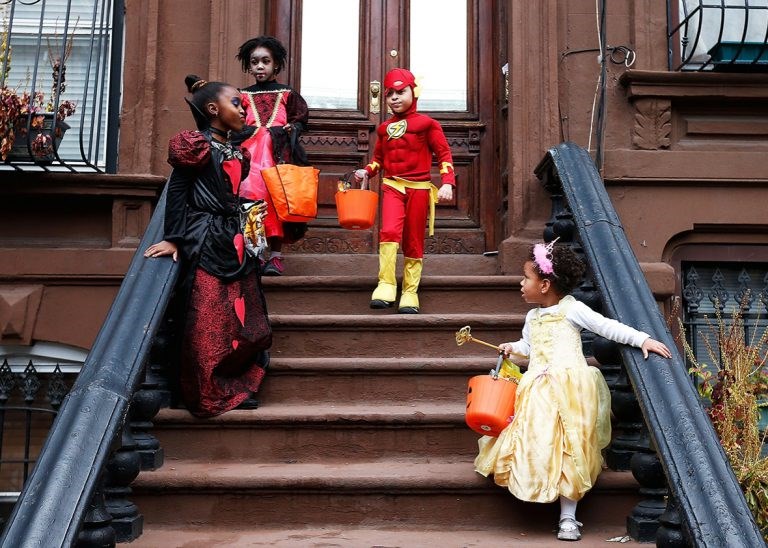 Ghostly Greetings!
It's the afternoon before Halloween and if you haven't already spent all your ghoulish energy over the weekend, have a look at our list of safe trick-or-treating routes, Halloween walks and other family-friendly spooky events! Happy haunting!
Trick-0r-Treating Routes and Halloween Walks
BAMboo!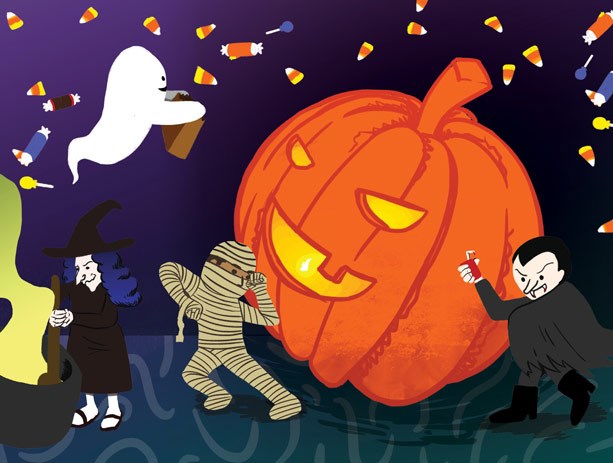 Start your trick-or-treating off right at BAM's free outdoor Halloween block party featuring a bounce house, carnival games, costume contest, arts and crafts, and - of course - free candy!
When: Tuesday, October 31, 4:00pm to 7:00 pm
Where: BAM's Peter Jay Sharp Building, 30 Lafayette Avenue, Brooklyn
Bed-Stuy 11th Annual Halloween Trick-or-Treat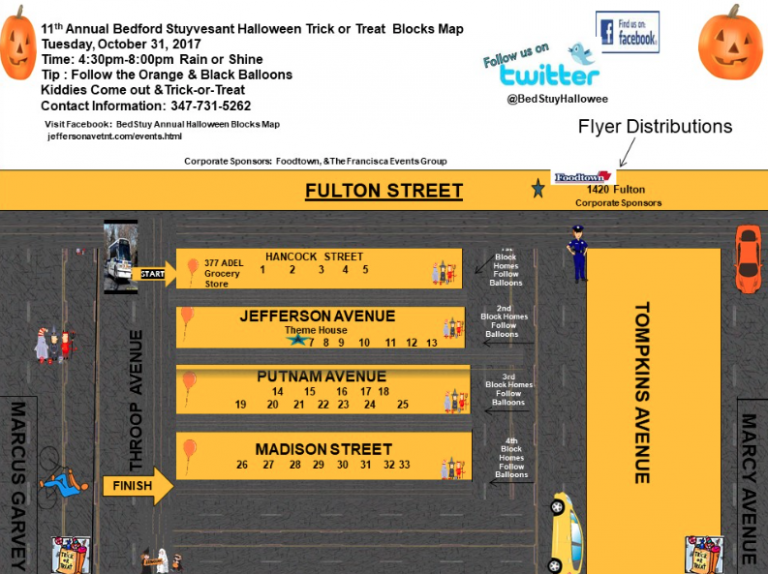 The 11th annual Halloween trick-or-treat event is held in the heart of Bed-Stuy for local children and parents. The participating blocks are embedded between Fulton Street, Tompkins and Throop Avenues. Maps are available at the local Foodtown market on Fulton Street.
When: Tuesday, October 31, 4:30pm - 8:00pm
Where: 1420 Fulton Street, Brooklyn, NY
Halloween in Clinton Hill- 24th Annual Halloween Walk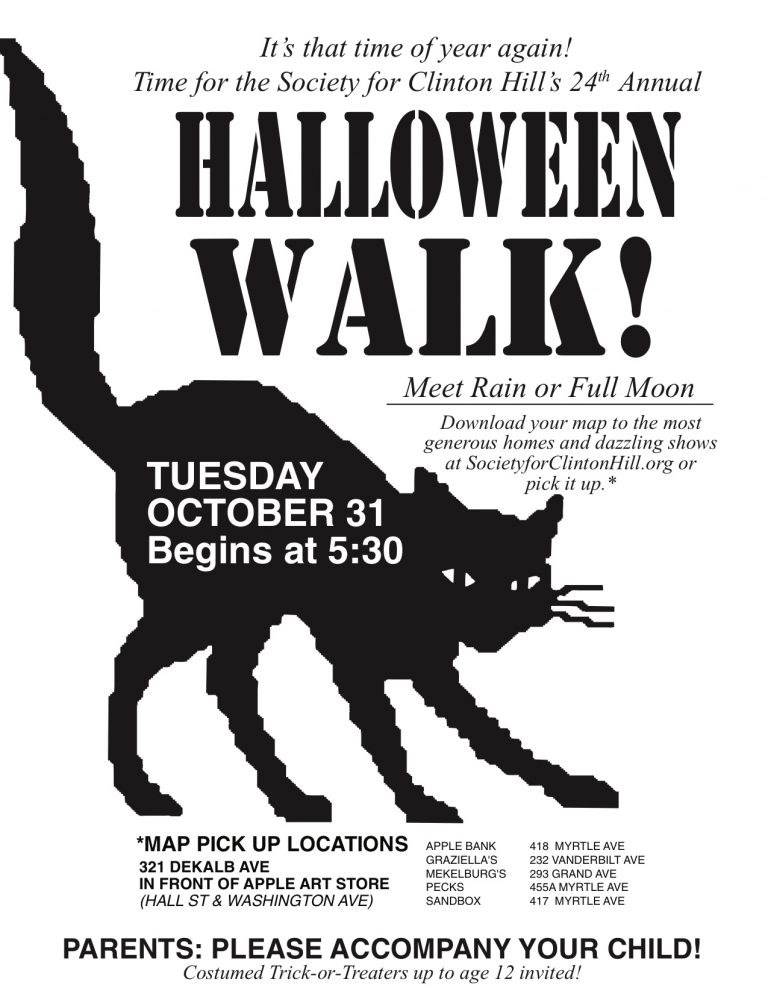 Download a map of the most generous homes and dazzling Halloween shows in Clinton Hill at societyforclintonhill.org or pick it up at 321 DeKalb Avenue. Costumed trick-or-treaters up to age 12 are invited!
When: Tuesday, October 31, 5:30pm
Where: 312 Dekalb Avenue, Brooklyn, NY
Park Slope Civic Council Halloween Parade
Brooklyn's own Halloween parade doubles as a trick-or-treat route. Everyone from all of the boroughs is invited to march in costume from Seventh Avenue and 14th Street to the Old Stone House. Businesses along the route will be giving out treats to kids and homes will be decking out their stoops in Halloween finery. For more information please visit parkslopeciviccouncil.org.
When: Tuesday, October 31, 6:30pm
Where: 7th Avenue/ 14th Street, Brooklyn, NY
71st Precinct Safe Path Halloween Walk
If you're a Crown Heights resident and you are looking for a protected route to take your little ones trick-or-treating, check out this notice from the 71st Precinct, covering the southern end of Crown Heights and Lefferts Garden. The route begins at 5:30pm at Rutland/Flatbush Ave and ends at the 71st Precinct.
When: Tuesday, October 31, 5:30pm
Where: Rutland Ave & Flatbush Ave., Brooklyn, NY
Haunted Houses and Family-Friendly Events
Halloween 313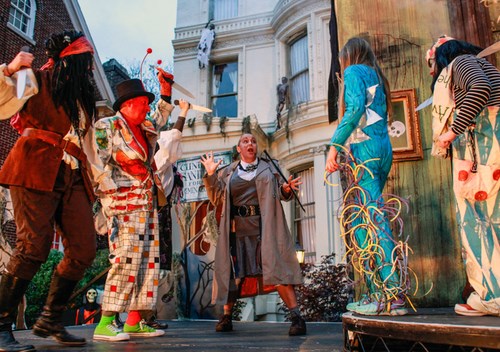 In 1994, 313 Clinton Avenue kicked off the celebrations that would evolve into the theatrical extravaganza we now call Halloween 313. From 5:00pm to 9:00 pm, you can catch an original 30-minute, one-night-only Broadway-quality show. This year's theme is "Marie Laveau: Curse of the Voodoo Queen."
When: Tuesday, October, 5:00pm to 9:00 p.m.
Where: 313 Clinton Avenue, Brooklyn, NY
A Haunted Hawks' Nite Out Presented By Nitehawk Cinema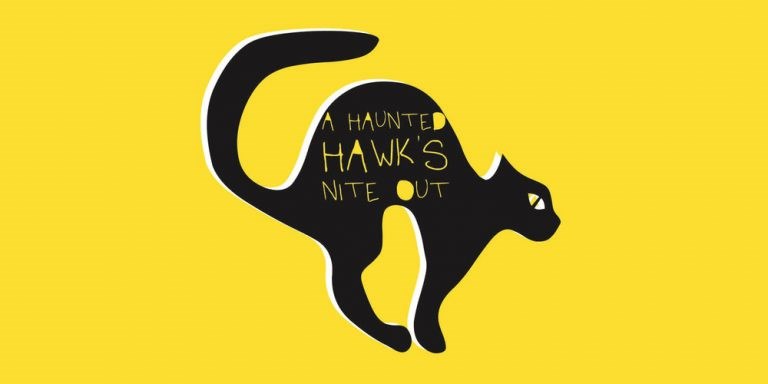 Start your Halloween evening with Nitehawk Cinema as they transform the entrance of the former Pavilion for one night only into a haunted house and fall open house event. For the kids there will be a reading by acclaimed Frank Einstein author Jon Scieszka, arts and crafts activities, free candy; for the parents there shall be seasonal beer and giveaways provided by Brooklyn Brewery! Sounds like fun for the entire family!
When: Tuesday, October 31, 3:00pm to 7:00 pm
Where: Nitehawk Prospect Park, 188 Prospect Park West, Brooklyn, NY