In case you didn't know, BK Reader has the 411 on what's poppin' in Brooklyn: THE best, the most fly, and the most robust events calendar in Kings County!
Because it's the weekend and you're special, BK Reader has pulled together our calendar picks of the hottest events in Brooklyn to keep you entertained!
Say "no" to FOMO, and thank us later … Or go here to check out the calendar and choose for yourself!! And, oh yeah, feel free to upload your events here too!
FRIDAY
WHAT: The Brooklyn Bites of Brooklyn Heights Food and History Tour
WHERE: Brooklyn Borough Hall (Main Steps Facing the Park), 209 Joralemon Street Brooklyn, NY 11201
WHEN: Feb. 3, 1:00pm-3:30pm
PRICE: $75.34
With its many 19th-century townhomes, churches and mansions, Brooklyn Heights is one of New York City's most spectacular neighborhoods. How did this area go from Dutch farmland to one of New York's most exclusive neighborhoods? And what eateries have called the neighborhood home for many generations?
From world-famous pizza to storied local businesses, it's time to uncover the secrets behind this historic area — one with nearly as many National Historic Landmarks as celebrities. Join New York Adventure Club as they explore and taste their way through the Brooklyn neighborhood of Brooklyn Heights, one of America's oldest suburbs.
---
WHAT: Welcome to the Stage: Willow Pill!
WHERE: C'Mon Everybody, 325 Franklin Ave., Brooklyn, NY
WHEN: Feb. 3, 9:30pm-late
PRICE: $39.14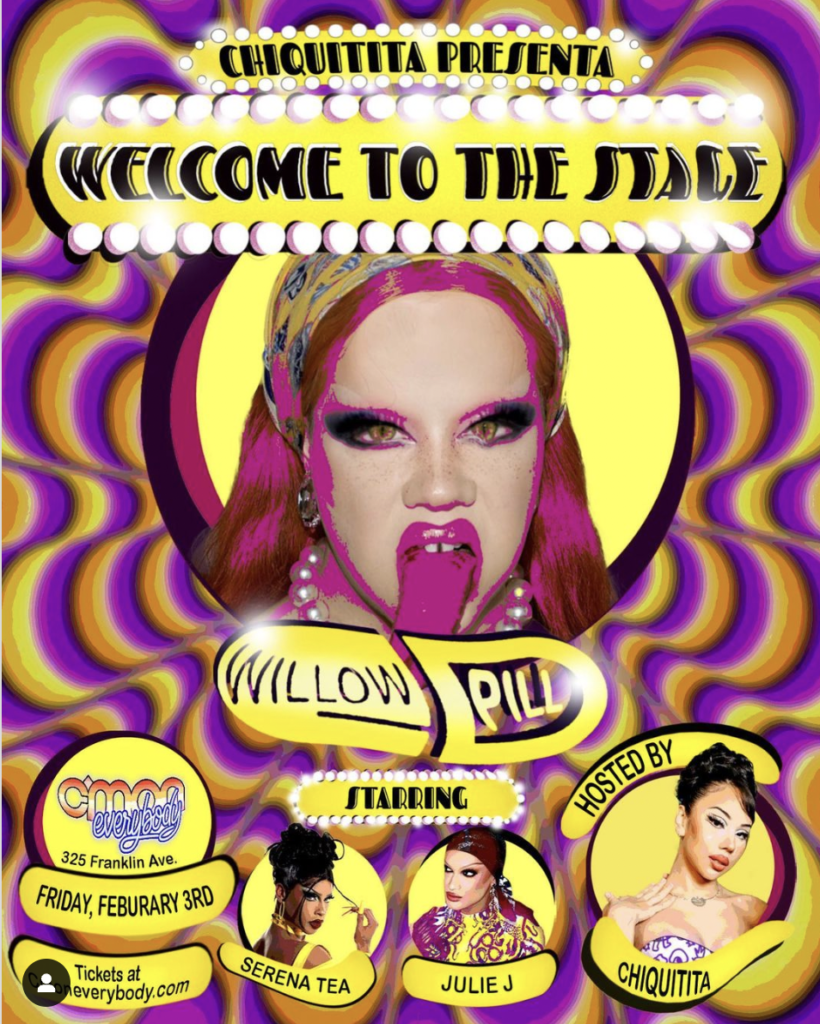 Get ready for a wild and glorious drag show starring RuPaul's Drag Race winner, WILLOW PILL. The evening, hosted by Chiquitita, will also feature special guests Julie J and Serena Tea. Yas, queen.
---
WHAT: Home and Abroad: Afrocentric Global Dance and Drum
WHERE: The Sultan Room, 234 Starr St, Brooklyn, NY
WHEN: Feb. 3, 11:00pm-4:00am
PRICE: $15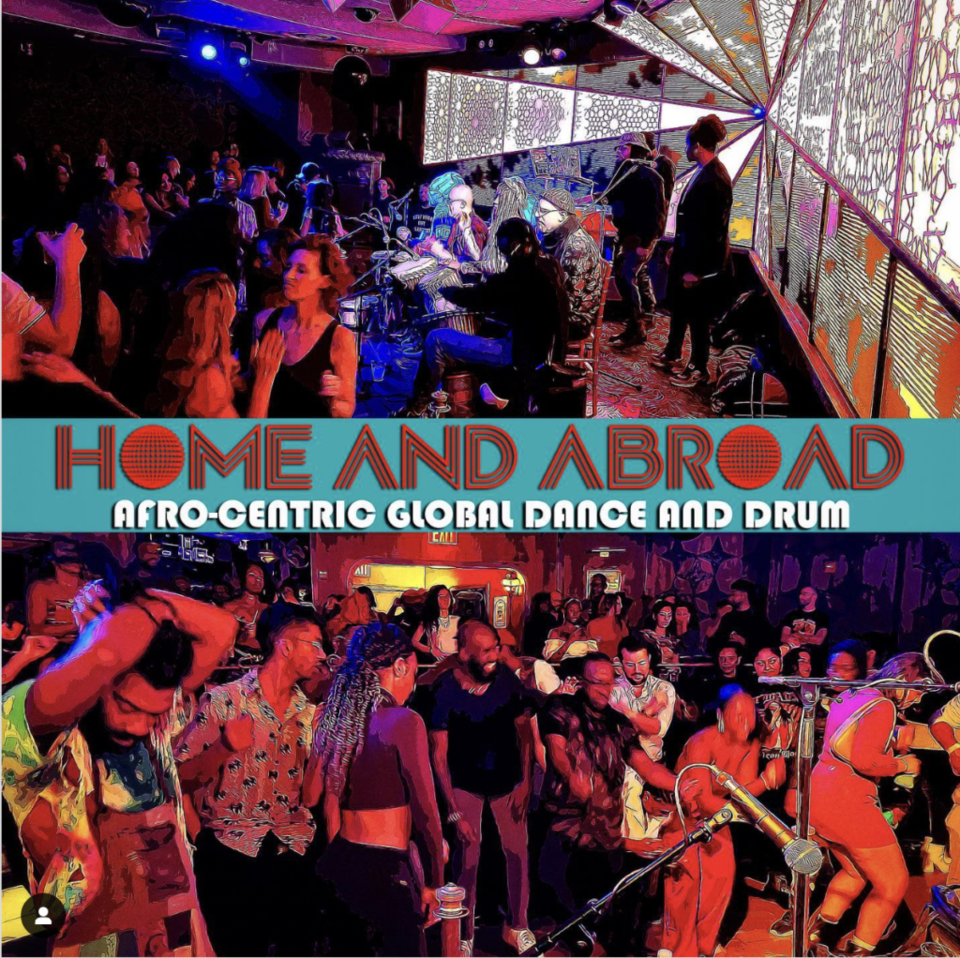 Celebrate Black History Month with Home and Abroad, a multi-genre Afro-centric global dance and drum party. "A sound journey for the musical traveler and dance adventurist," according to the invite, the crew of DJs, dancers and percussionists will keep the party going by fusing performance with partying all night long. For ages 21 and up.
---
SATURDAY
WHAT: BAMkids Film Festival
WHERE: BAM, 30 Lafayette Ave., Brooklyn, NY
WHEN: Feb. 4-5, 9:30am-3:00pm
PRICE: Free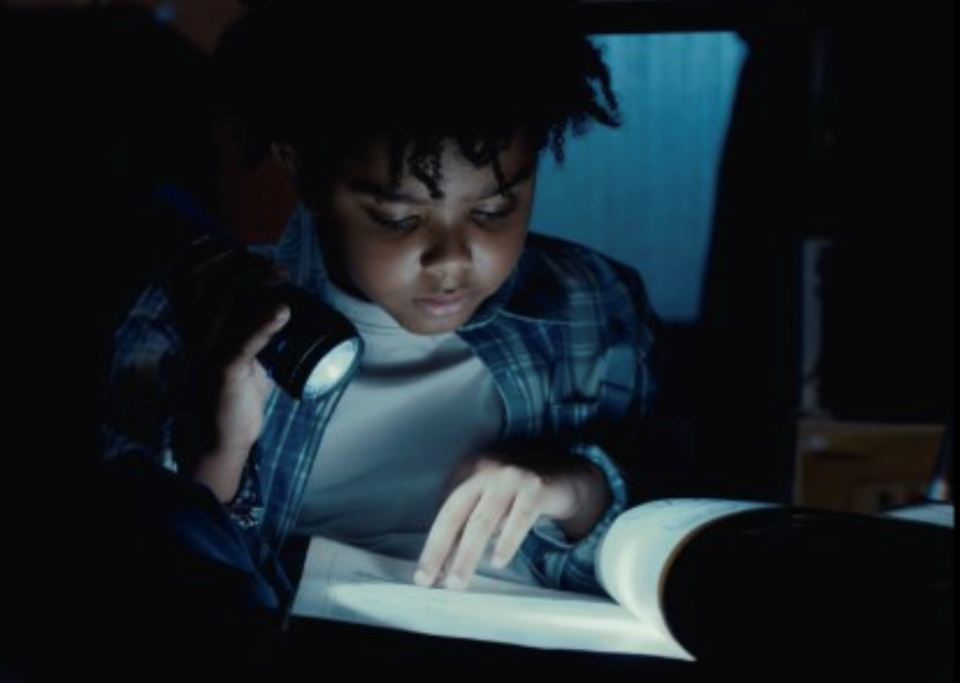 Join BAMkids' annual celebration of international stories on film — and create your own new stories through experiential activities, performances, and play — at Brooklyn's favorite film festival for kids! Now in its 25th year, this interactive festival showcases over 50 animated and live-action short films from around the globe.
Paired with dance and circus performances and hands-on activities, the BAMkids Film Festival immerses you in a unique and wondrous experience from the moment you walk in the door.
---
WHAT: Brooklyn Museum First Saturdays, Black History Month Edition
WHERE: Brooklyn Museum, 200 Eastern Pkwy, Brooklyn, NY
WHEN: Feb. 4, 5:00pm-10:00pm
PRICE: Free with general admission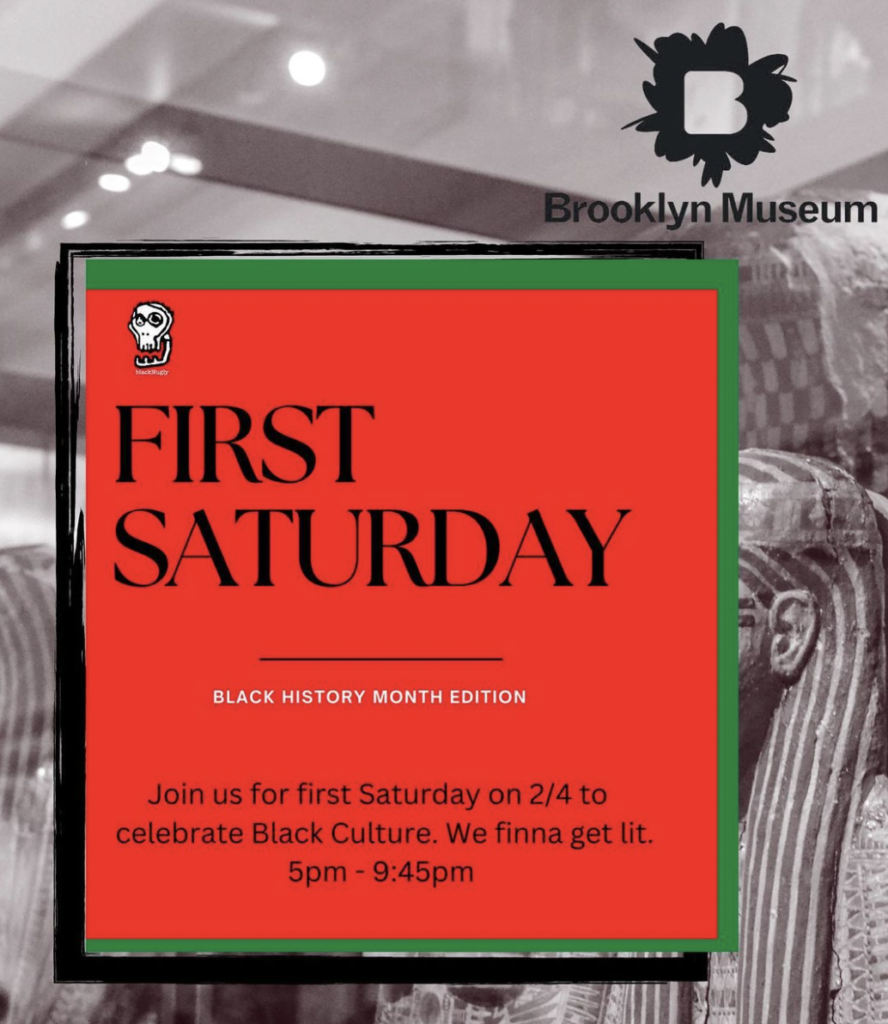 Ring in Black History Month and celebrate 25 years of First Saturdays at the Brooklyn Museum! This month's theme honors the legacy of Black artistic production in Brooklyn. The evening's events vibrate with the creative excellence of Black artists who are shaping the borough's culture today and of throwback performers who put First Saturdays on the map. DJ Delmar Browne will be curating the vibe.
---
WHAT: Transparent Black Girl's Galentine's Day Pop-Up
WHERE: On Dekalb by BK Yoga Club, 704 DeKalb Ave., Brooklyn, NY
WHEN: Feb. 4, 4:00pm–7:00pm
PRICE: $28.52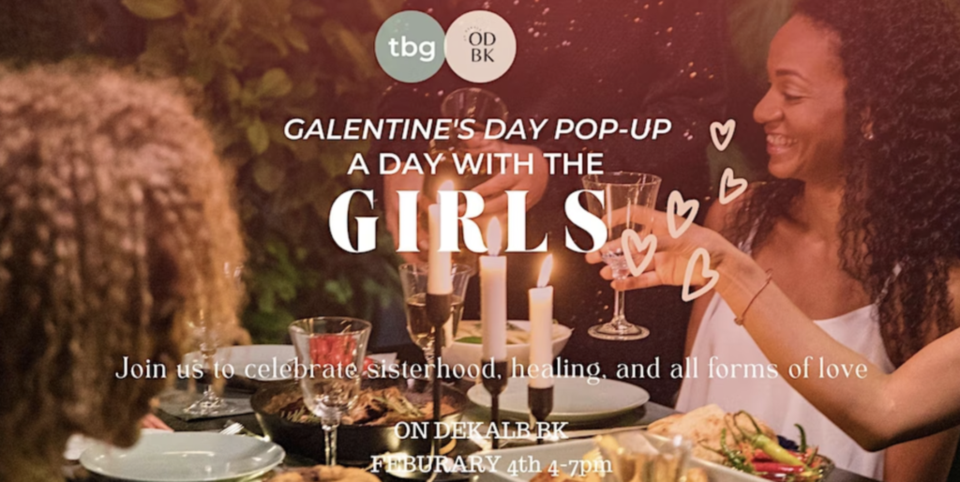 Valentine's Day is upon us, which means 'Galentine's Day' is too! Join the Transparent Black Girl group in celebrating every aspect of self-love. Meet up with the wellness-focused crew at On Dekalb BK for cocktails and mocktails, love-themed dessert boards and an afternoon of sisterhood.
---
SUNDAY
WHAT: Souper Bowl 2023
WHERE: Farewell, 143 Troutman St, Brooklyn, NY
WHEN: Feb. 5, 4:00pm-8:00pm
PRICE: $10 to $12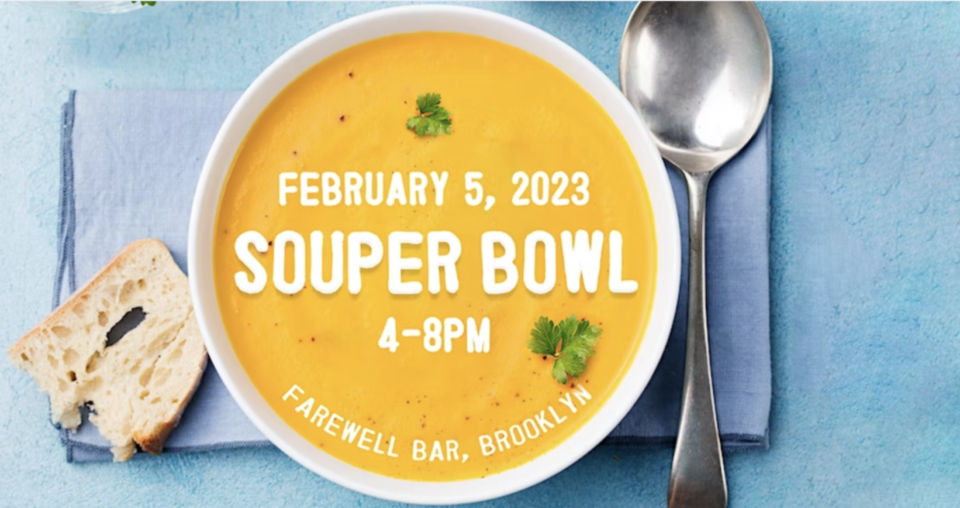 The fourth annual Souper Bowl is here! Get ready for the ultimate soup-off competition featuring 20 'soup-erb' contestants making various soups for you to try. Attendees will get a chance to taste and vote for their favorite soups.
Complimentary grilled cheeses will be served and beverages can be purchased at the bar. Additionally, soups will be evaluated by a panel of 5 judges of the 'Soupreme' Court. Prizes and trophies will be awarded.
---
WHAT: THE SMALL BUSINESS SVITE: 2ND ANNIVERSARY CELEBRATION
WHERE: 333 Flatbush Ave., Brooklyn, NY
WHEN: Feb. 5, 1:00pm-5:00pm
PRICE: Free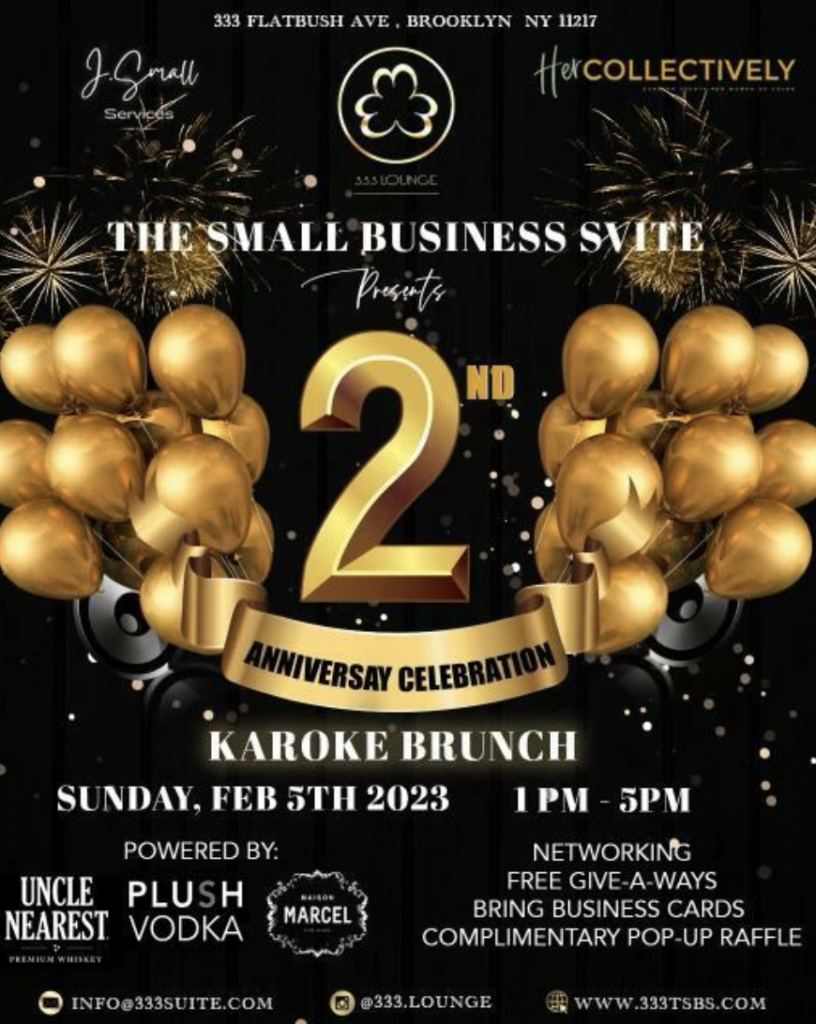 The Small Business Svite is hosting its second-annual karaoke brunch and networking event which will feature free giveaways and a raffle, and networking opportunities. The group, which hopes to aid and nurture entrepreneurs of all walks, will highlight local, Black-owned businesses — including exclusively Black-owned wines and spirits — at the event. Bring business cards!
---
WHAT: Celebrate Tu BiShvat at the Brooklyn Children's Museum
WHERE: The Brooklyn Children's Museum, 145 Brooklyn Ave., Brooklyn, NY
WHEN: Feb. 5, 10:00am-5:00pm
PRICE: $13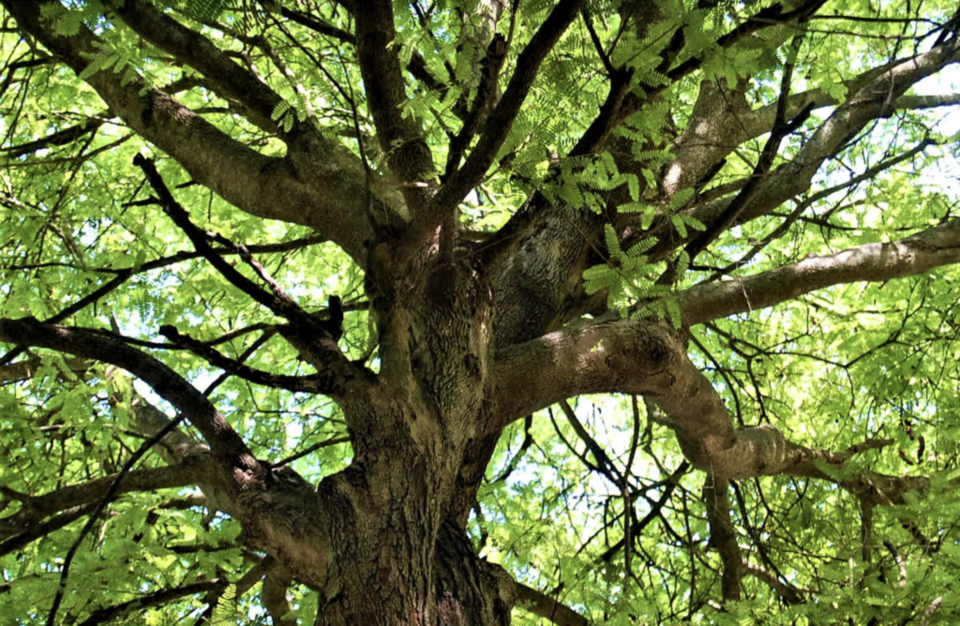 Tu BiShvat is the Jewish holiday that celebrates the birthday of the trees — it's basically the original Earth Day. Brooklyn Children's Museum will partner with The Neighborhood and PJ Library to present live performances, interactive planting workshops and storytelling highlighting nature and traditions of the holiday.
Visitors will also have the opportunity to taste an array of seeds, nuts and fruits that trees produce, as is customary of the holiday.