Grab your dancing shoes and picnic blanket, Brooklyn! SummerStage—the free, annual city-wide live music and performance series that takes place in public parks—has officially kicked off in Brooklyn.
The outdoor performing arts festival, which is presented by Capital One and the City Parks Foundation, will take place at local public parks in all 5 boroughs. The annual festival is back in full force for the first time since the pandemic began with 11 Brooklyn shows, and almost 80 more, city-wide.
Aside from the big names on this year's roster like the iconic, expressionist Alvin Ailey Dance troop or founding father of hip hop Kool Herc, many of the artists in the series are less well known to the masses but beloved in underground scenes.
Included in that list are acts like A Party Called Rosie Perez, a monthly NYC-based get-down that spins all types of Latino-influenced dance music, or star-on-the-rise Pink Siifu with his lo-fi raps—both will be a part of the summer-long series.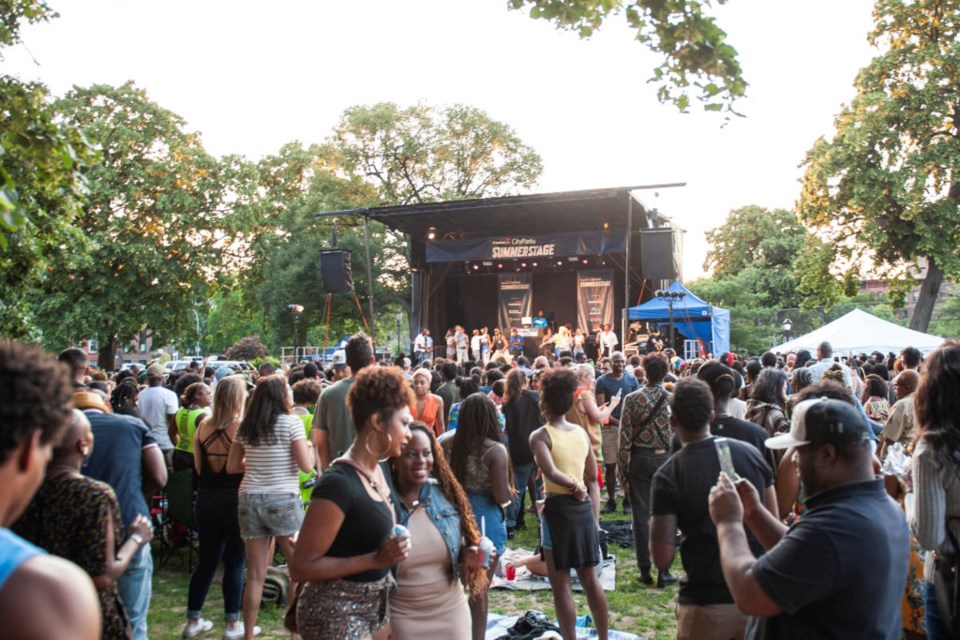 Whether it's modern dance or doo-wop, hip-hop or reggaeton, all nine upcoming Brooklyn-based performances are taking place at the Coney Island Amphitheater or Herbert Von King Park in Bed-Stuy Thursdays through Sundays.
It's hard to know which of the shows will be exactly your jam, but don't worry about it: there's something for everyone. Here's a guide to this year's Brooklyn SummerStage lineup with everything you need to know about the artists performing and the vibe of their event.
Universal Latino Presents: New Generation!
In collaboration with this year's Latin Alternative Music Conference, SummerStage is showcasing a series of super fun, fearlessly alternative Gen-Z artists redefining Latin American pop.
The group of artists, including rising star names like Ecko, Mariah Angeliq, Pitizion, Brray and Nino Freestyle, make skilled use of reggaeton beats, quick boastful rhymes and slangy bilingual ad-libs to get everyone in the crowd feeling themselves.
Universal Latino Presents: New Generation! will take place on July 8 at the Coney Island Amphitheater at 6 pm.
Puerto Rican Power/Domingo Quinones/Lower East Salsa
Salsa-lovers, this one is for you. Salsa music group Puerto Rican Power and star vocalist Domingo Quinones are joined by a local dance party called Lower East Salsa to throw an intense, high-energy live show.
Each act demonstrates expert proficiency in salsa, bachata and rumba, and Puerto Rican Power and Domingo Quinones even helped shape contemporary salsa in 1990s Puerto Rico. The concert will likely attract the city's vibrant Latin dance community, so get ready to see some impressive performances in the crowd as well.
The show will take place at the Coney Island Amphitheater on July 10 at 7 pm.
Doo-Wop on the Boardwalk
Grab your boogie buddy for this one. Doo-Wop on the Boardwalk, at the Coney Island Amphitheater on July 17, will feature a hefty line-up of some of the best doo-wop vocalist groups. Beginning at 6 pm, the night of nostalgic tunes and rich harmonies blend with the mellow beach sunset and create the perfect atmosphere for loved ones to sway with the music.
A live band will provide back-up for renowned groups like The Crystals who created chart-toppers "Then He Kissed Me" and "He's a Rebel," both delightfully innocent love songs. Drifters, a quintet of smooth vocalists, will sing one of their biggest hits, Under the Boardwalk, a languid summer love song that sounds like it was made for a warm night in Coney Island.
Larry Chance & The Earls, The Capris, Bobby Wilson Son of Jackie Wilson, and The Brooklyn Bridge will also perform.
MIKE's Young World 2
MIKE, a 23-year-old hip-hop artist, was raised in the Bronx and in London. He draws his sonic language from both places, creating chilled and moody music that draws from inspirations like Earl Sweatshirt and King Krule. MIKE's Young World is an annual festival that, curated by MIKE himself, celebrates Black artists and hip-hop culture in NYC.
This year's edition features 80s hip hop lyricist Slick Rick and the contemporary, Brooklyn-based musician Junglepussy, among others.
Junglepussy makes laid-back hits—a crowd favorite is a song called Trader Joe, about a guy she likes more than her favorite grocery store, with some cheeky, food-related innuendos.
Junglepussy takes inspiration from 90s hip-hop classics like Lil' Kim, who she's toured with, and Erykah Badu, who is one of her biggest fans. The concert, which will begin at 6 pm at Herbert Von King Park on July 21, will be a refreshing night of cathartic story-telling through hip hop.
Maassai, Jadasea and Laron will also perform.
Dallas Black Dance Theatre
The Dallas Black Dance Theatre is a contemporary modern dance group that will take the SummerStage audience on an artistic expedition in movement on July 22 at Herbert Von King Park.
The performance, which starts at 6 pm, will include a few of the Dallas Black Dance Theatre's newest works, like the pensive piece, Face what's facing you! which asks a series of connecting, revealing questions through the language of dance: what are your issues, what do they affect, where does it hurt and how do you get through them?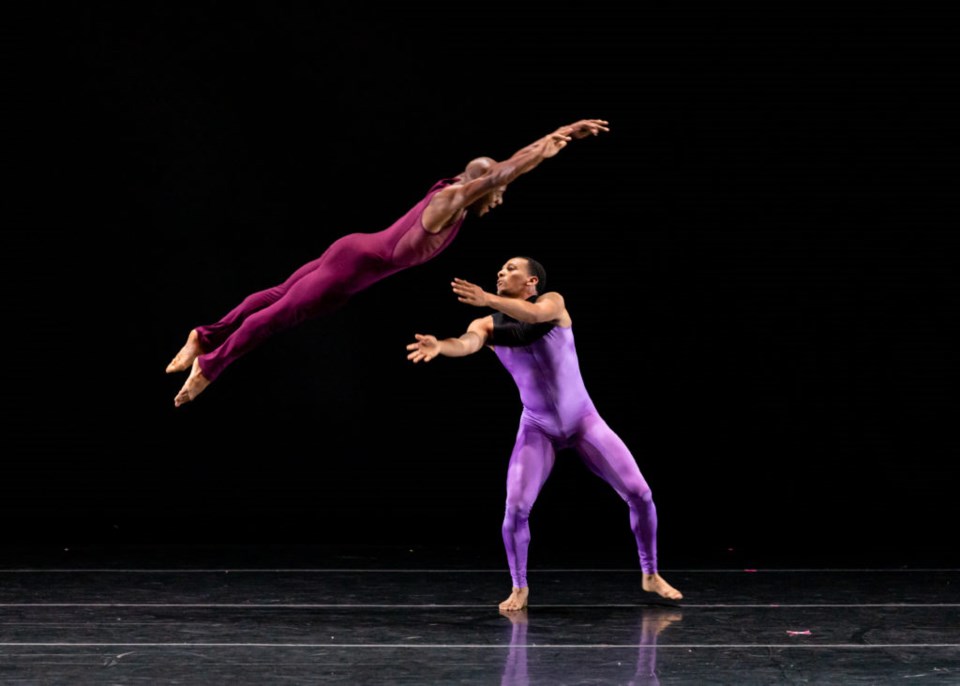 "Our dancers are comfortable showing the depths of who they are as people through the vehicle of dance, and the audiences appreciate their authenticity," Melissa M. Young, the artistic director of the theatre, said.
"The show this summer will range from light-hearted and introspective to displays of dynamic technical excellence—it's breathtaking."
Sampa The Great/Pink Siifu/Alisa Ali
Sampa The Great, a Zambian artist on the rise, will perform her debut album, The Return, and her latest release, a single called Never Forget, at Herbert Von King Park on July 23 at 7 pm. Her earthy, eclectic hip hop is influenced by modern-day hip hop, soul-searching R&B as well as the ancient musical traditions of southern Africa.
Sampa's poetic manifestations of Afrofuturism have earned her awards all over the world, has shared the stage with Kenrick Lamar and Burna Boy, and has a coveted spot on Michelle Obama's personal playlist.
Her warm lyricism pairs incredibly well with the lo-fi rapper Pink Siifu, a genre-defying Southern rapper who will perform alongside Sampa. Pink Siifu, known for his laid-back beats can move swiftly between poetic, contemplative rap and ambitious trap anthems. He will perform his most recent album, a tribute to Southern rap called Gumbo'! along with some of his other, most iconic hits.
Alvin Ailey American Dance Theater
Just added to the SummerStage series this week, the world-famous, NYC-based Alvin Ailey American Dance Theater will perform at the Coney Island Amphitheater on July 23 at 7 pm. The show will celebrate the human spirit through impressive and expressionist modern dance. The performance also touches on themes of the African American cultural experience, and the way joy and sorrow can coexist.
This performance will include an Alvin Ailey piece called Revelations, the work that defined them as culture-bearing icons; and Hip-Hop choreographer Rennie Harris' Lazarus, a recent work inspired by the life and times of Ailey.
Ahead of the performance, there will be a free, all-ages West African Dance workshop hosted by the Ailey Arts education and community program at the Ampitheater—more information here.
A Party Called Rosie Perez
Get down with DJs Christian Mártir, Suce, and Laylo as they take attendees of their SumerStage set through a seamless and uniquely umami mix of dancehall, hip-hop, merengue and more.
Named after the iconic Puerto Rican actor Rosie Perez, the event is a monthly New York party that celebrates the tropical flavors of the many music cultures of the Latino diaspora and blends them with New York's experimental and beat-thumping nightclub sensibilities.
This event, which will begin at 4 pm at Herbert Von King Park on July 24, will be more dance party than performance, so bring dancing shoes, a dance partner and get ready to let loose with some of the city's most impressive and talented selectors.
Spread Love Hip Hop Jam
Spread Love Hip Hop Jam will be a night dedicated to the definitive rhymes and rhythms of classic New York City hip hop, from Kool Herc, who originated the artform in the Bronx, to Brooklyn-based Smif-N-Wessun, a duo that introduced using Jamaican Patois in their raps and reggae-inspired beats in Brooklyn in the early 80s.
Hosted by Ralph Mc Daniels, who is known for his long-running music video show "Video Music Box" which first aired in 1983, the night will feature a line-up of the MC's that helped hone and preserve hip hop's witty and beat-forward roots.
The jam begins at 7 pm at the Coney Island Amphitheater on August 11.