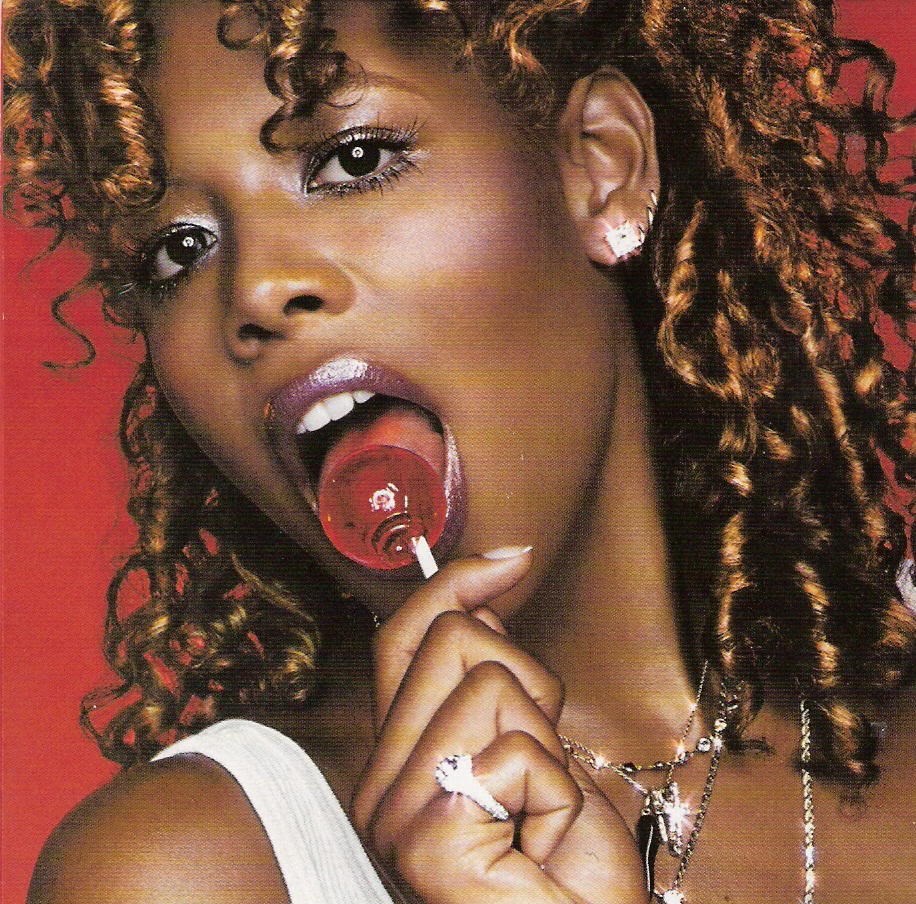 Her "milkshake brings all the boys to the yard" because... well, maybe she uses the tastiest ingredients to make it!
Gold-selling artist Kelis, known best for her playful-provocative singing and songwriting and 15 years of chart-topping hits, including the ever-popular "Milkshake"-- which earned her #3 on the Billboard Hot 100-- has something just as yummy up her sleeves: food recipes!
Yes, she's into food! Not only is "Food" the name of her latest album, but many people do not know that Kelis is a certified Le Cordon Bleu chef with multiple television cooking specials on Food Network and The Cooking Channel, an organic sauce line called Bounty & Full and a newly released cookbook entitled, "My Life on a Plate."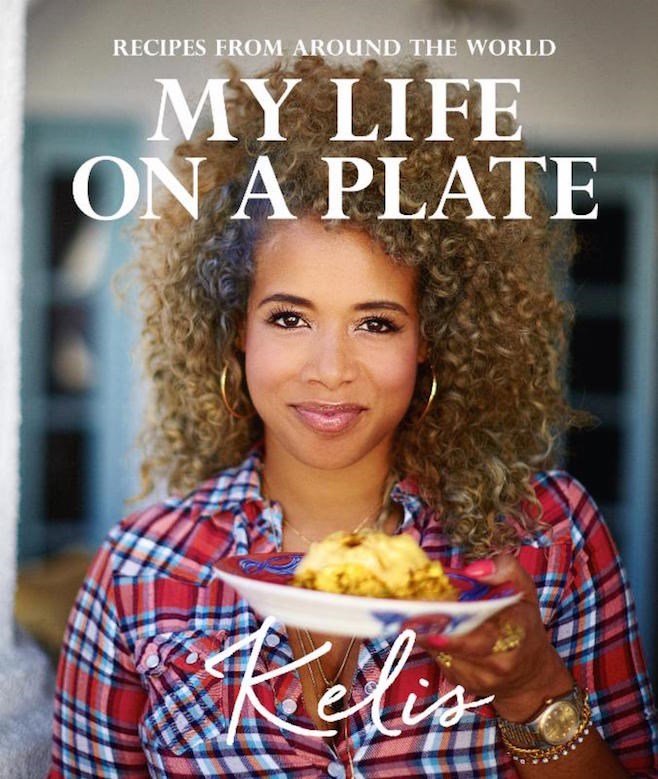 "My Life on a Plate is my first cookbook, and like the title says, it really is a reflection of my life through food," says Kelis. "It includes my version of recipes I grew up eating and things I've picked up that have inspired me along the way. It's an exploration of tastes and cultures, and my experience as a chef, musician, mother and wife."
On Wednesday, September 30, from 6:00 - 8:30pm, Kelis will be at Restoration Plaza in Bed-Stuy for a discussion and signing of her latest book project.
In this exclusive interview, Kelis talked with The Brooklyn Reader about what inspired her to step "up to the plate" in pursuing her other dream: cooking.
------------------------*-------------------------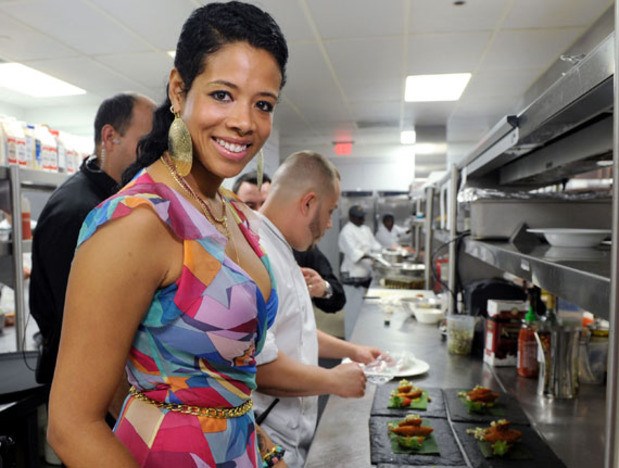 The Brooklyn Reader: What started you into cooking?
Kelis: My mother ran a catering business out of our house and so I've been cooking, or around cooking, for as long as I can remember. There'd be so many dishes going and I'd be roped in to help prepare things. And, I loved being involved. My mother has such attention to detail. Every detail was thought of, considered, and every bit of food that came out of the kitchen looking gorgeous or it didn't come out at all.
BR: Becoming a certified chef is such a departure from what people expect and know of you as a recording artist. What inspired you to finally make the decision to do it?
K: I was sitting in my kitchen in Los Angeles one day, and at this point I'd been in the music business for ten years, and I'd just resolved a long and tedious battle to get off a my record label. It had been all consuming and now that the moment of freedom was finally there, I suddenly realized I didn't have a plan for what was next. So, I saw the commercial for cooking school and it just clicked. I wanted to go. I'd been cooking for years, but I had never formally trained. I signed up that day, it was a Friday, and I started school Monday. It is one of the best decisions I've ever made.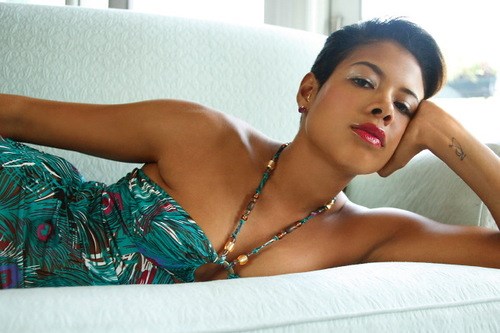 BR: How did your classmates react at cooking school once they learned who you were?
K: My classmates were great. When school first started no one mentioned anything to me, no one reacted. School was very intense. The days were long and everyone was focused on getting through it and doing a good job with what was in front of them. By the time school ended and we were all finished, we'd become friendly and maybe then people mentioned something. A few professors told me after it was all over that they at the beginning they thought I'd be so high maintenance and never make it through. They were happy to share that once I actually had. I took that as such a compliment.
BR: What's your favorite type of cuisine to prepare?
K: Well I think it really depends on my mood. I enjoy cooking, what I want to eat for both myself and my family. Some days that's as simple as a sandwich for my son, some days that's a meal with multiple courses for all of my friends. Also, depends on whether its an event like a summer holiday or dinner theme. Most recently for the 4th of July, we cooked an entire pig in the ground, which was the first time for me. Anytime I get to expand beyond what's 'typical' meal or cuisine, I'll try it. Definitely a fun part to explore when cooking!
BR: Can the reader expect to find some of your personal favorite cooking tips in your book? And, if so, can you give us one now?
K: I don't know if I have a specific favorite cooking tip. I tried to make sure that most of the recipes in the book felt simple and felt accessible. I wanted to include ingredients that most people had or could easily use. There's nothing I hate more than having to go to the store to buy one ingredient for a recipe. Who has time for that? I don't want people to feel overwhelmed. I want them to enjoy cooking and to enjoy what they've made… not to feel traumatized by the process. I don't know if that's a tip, but that's a goal.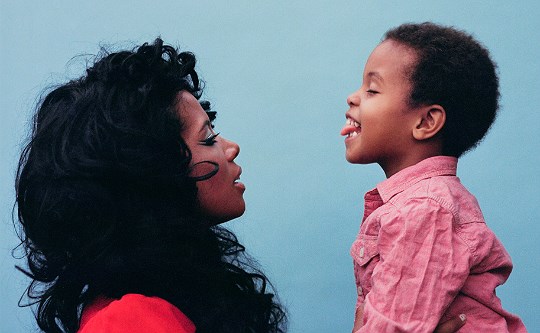 BR: You've traveled a lot because of music. Name three places where you have really enjoyed the regional cuisine and why.
K: The most recent place that comes to mind is Poland, since I just played a show there recently. Poland has amazing food, which many people may be surprised by. I remember the first time, I was in Poland and absolutely fell in love with what we would call a pancake. Delicious! India is another place that is just incredible, when it comes to food. The spices are out of this world, the various types of paprikas, flavors and colors. Its beautiful, really. Lastly, also, a recent travel of mine would have to be Columbia. Everything is rich and filled with love. The passion Columbians cook with is a love for food that I can personally relate to. Anytime you can travel, share a meal with a loved one, which in my case is my son, I feel that its a special experience with each new place.
BR: What's your favorite go-to spot in Brooklyn to eat?
K: Everything in Brooklyn changes so quickly. I don't know what my current favorite Brooklyn restaurant is. There's a place in Williamsburg that does nothing but arepas that I've been told I need to try. I love arepas. I need to go and sample theirs to see if they're as good as mine!
------------------------*-------------------------
"My Life on a Plate" will be on sale at the event for $24.95, through Bedford Stuyvesant Restoration Corporation's partnership with Greenlight Bookstore. The event is free, but space is limited, so click here to RSVP!
(Also, leave recommendations for Kelis in the comments below about what restaurants, delis or food spots you think she should check out while visiting Central Brooklyn!!)