For Brooklyn-based actor and producer Roderick Lawrence, it is important for his Black characters to win in his films, despite any tribulations they face along the way. That is definitely the case in his new film "Silent Partner," a social justice drama short about a Black lawyer caught in a moral dilemma.
The film stars Lawrence as Silas Jones, a Black lawyer at a white-shoe law firm who's given a case defending a white woman charged with the murder of a Black teen. Early in the film, the viewer learns that Jones won the case, and the film's events unfold at a company dinner party at which he's expected to make partner at the firm.
Starring alongside Lawrence are Amazon's "Chemical Hearts" star Kara Young as his reluctant wife Kosi, and Netflix's "Stranger Things" star Michael Park as Jason, the head of the law firm.
At the dinner, Jones and his wife Kosi face off-putting to downright offensive comments from guests, and begin to question their complicity in upholding the status-quo. The film comes to a shocking end that's sure to leave viewers talking.
"The impetus really at the beginning was me wanting to highlight Black male mental health, and the effects of microaggressions on Black male mental health," Lawrence told BK Reader.
He said Black people of all backgrounds experienced discriminatory microaggressions, statements or actions daily and were "tormented by them," while white people claimed to be "completely oblivious" to them.
"All Black folks are actually going through the same s**t."
Of the film's ending, Lawrence said he wanted his characters to be triumphant. "I hate going through our [Black people's] trauma for two and a half hours of film or a play or whatever, and we still die, we still lose.
"Before I knew what the story was going to be, before I knew any of it, I was like, "We will have a strong, brilliant Black couple, they will go through what we go through, and they will win."
The film was directed, co-written and co-created by Aristotle Torres, a Sundance Film Festival 2019 Feature Film Fellow currently developing his debut feature film, "Story Ave." "Silent Partner" is also co-produced by Lawrence's own Black Man Films production company, where he hopes to "put the art and activism together."
"I think that you get a bunch of like brilliant Black minds in a room and there's just nothing you can't accomplish," Lawrence said of his goals for his production company.
"Acting is my world. That's what I do best, that's what I love the most."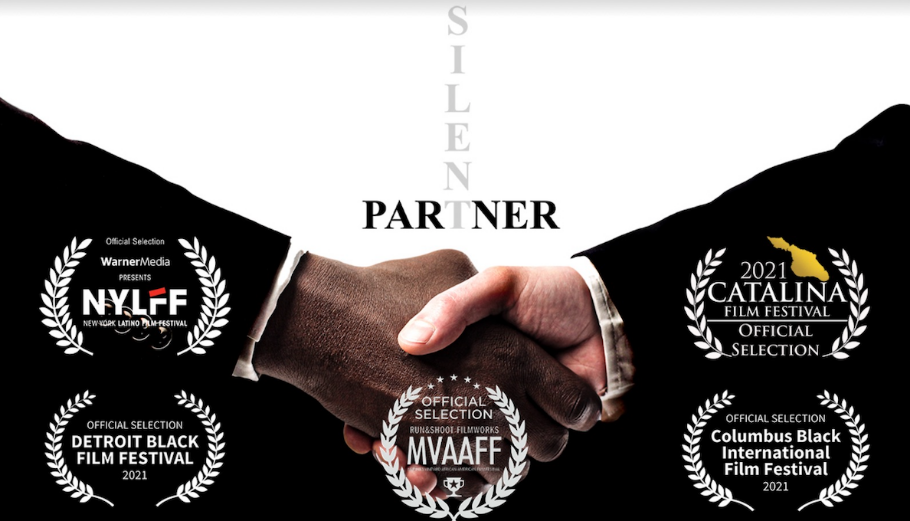 Despite his passion for acting, Lawrence, who featured in Comedy Central's Broad City, said he was interested in writing and directing in the future.There's even been interest from studios to turn "Silent Partner" into a feature-length film as it's made its rounds through the festival circuit.
"Silent Partner" made its debut at the Martha's Vineyard Black Film Festival and won Best Short Film at the Columbus Black International Film Festival. 
It will be screening at WarnerMedia's NY Latino Film Festival from September 13 to September 19; you can buy tickets and stream the film virtually.