A new exhibition of large-scale bells designed to increase communication in Brooklyn Bridge Park has opened to the public.
Davina Semo, a San Fransico-based sculptor, started working on the exhibition four years ago, but said as the public emerges from isolation amidst protests for racial justice it had taken on new significance. She said it reflected the sense of community and collective action that echoed across the globe.
The exhibition curated by Public Art Fund at Pier 1 consists of five large bronze bells painted bright orange that are housed in structures over 14 feet high. Semo has drilled unique holes through each bell to create individualized pitches, and the bells are designed to be rung by the public.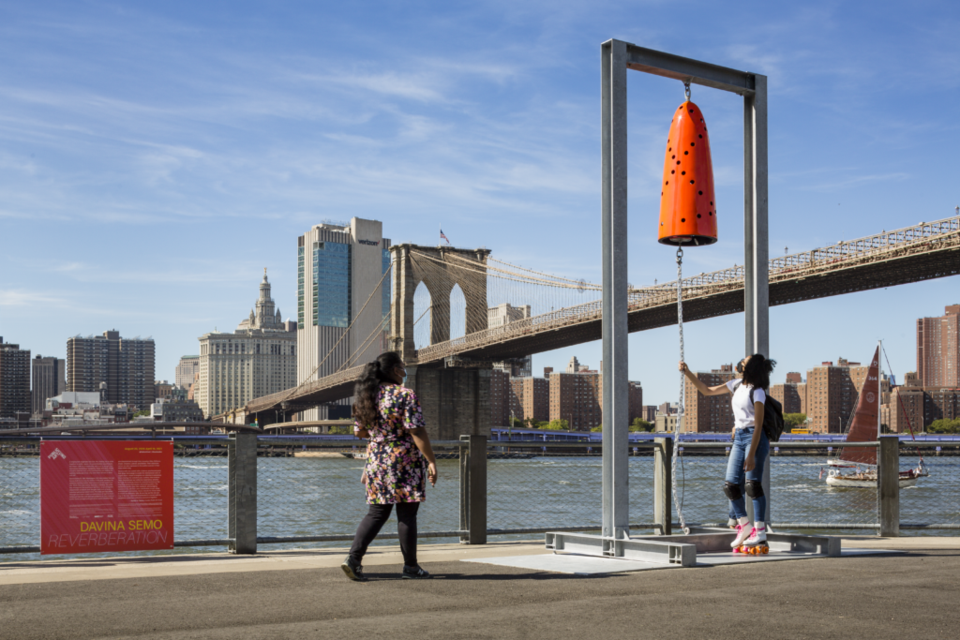 "Semo's bells become a distinctive and democratized mode of public address that allows art to communicate in profound ways," Public Art Fund Curator Daniel S. Palmer said.
"They give us an opportunity to raise our voices and unite with each other, at a moment when human connection and empathy have become so precious."
The bells are individually titled dreamer, listener, mother, reflector and singer. Dating back to ancient times, Semo said bells have served special roles in civic life. They were used to signal time, celebrate momentous occasions, invite people into public space and summon community action, as well as being used as a means of communication between ships.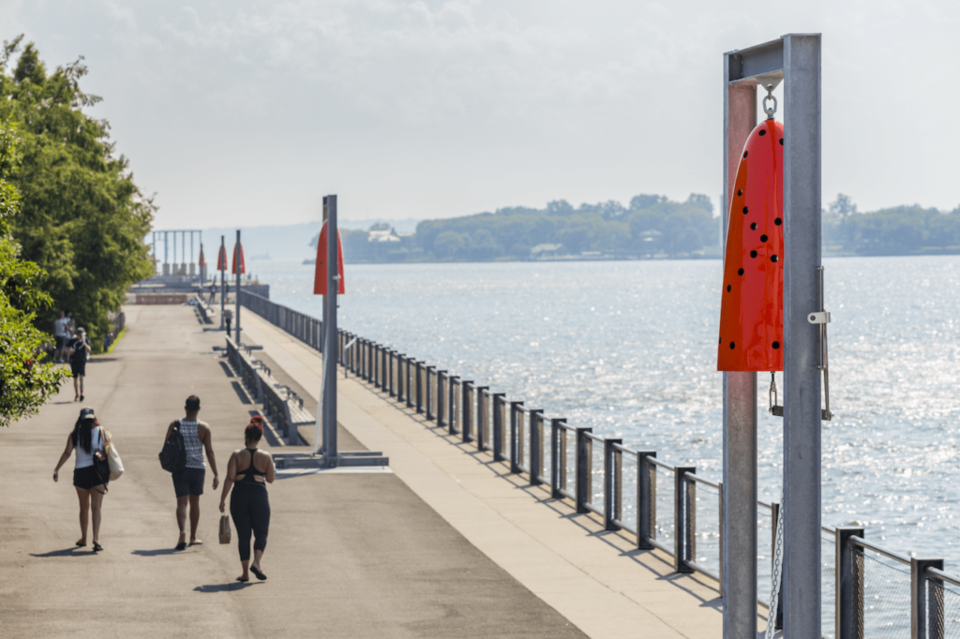 By adapting their traditional form, Semo wants her bells to encourage communication through their collective ringing.
Brooklyn Bridge Park President Eric Landau said each year Public Art Fund brought something unique and engaging to the park.
"This year is no different with Davina Semo's Reverberation," Landau said. "We're thrilled to host this spectacular work at Pier 1. With so many cultural institutions closed during this difficult time, we are all grateful that PAF is able to share art in outdoor public spaces."
Reverberation is one of several exhibitions Public Art Fund has supported through New York City's phased reopening. It will be on view from through April 18, 2021, at Brooklyn Bridge Park's Pier 1.