This year marks the 10-year anniversary of the biggest, most thrilling dance competition to happen this side of the East River: The Stars of New York Dance-- a lively and hilariously fun dance-off competition and arts education fundraiser between New York's local leaders and local "stars."
On Friday, November 15, the competition returns-- bigger and better to celebrate an entire decade of dance! Fittingly, the competition has upped the ante, as past competitors and winners from the last nine competition will return in a head-to-head battle to see, after all this time, who's really got "the right stuff."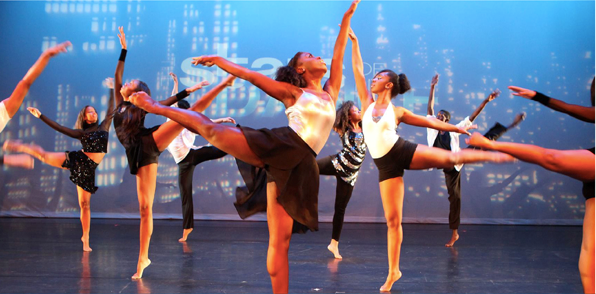 This year, Errol Louis of NY1 News will return as host as the event pays honor to U.S. Congressman Hakeem Jeffries as a Stellar Humanitarian.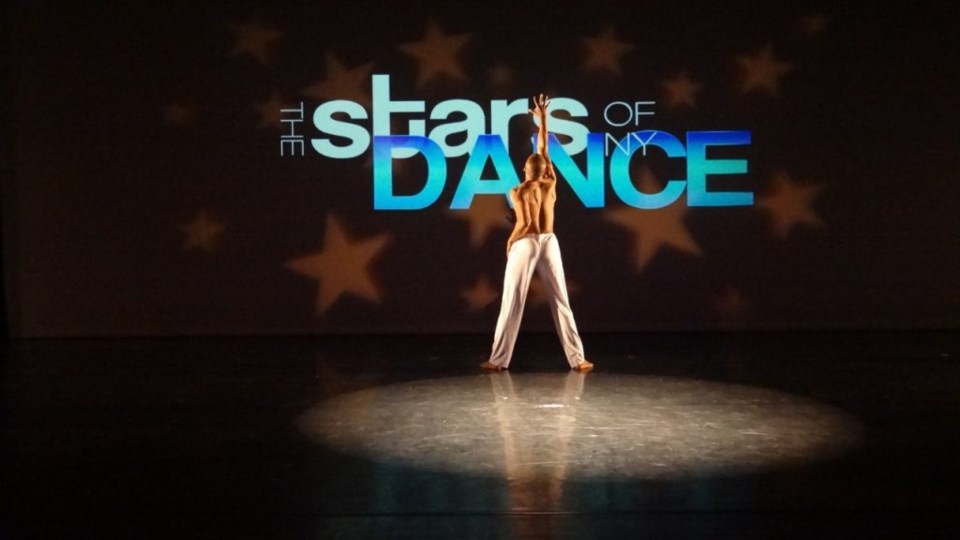 Similar to Dancing with the Stars, seven New York City leaders ("The Stars") will partner with seven professional dance artists ("The Dancers") who teach and perform with a community-based dance organization around NYC. The Stars engage in weeks of rigorous dance training to learn a 3- to 4-minute routine choreographed by their dance partner.
The night of the event, the seven couples compete to perform the fiercest dance duet and are judged on originality, creativity, technique, showmanship and costumes.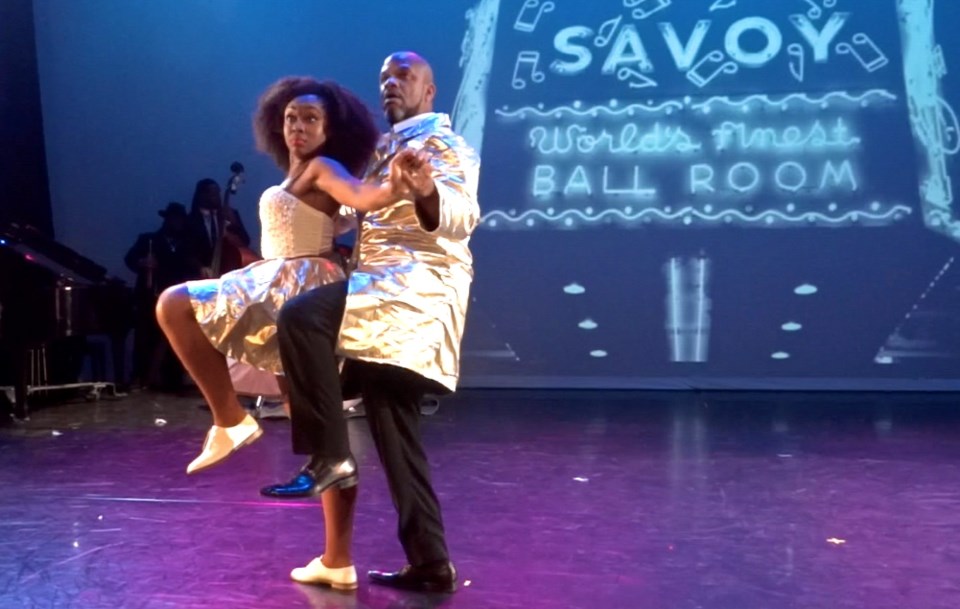 The couple that receives the highest judged score wins a $10,000 Dance Access Award to over 10 children from low-income communities in New York City with a free year of high-quality dance education and training with their respective dance organization. The other competing dance organizations receive a $1,000 Dance Access Award that pays for dance tuition fees, class uniforms, shoes and dance costumes.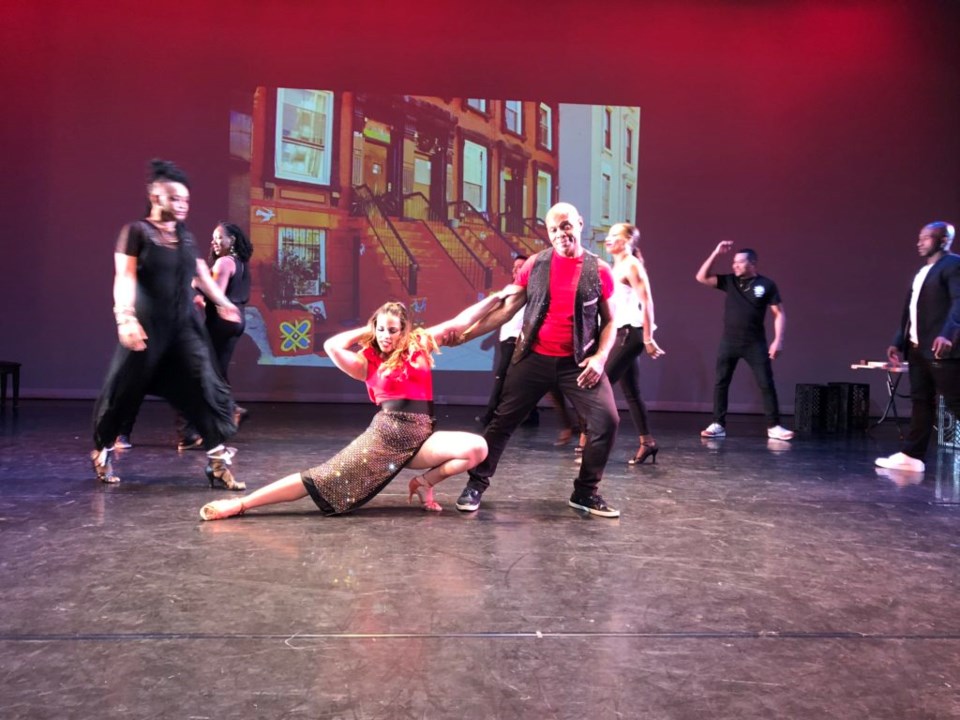 "I started dancing at St Paul Community Baptist Church at the age of 30 with two bad knees, and dance changed my life," said Cheryl Todmann, founder and creative director of The Stars of New York Dance. "I became more confident, creative and started winning awards at work. I thought if it can do this for me, it could help children and adults in our community reach their full potential. So even though I didn't have a dance or production background, I had faith and believed that this was my personal assignment."
This year's special guest presenters include National CARES Mentoring Movement Founder & CEO Susan L. Taylor, New York State Attorney General Letitia James, Brooklyn Borough President Eric L. Adams, Bedford-Stuyvesant Restoration Corporation President & CEO Colvin W. Grannum, and Cornerstone Baptist Church Senior Pastor Rev. Lawrence E. Aker, III.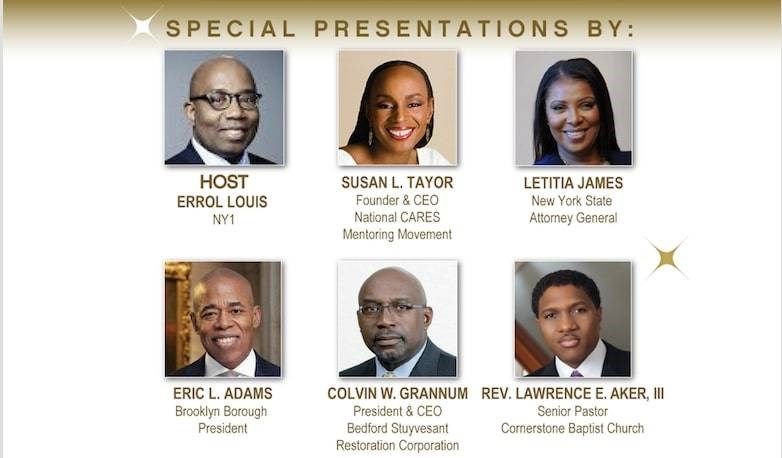 "We are blessed to have some of the most engaged and charitable leaders in New York City," said Cheryl Todmann founder and executive producer of The Stars of New York Dance. "Year after year, they have volunteered their time to dance and create equity for our children in the arts. Because of their sacrifice and commitment, children in our community have access to dance, all of its benefits, and are ensured a vibrant future."
Since its inception in 2010, the response to the competition has been amazing. In addition to providing more than 100 children with 8,500 days of free and subsidized dance education and training with a local, community-based dance organization, the dance-off also has created hundreds of new dance ambassadors from the community who participate as competitors and are developing new audiences for dance.
This year's "Dancing Stars" are: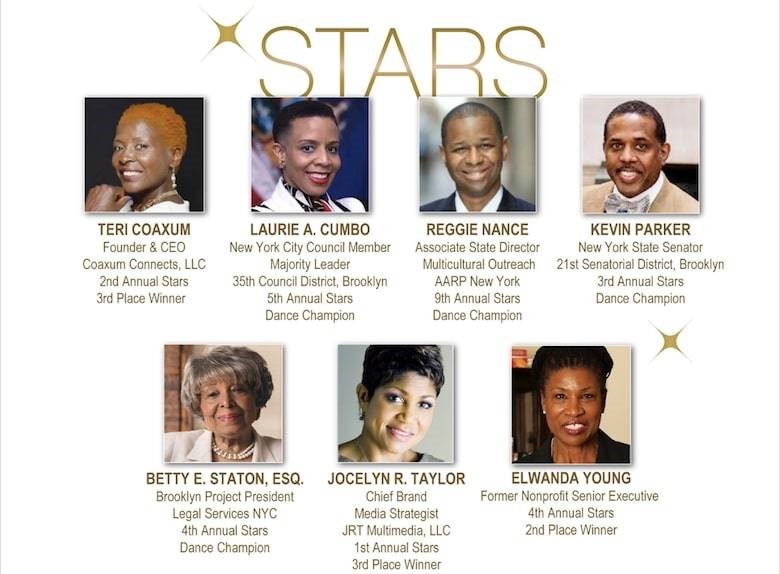 Teri Coaxum, Founder & CEO of Coaxum Connects, LLC and 3rd Place Winner of the 2nd Annual Stars event, dancing with Darian M. Parker, PhD of Cumbe Center for African and Diasporan Dance
Laurie A. Cumbo, New York City Council Member & Majority Leader for the 35th Council District in Brooklyn and Dance Champion of the 5th Annual Stars event, dancing with Jamel Gaines of Creative Outlet Dance Theatre of Brooklyn
Reggie Nance, Associate State Director Multicultural Outreach for AARP New York and Dance Champion of the 9th Annual Stars event, dancing with Synchana Madonna of Pure Onyx Movement
Kevin Parker, New York State Senator for the 21st Senatorial District in Brooklyn and Dance Champion of the 3rd Annual Stars event, dancing with Zakiya M. Harris of Asase Yaa School of the Arts
Betty E. Staton, Esq, Brooklyn Project President for Legal Services NYC and Dance Champion of the 4th Annual Stars event, dancing with Nathan Trice of nathantriceRITUALS
Jocelyn R. Taylor, Chief Brand Media Strategist for JRT Multimedia, LLC and 3rd Place Winner of the 1st Annual Stars event, dancing with Kevin Joseph of Pureelements-- An Evolution in Dance
Elwanda Young, former nonprofit senior executive and 2nd Place Winner of the 4th Annual Stars event, dancing with Jude Evans of Forces of Nature Dance Theatre
"We are increasing the visibility and the awareness of local dance and arts organizations and showing how vital they are to the community as a whole," said Todmann. "Our overall goal is to get everyone in NYC to dance and with the leaders, dance organizations and sponsors we partner with. We are well on our way!"
---
What: 10th Annual The Stars of New York Dance Competition Benefiting New York City Children and Youth
When: Friday, November 15; 5:30PMVIP Cocktail Reception; 7:00PMDance Competition
Where: Kumble Theater for the Performing Arts, LIU-Brooklyn Campus, One University Plaza, Brooklyn, NY 11201
Tickets: VIP Tickets include VIP Seating and the 5:30PMCocktail Reception: $115 before 10/18 and $125 after; General Admission Tickets: $65 before 10/18 and $75 after. Purchase tickets online at www.starsnydance.org/tickets Checks can also be made payable to The Stars of New York Dance and mailed to P.O. Box 170511, Times Plaza Station, Brooklyn, NY 11217.
*The Stars of New York Dance is a nonprofit organization and a sponsored project of Fractured Atlas, a 501 (c) (3) non-profit arts service organization.*