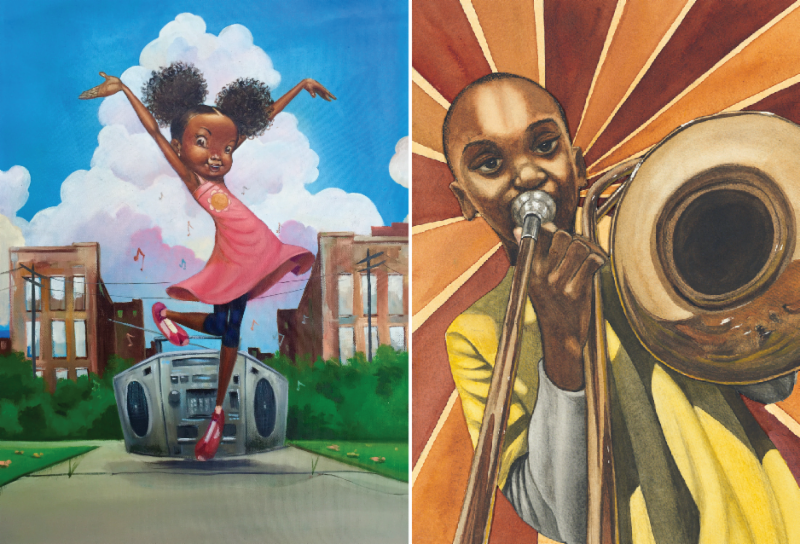 The artworks of two award-winning children's books illustrators-- Bryan Collier and Frank Morrison-- will soon be on exhibition at House of Art Gallery, located at 408 Marcus Garvey Blvd in Bed-Stuy.
The exhibition, entitled "The Jam Session," will be held from September 12 - October 10, 2015, kicking off with an opening reception on Saturday, September 19, from 6:00pm to 9:00pm, and then followed by an artist discussion, kids' book reading and signing on Sunday, September 20, from 2:00pm to 5:00pm.
Artist Collier is a three-time recipient of the Caldecott Honor, the Coretta Scott King Award, and the Ezra Jack Keats New Illustrator Award for Uptown (Holt, 2000). Morrison received an NAACP Award for his work in "Our Children Can Soar" and the Coretta Scott King Award for "Jazzy Miz Mozetta." He has also provided illustrations for children's books by celebrities including, "Queen of the Scene" by Queen Latifah, "For the Love of Soccer" by Pele and "Children of God" by Archbishop Desmond Tutu.
Original artwork from the book "I Got the Rhythm" by Connie Morrison and illustrated by Frank Morrison as well as original artwork from the book "Trombone Shorty" by Troy Andrews, illustrated by Bryan Collier will will on exhibition. In addition, books from Frank and Bryan's various titles will be available for purchase.
Email RSVP: thejamsession@hoagallery.com
For further information, please visit the House of Art Gallery website.