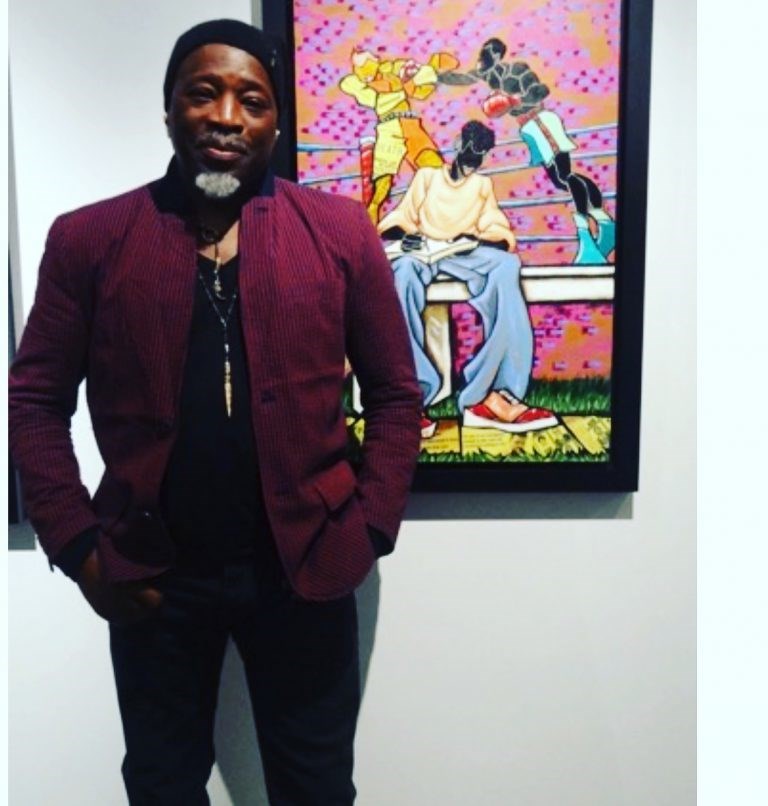 There have been few figures in American history that have embodied more of a fighting spirit than Muhammad Ali.
He was a champion fighter inside of the ring, heralded by Sports Illustrated as "The Greatest Athlete of the 20th Century." He was also an influential voice outside of the ring, where he was as an outspoken activist in the fight for racial justice.
He was at once charismatic and controversial-- certainly one of the most polarizing figures of his time.
When artist Leroy Campbell began envisioning earlier this year how to anchor an exhibit around the fighting spirit of the African-American community, he had a list of ideas on where to start. But with the passing of Muhammad Ali in June 2016, he knew, it was Ali who should lead that charge.
Campbell's exhibit, "The Fight Continues," opened on November 5, at the Richard Beavers Gallery in Bed-Stuy.
The exhibit is a series of 17 mixed media collages on canvas inspired by the fighting spirit of Muhammad Ali-- gorgeous and lush portraits of black people of all ages donning boxing paraphernalia, either in the boxing ring or in historical settings depicting black life .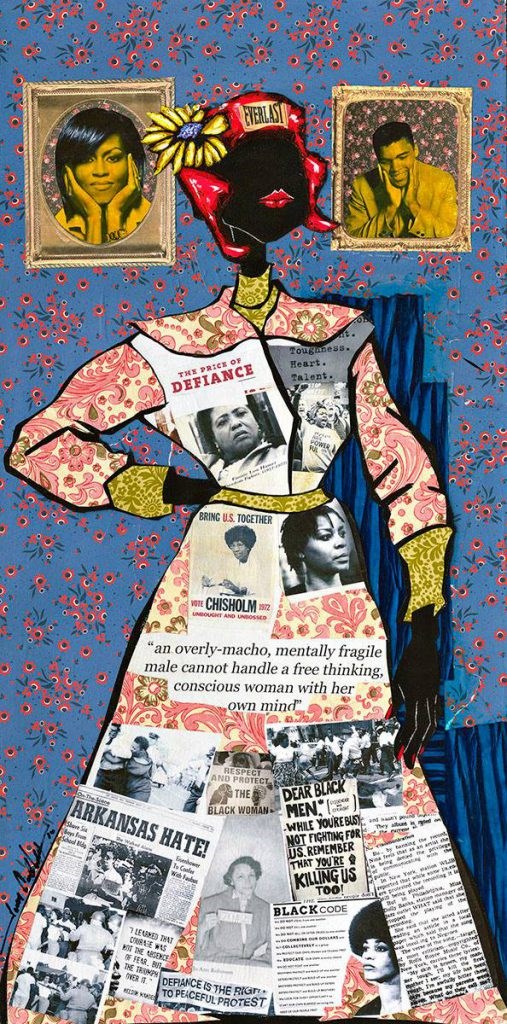 "I wanted so much to show my appreciation in a way that is not just superficial. What I got out of Ali, he deserved this homage. Our spirit defines us. Our fighting spirit is ancestral. And [Ali] embodied the long line of fighting spirits we have as a people," said Campbell.
Campbell lists iconic painter Jacob Lawrence as one of his biggest artistic influences, and similar to Lawrence, Campbell's work employs an element of storytelling, colorful, soulful, molasses-ladened, and often set America's antebellum and postbellum rural South.
A walk through the exhibit is like discovering old photos locked away in your great-grandparents' attic-- portraits of forgotten stories of the past suddenly resurrected and then retold through subtle subtext.
Also like Lawrence, Campbell's work is minimalist in facial details, featuring only coal-colored faces and brightly painted lips. As a result, the viewer's eyes tend to focus more squarely on the characters' body expressions and more elaborate background details.
In Campbell's artwork, it feels like lost-and-found objects, inspirational messages and newspaper clippings that display the faces of resistance juxtaposed over clothing, reminding the viewer of the African-American spirit of endurance.
By seamlessly integrating present with past, the portraits becomes a continuum of one, singular uninterrupted movement, at once unsettling but even more so empowering.
"The Fight Continues" marks Campbell's first return to a Brooklyn since his solo debut nine years ago at the same gallery. In fact, he was the featured artist at Richard Beavers Gallery when the gallery opened its doors in 2007: ""Brooklyn is the place that gave me a voice about my culture and my art, so this is just a continuation," said Campbell.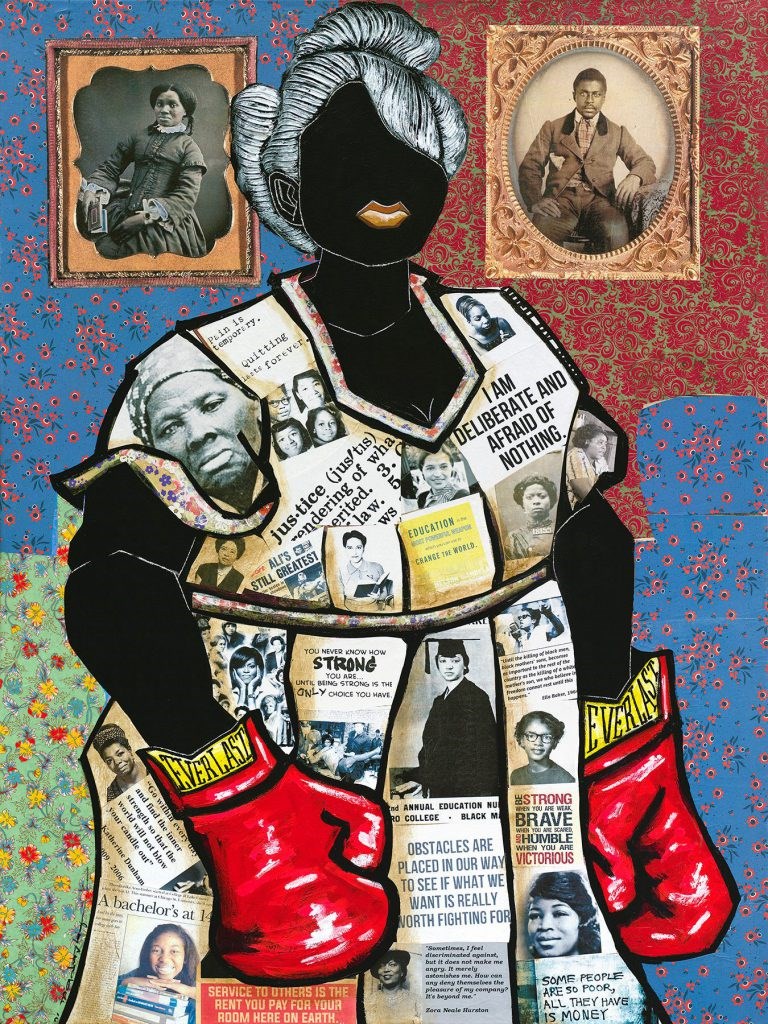 "So here we are, nine years later," said Richard Beavers, owner of Richard Beavers Gallery. "He's completing a cycle as the featured artist doing a solo exhibition again. But this time around, Campbell's dealing more so in the spirit, which is very innovative and creative, producing in a whole different perspective."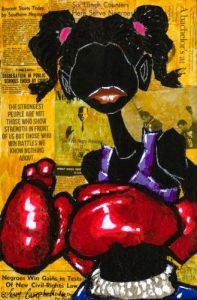 Campbell said, in the coming year, he plans to continue the series, a survey of African-American icons, perhaps Prince or Michael Jackson.
Who Inspires us? What embodies our spirit, our perseverance, our fight? Those are the questions Campbell wants to explore and answer, as those ideals endure forever. Because "We all die," said Campbell, quoting author Chuck Palahniuk. "The goal is not to live forever; the goal is to create something that will."

"The Fight Continues," exhibit is on display through December 10, 2016, at Richard Beavers Gallery, located at 408 Marcus Garvey Blvd.