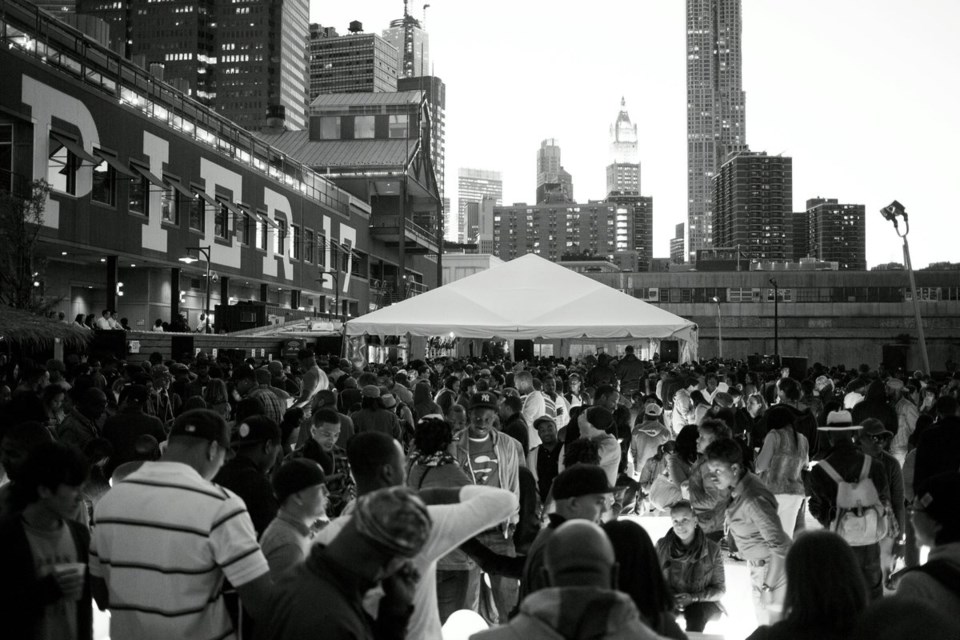 Yes! The Red Bull Music Academy is on its way back to New York City, and this year, it will make Brooklyn its home base!
Just in case you missed all the hoopla last year, the Red Bull Music Academy is a global series of music workshops and festivals: a platform for those luminaries— producers, vocalists, DJs, instrumentalists and all-round musical mavericks from around the world — who make a difference in today's musical landscape.
Two groups of 30 selected participants come together in a new city each year for two weeks worth of recording sessions, lectures by musical luminaries, collaborations and performances in the city's best clubs and music halls.
This year in Brooklyn, 15 events will take place over 31 days, including performances by Panda Bear and Hudson Mohawke; parties thrown by Mister Saturday Night, Lit Trax City and Gerd Janson; and even a public lecture with notoriously reclusive soul singer D'Angelo at the Brooklyn Museum.
To see the full lineup and to get ticket information, go here.
Bounce Ballroom - May 1
What: Four dance crews and four DJs pay tribute to a NYC dance tradition
Who: Bobby Konders and dancers Bones Hill, Drew Dollaz, Samiam, Ghost; DJ MikeQ and MC Kevin JZ Prodigy and dancers Javier Ninja, Leiomy Prodigy and Dashaun Evisu; Todd Terry and dancers Ejoe Wilson, Cricket, Princess Lockeroo; DJ Sliink and Mike Gip and dancers SoSo, Fiinesse and Tyqueek
Where: Brooklyn Bazaar, 165 Banker St., Brooklyn, NY
When: May 1, 8 p.m.
Atomic Bomb! The Music of William Onyeabor - May 2-3
What: An all-star lineup of artists gets together to play songs by William Onyeabor, the mysterious and talented Nigerian synth player whose background is unknown and who has seemingly disappeared into the ether.
Who: David Byrne, Alexis Taylor (Hot Chip), The Lijadu Sisters, Kele Okereke (Bloc Party), Pat Mahoney (ex-LCD Soundsystem), Luke Jenner (ex-The Rapture), Joshua Redman, Money Mark, Sinkane, and more
Where: Brooklyn Academy of Music, Howard Gilman Opera House, 651 Fulton St., Brooklyn, NY
When: May 2, 7 p.m.
Four Corners Of The Clash - May 9
What: Competitors in the 2013 RBMA NYC Culture Clash (which featured guests such as 2 Chainz, Cam'ron, Flatbush Zombies and Raekwon) reunite.
Who: Trouble & Bass, Que Bajo, Federation Sound
Where: Baby's All Right, 146 Broadway, Brooklyn
When: May 9, TBA
Brooklyn Flea Record Fair - May 10
What: Spend a Saturday vinyl shopping at the Brooklyn Flea on the edge of the East River while artists from some of the Red Bull Music Academy's most beloved record labels DJ.
Who: Autre Ne Veut, Sandra Electronics, Optimo, Jesse Cohen (Tanlines) and more
Where: Smorgasburg, East River State Park, 90 Kent Ave.
When: May 10, 11 a.m.-6 p.m.
Robert Henke's Lumière & The Haxan Cloak - May 10
What: The North American premiere of 'Lumiere,' an audio/visual spectacle with a soundtrack performed by The Haxan Cloak in his US debut.
Who: Robert Henke and The Haxan Cloak
Where: Brooklyn Masonic Temple, 317 Clermont Ave., Brooklyn
When: May 10, 8 p.m.
Larry Levan Street Party - May 11
What: An open-air tribute to Larry Levan, who in the 1980s held a legendary DJ residency at New York's Paradise Garage
Who: Francois K, Joey Lllanos, David Depino and special guests
Where: King Street between Varick and Hudson in NYC
When: May 11, 12 p.m.-6 p.m.
A Night Of Improvised Round Robin Duets - May 14
What: One of the most talked-about performances at last year's RBMA NYC, Round Robin Duets are back, pairing unlikely artists together for five minutes of joint improvisation.
Who: TBA
Where: Town Hall, 123 W. 43rd St., NYC
When: May 14, 7:30 p.m.
Hardcore Activity In Progress - May 16
What: A thunderdome of noise from all corners, with musicians from all genres mixing it up under one roof at one time.
Who: Tim Hecker, Napalm Death, Gunplay, The Thing, Wolf Eyes, Regis, Bastard Noise, Lubomyr Melnyj, Skullflower, Joe McPhee/Chris Corsano, Okkyung Lee, Clipping, Yoshiko Ohara, Reg Bloor, Gnaw
Where: Knockdown Center, 52-19 Flushing Ave., Queens, NY
When: May 16, 8 p.m.
Running Back: Gerd Janson All Night Long - May 17
What: Exactly what the title says: A night of music, guided by one of the most accomplished DJs in the world (and RBMA team member).
Who: Gerd Janson
Where: TBA Brooklyn, 395 Wythe Ave., Brooklyn
When: May 17, 10 p.m.
Panda Bear - May 18
What: Noah Lennox (a.k.a. Panda Bear) makes a rare appearance on stage in New York City with visuals from Danny Perez, a fellow Animal Collective band member.
Who: Panda Bear with special guests
Where: Warsaw, 261 Driggs Ave., Brooklyn
When: May 18, 8 p.m.
A Conversation With D'Angelo - May 21
What: A public lecture with legendary soul singer D'Angelo.
Who: D'Angelo
Where: Brooklyn Museum, 200 Eastern Pkwy, Brooklyn
When: 7 p.m.
The Mister Saturday Night House Party - May 24
What: Secret house party thrown by the founders of Mister Saturday Night label. Address is given to ticket holders on the night of the party. Tickets go on sale April 24.
Who: Mister Saturday Night (Eamon Harkin and Justin Carter)
Where: Mister Saturday Night's House
When: 9 p.m. - 3 a.m.
Hudson Mohawke & Friends, Live - May 28
What: Hudson Mohawke, of TNGHT fame and of 'Yeezus' fame, doing what he does best.
Who: Hudson Mohawke and special guests
Where: Webster Hall, 125 E. 11th St., New York City
When: May 28, 8 p.m.
Lit City Trax - May 30
What: A night of grime 'n' bass, future house and footwork from the people of Lit City.
Who: DJ Deeon, J-CUSH, Durban
Where: The Westway, 75 Clarkson St., New York City
When: May 30, 10 p.m.
A Class Of Its Own: RBMA Closing Night - May 31
What: 15 former Red Bull Music Academy participants share the stage to close out the first annual RBMA NYC Festival.
Who: Yosi Horikawa, Lucrecia Dalt, DJ NIRE, Anenon, and more
Where: Abrons Arts Center, 466 Grand St., New York City
When: May 31, 8 p.m.