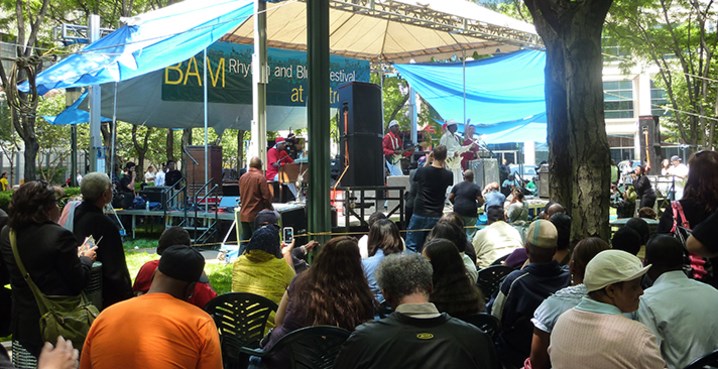 Summer@MetroTech has returned with a season-long festival of free music, movies, activities and televised sporting events in Downtown Brooklyn's MetroTech Commons.
This year's summer series, produced by Forest City Ratner Companies, offers incredible programs, including Bastille Day celebrations, broadcasts of premier sporting events, multiple outdoor movie screenings, a literature fair and the return of the BEAT festival.
"Over the past two summers, MetroTech Commons has become a central location to gather and find events to see almost every day of the week," said MaryAnne Gilmartin, president and CEO of FCRC. "Every group involved has such a commitment to and passion for arts and innovation, that it is certain this summer's series will truly be an unforgettable one."
Summer@MetroTech 2015 Highlights:
The BAM R&B Festival: Celebrating its 21st year in Downtown Brooklyn, the free R&B Music festival features another wide-ranging roster of legendary trailblazers and emerging musical visionaries of R&B and world music.
Sports in the Commons: The summer's hottest sporting events will be broadcast live on the big screen, including the US Open, French Open and FIFA Women's World Cup.
BEAT Festival: The festival for emerging Brooklyn theater artists will bring a number of performances to the Commons in September.
Rooftop Films Presents: Rooftop Films will screen three groundbreaking film presentations for Summer@MetroTech, including the best short films out of the Sundance Film Festival and a one-of-a-kind glimpse into New York City's urban landscape through the lens of filmmaker and photographer Khalik Allah.
Brooklyn Book Festival: Authors and illustrators of cool, new and beloved children's books will be hosting readings, performances, creative workshops and more at this fun-filled day for families.
Bastille Day Celebration: MetroTech's La Defense Bakery and Bistro hosts a celebration featuring Downtown Brooklyn's own Petanque Tournament on professional-grade courts, plus food, live music, and fun for all!
Throwback Thursday Movie Nights: Bring the family for an exciting night under the stars as Summer@MetroTech premieres three "old school" movie screenings throughout the month of August, brought to you by the Downtown Brooklyn Partnership.
"BAM is delighted to be partnering with Forest City Ratner for the 21st year of our R&B Festival, and for their third summer of hosting outdoor events at the MetroTech Commons," said BAM President Karen Brooks Hopkins. "Providing communities with cultural experiences is so integral to their success, and we hope to continue being a part of those successes for years to come!"
To see the full summer series lineup, go here.