Looking for last-minute Halloween costume ideas for your pup? Look no further.
Taking inspiration from the most creative canines in Brooklyn at Fort Greene's Annual Great PUPkin Costume Contests, the BK Reader has put together 13 costume ideas to make sure your dog looks the part this howl-oween.
1. Throw it back to one of your favorite TV shows as a kid, like the winner of the 2018 PUPkin contest, who used a trash can and some green paint to bring to life Sesame Street's Oscar the Grouch. We're thinking Rugrats, Hey Arnold, Scooby Doo or even Mister Rogers.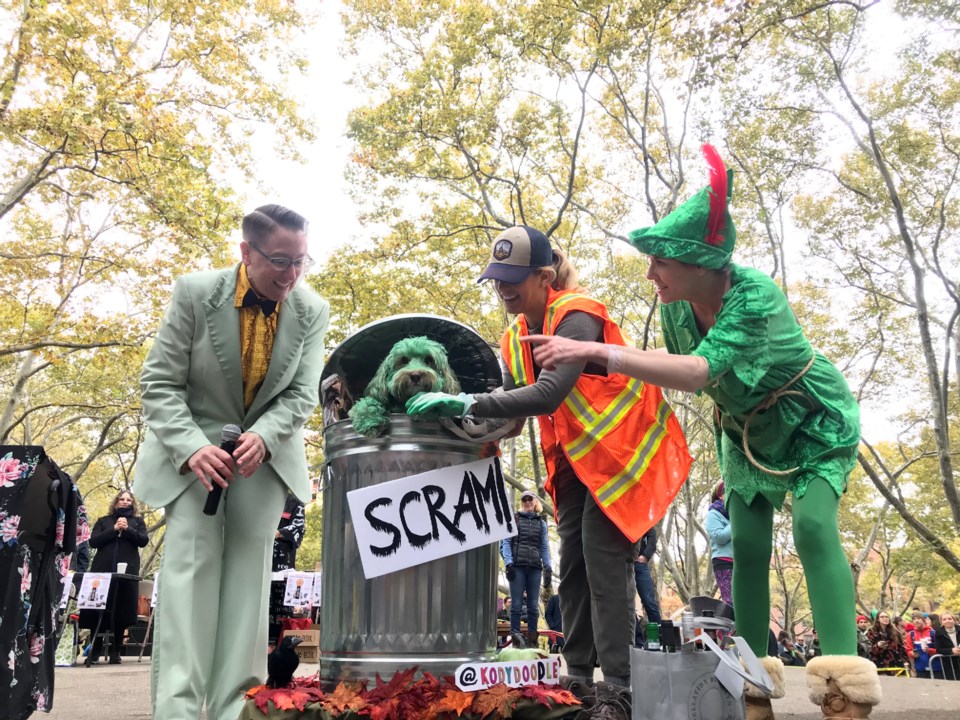 2. Dress your Rottweiler as your favorite wrestler. And it doesn't necessarily have to be Mexican wrestling, like the Luchadorable Lucy here -- think WWF, MMA, boxing.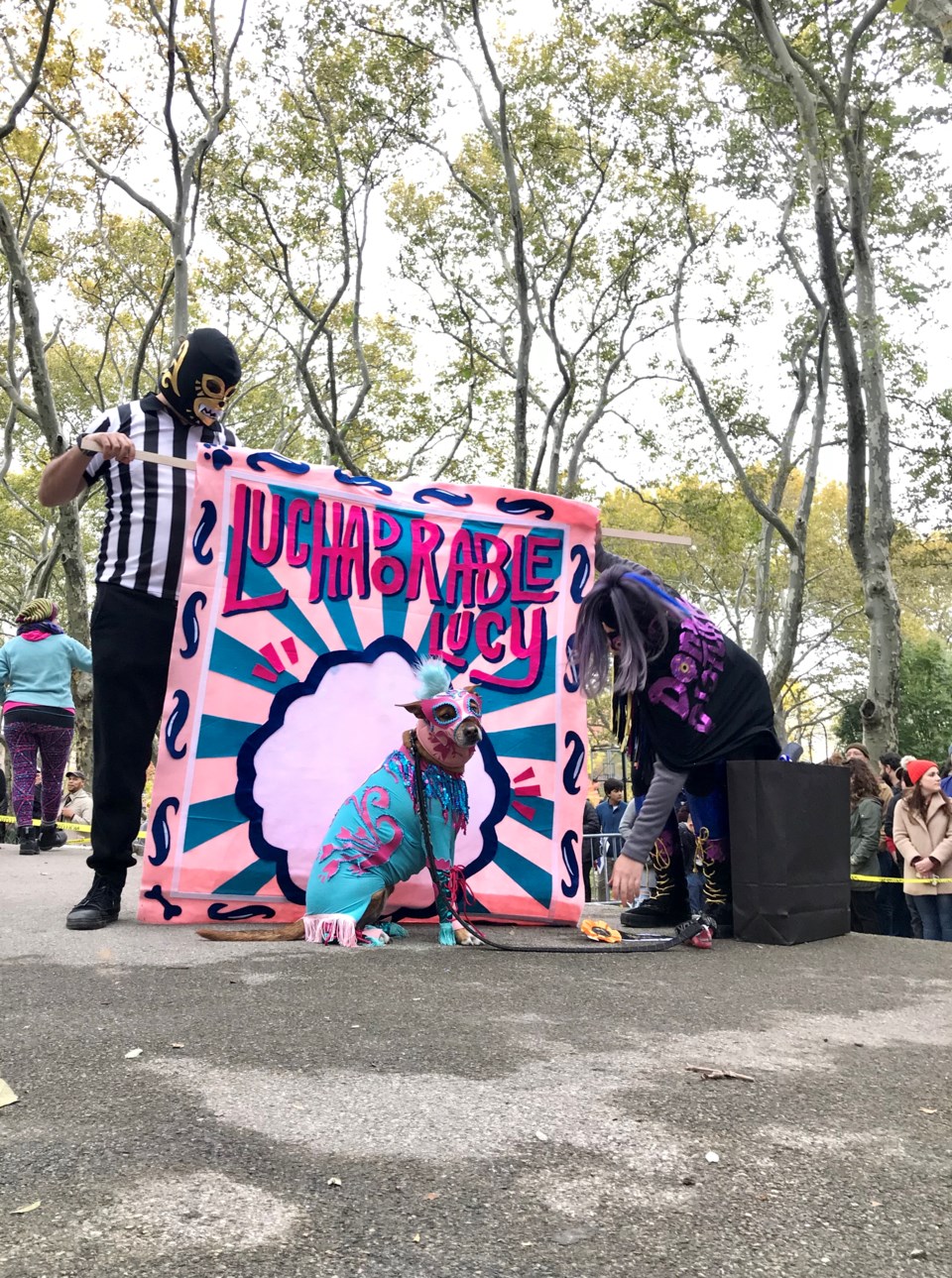 3. Pick a Tim Burton movie, and run with it. Here we have the classic Beetlejuice, but your pup may prefer Edward Scissorhands, Sweeney Todd, or most appropriately, Frankenweenie.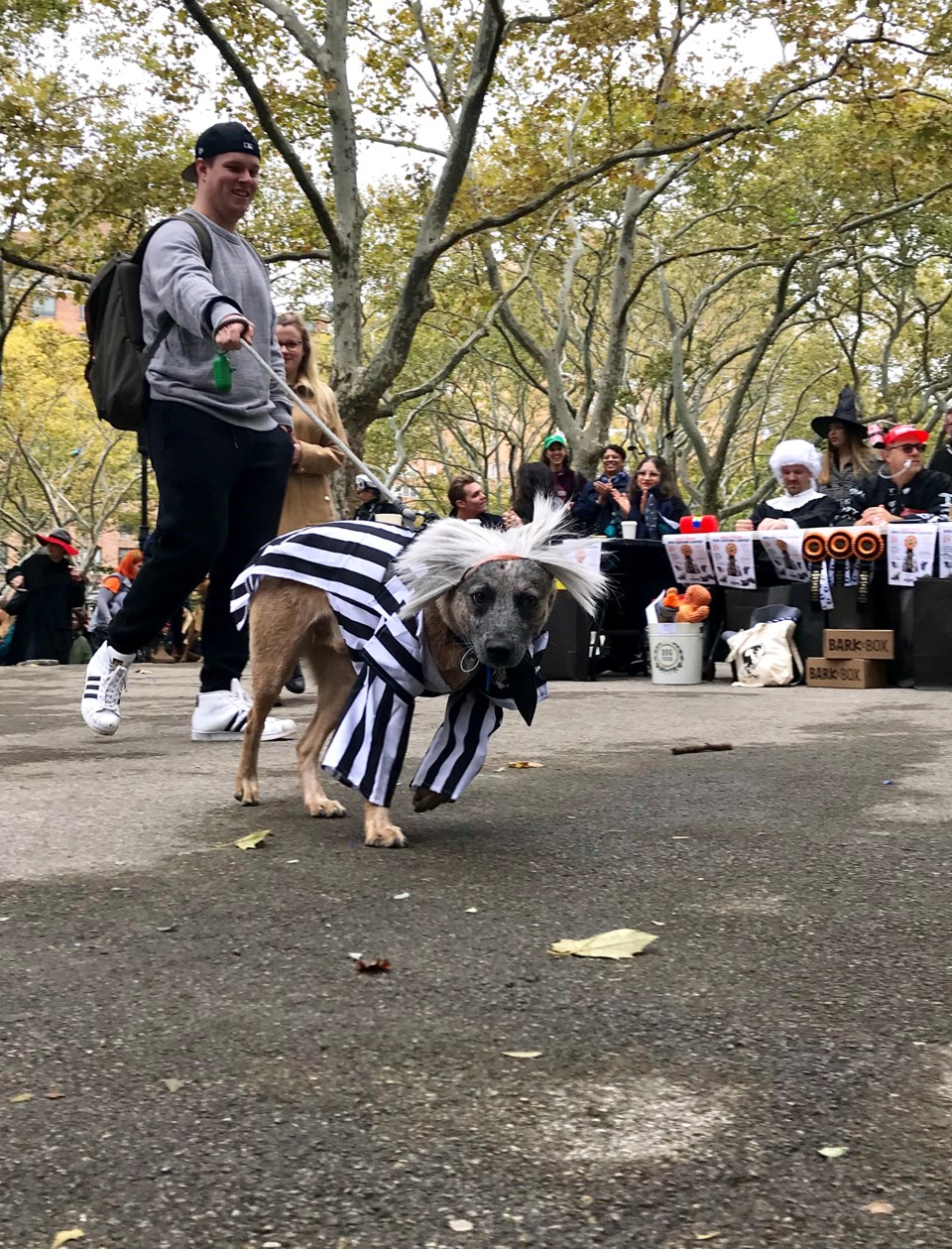 4. Get inspiration from the candy jar. Here we have an adorable Sour Patch Kid. But your dog might make a better M&M, a peanut butter cup, a carton of Nerds or a jellybean.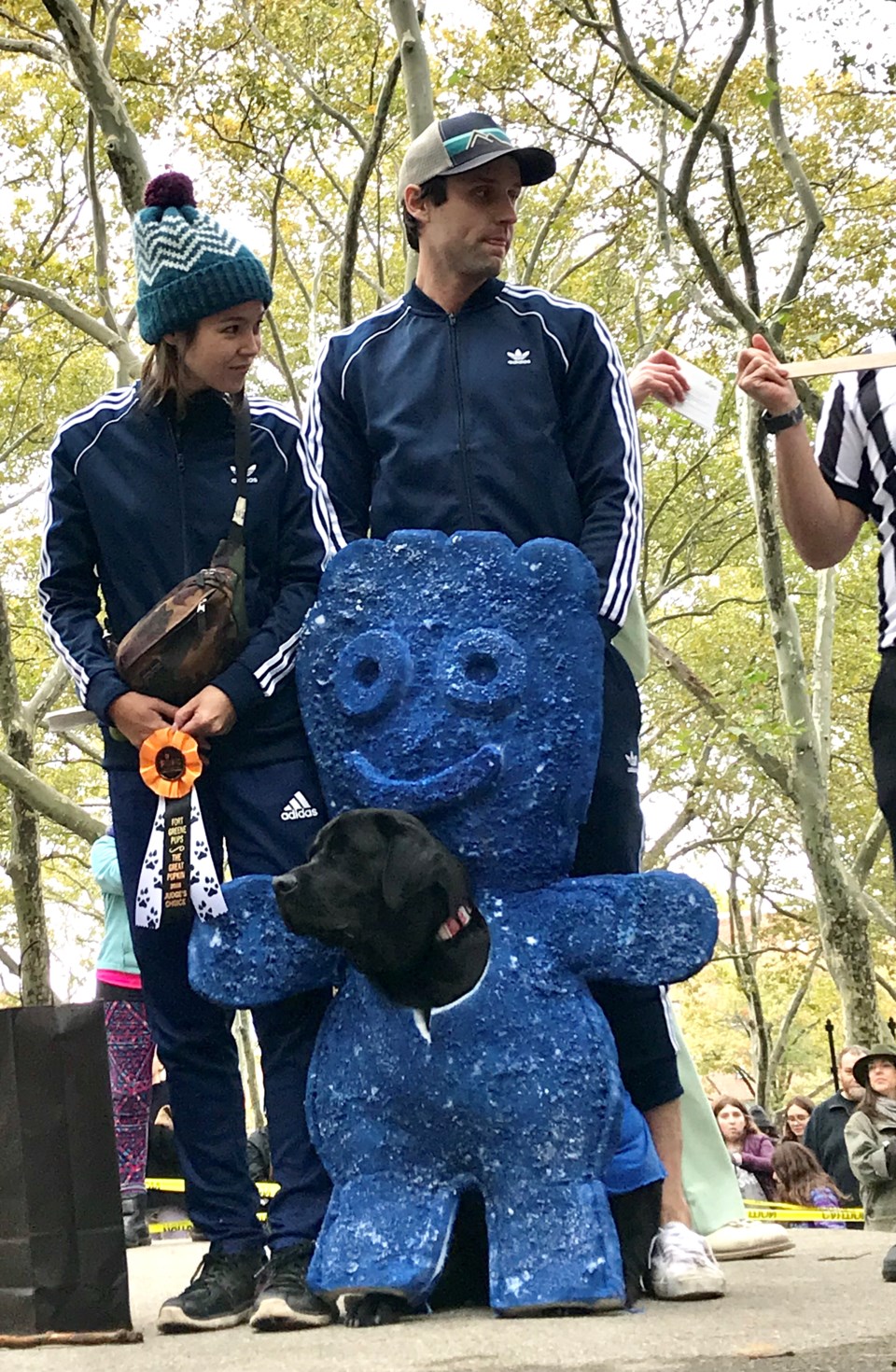 5. Make your dog and your baby a dynamic duo for Halloween. Whether it's a Roman empress and her war horse, or a Jedi and his R2-D2.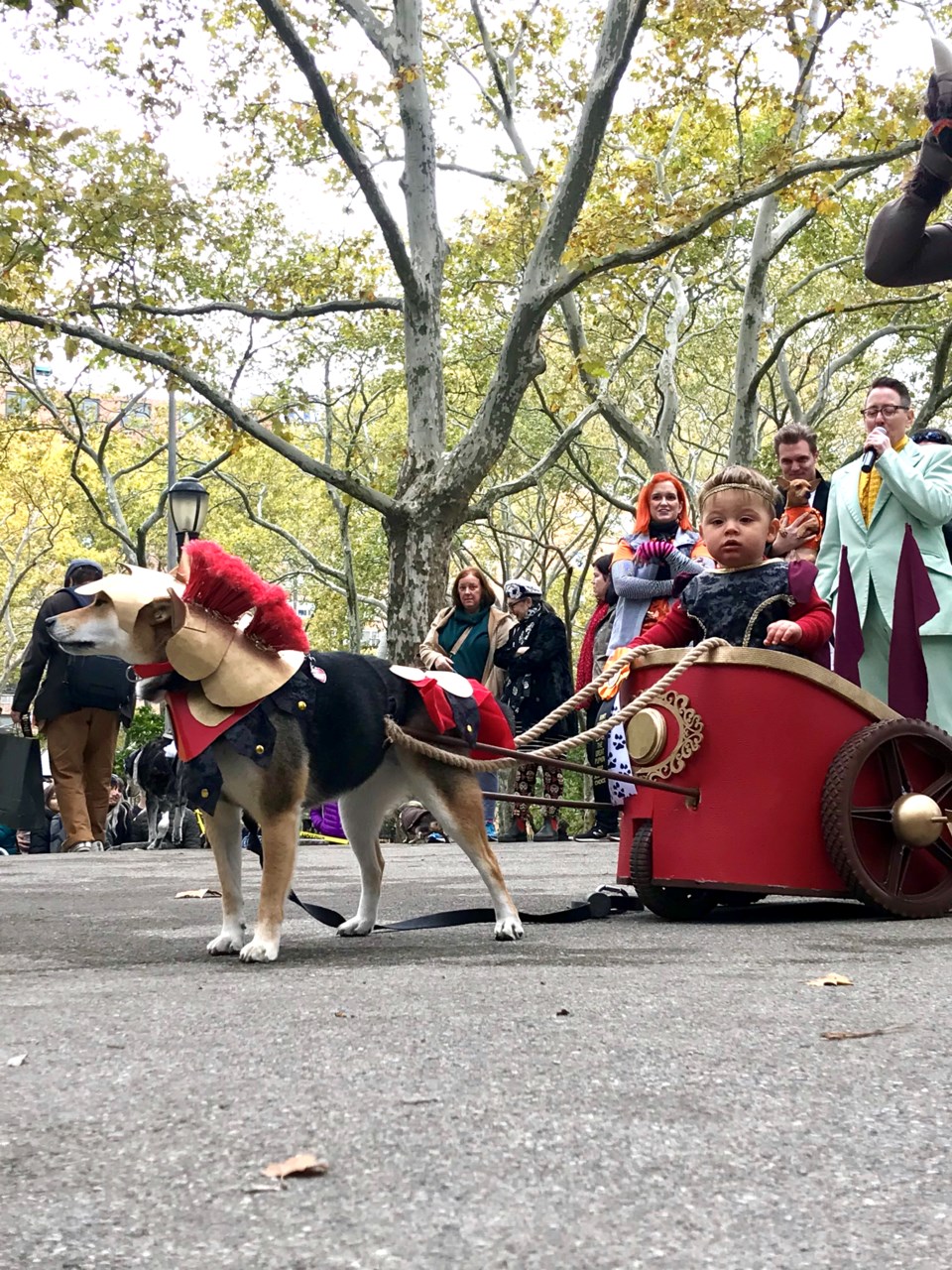 6. Take an iconic image -- or a meme -- and recreate it. As you can see in this reimagining of the iconic 30 Rock photograph, it's all in the accessorizing.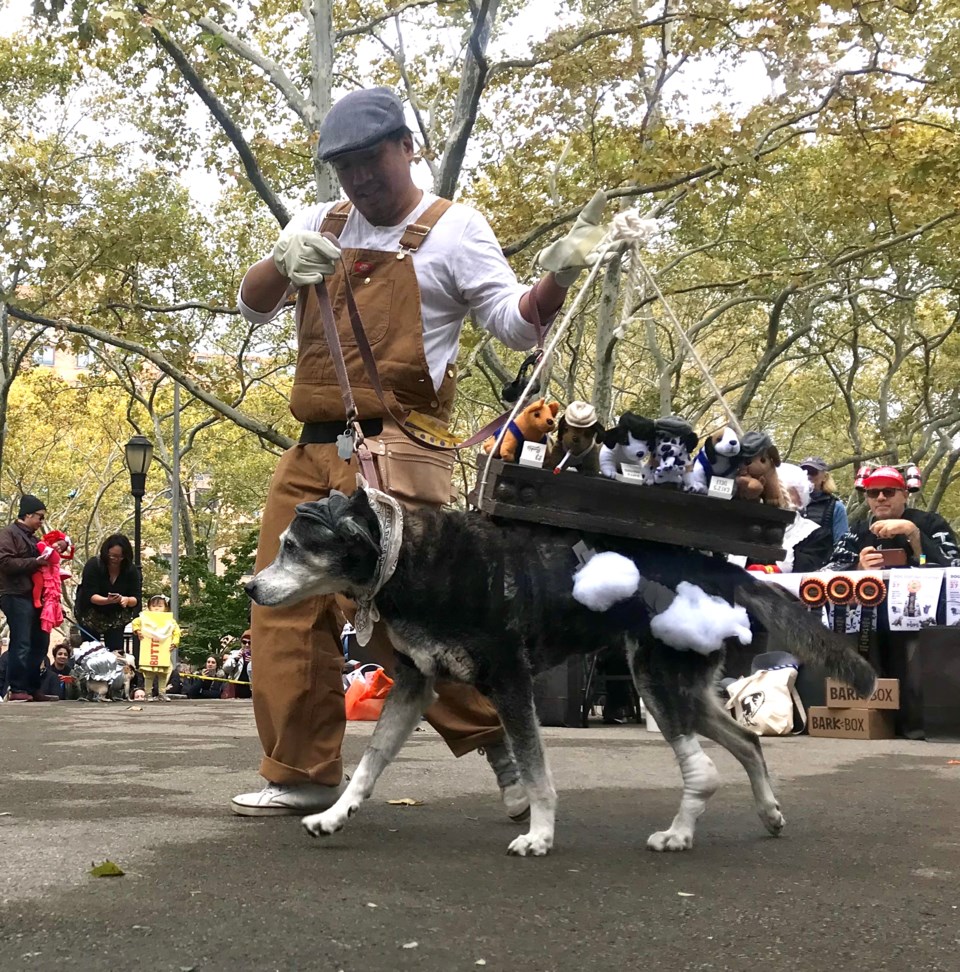 7. Let your stomach lead you. Dress your dog as a whole snack. Like this little guy - who came dressed as a sushi roll in 2018. Other ideas -- hot cheetos, hot dogs, a bowl of ramen, a slice of pizza, a cronut, a lobster roll, an egg.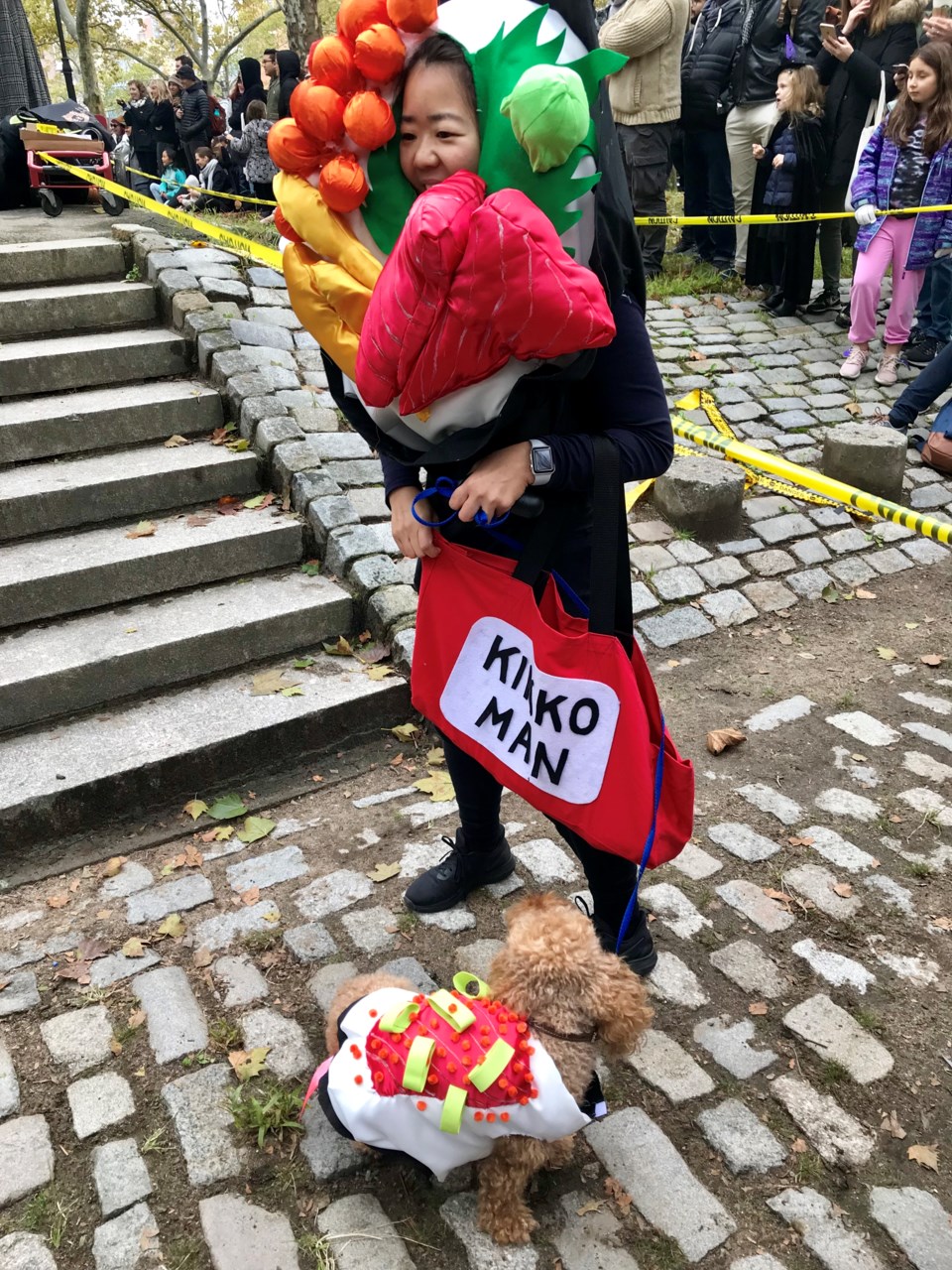 8. Level up and dress your dog as a snack AND make them a dynamic duo with your baby. So this time, you do a hot dog -- with a side of fries. Or a bowl of ramen -- with rice. An egg -- but add a slice of toast.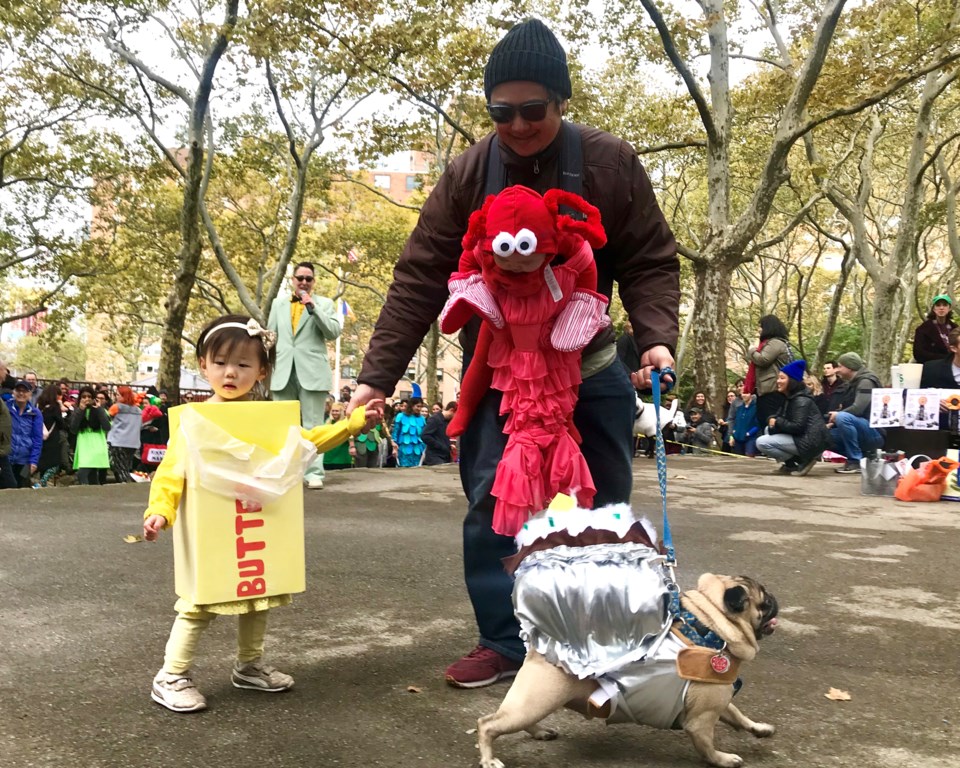 9. Dress your dog after your favorite Brooklyn icon. Like the Notorious D.O.G in his Coogi sweater, there's so many Brooklyn legends to choose from. Lil Kim, Jay Z, Joan Rivers, Foxy Brown, Ruth Bader Ginsburg, Barbra Streisand and so many more.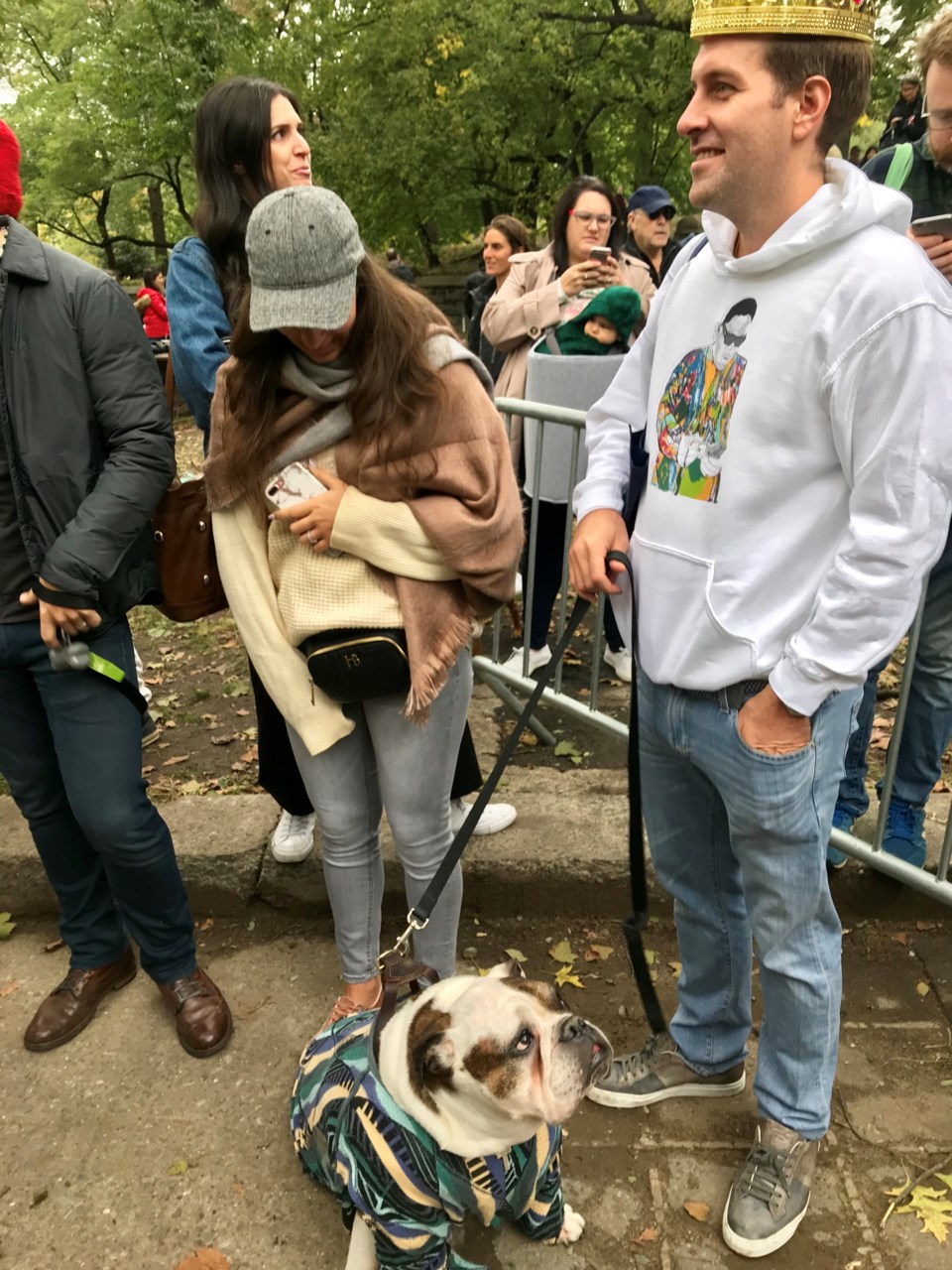 10. Celebrate a groundbreaking woman. Your pooch likes this one. Whether it's RBG, Michelle Obama, Amelia Earhart, Hillary Clinton, Rosa Parks or Cleopatra -- pick a woman who inspires you and let your dog embody her power.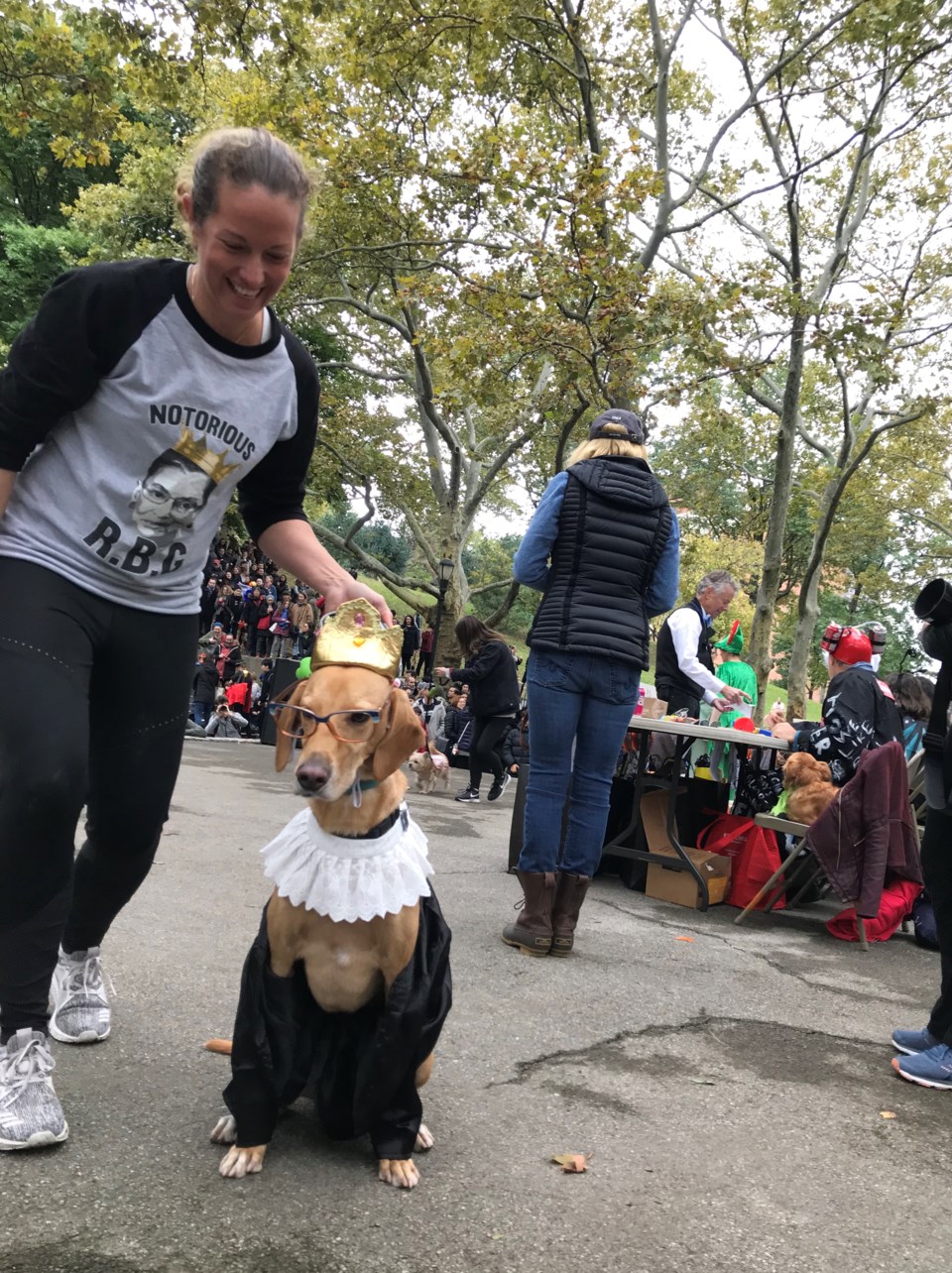 11. Look to current politics, if you can bear it. Perhaps your dog would like to dress up as the fly on VP Mike Pence's head? A polling station? A blue or red wave?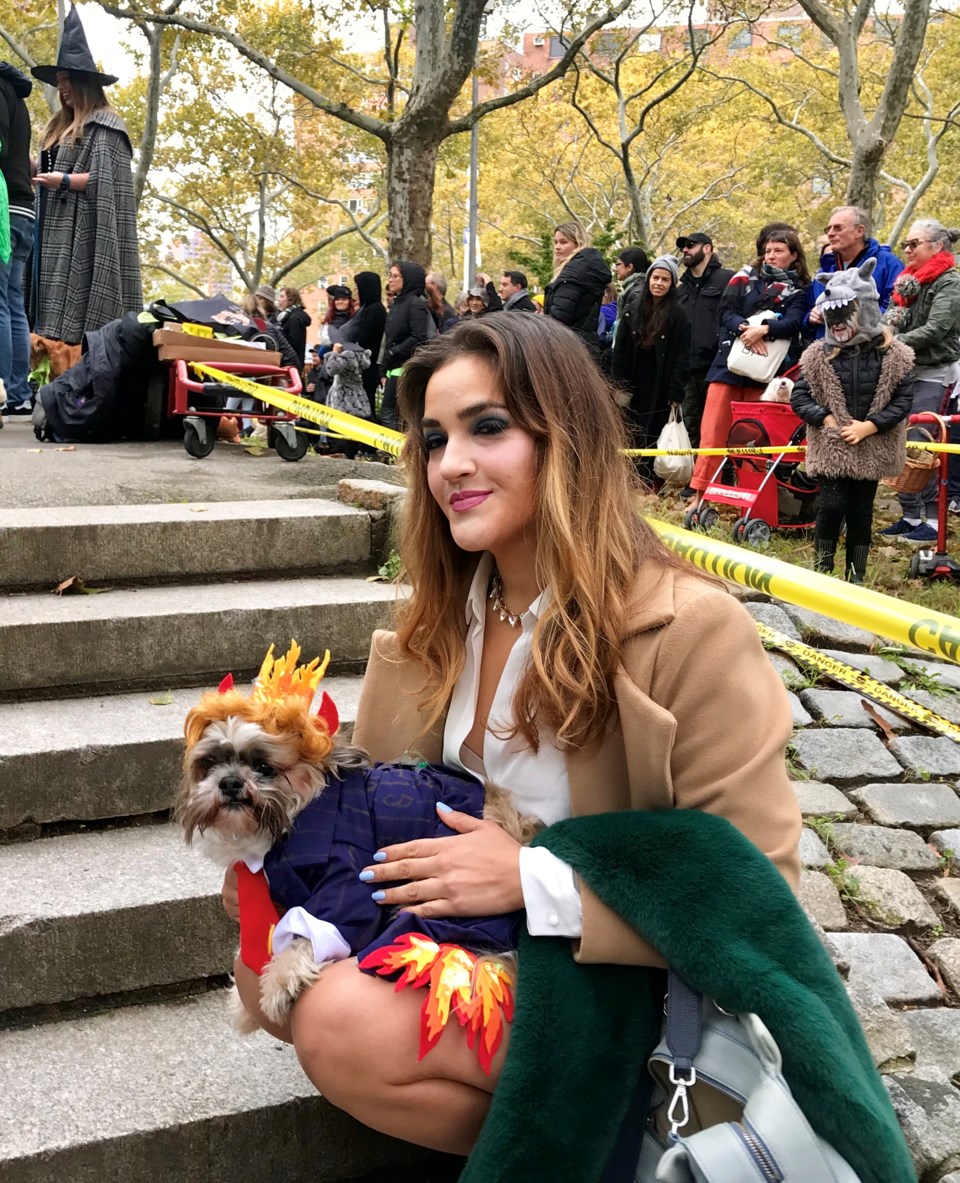 12. Your favorite heart wrenching animation. Like this little guy who went with his family as the cast of Up, you might look to Coco, The Secret Life of Dogs or Zootopia for inspiration.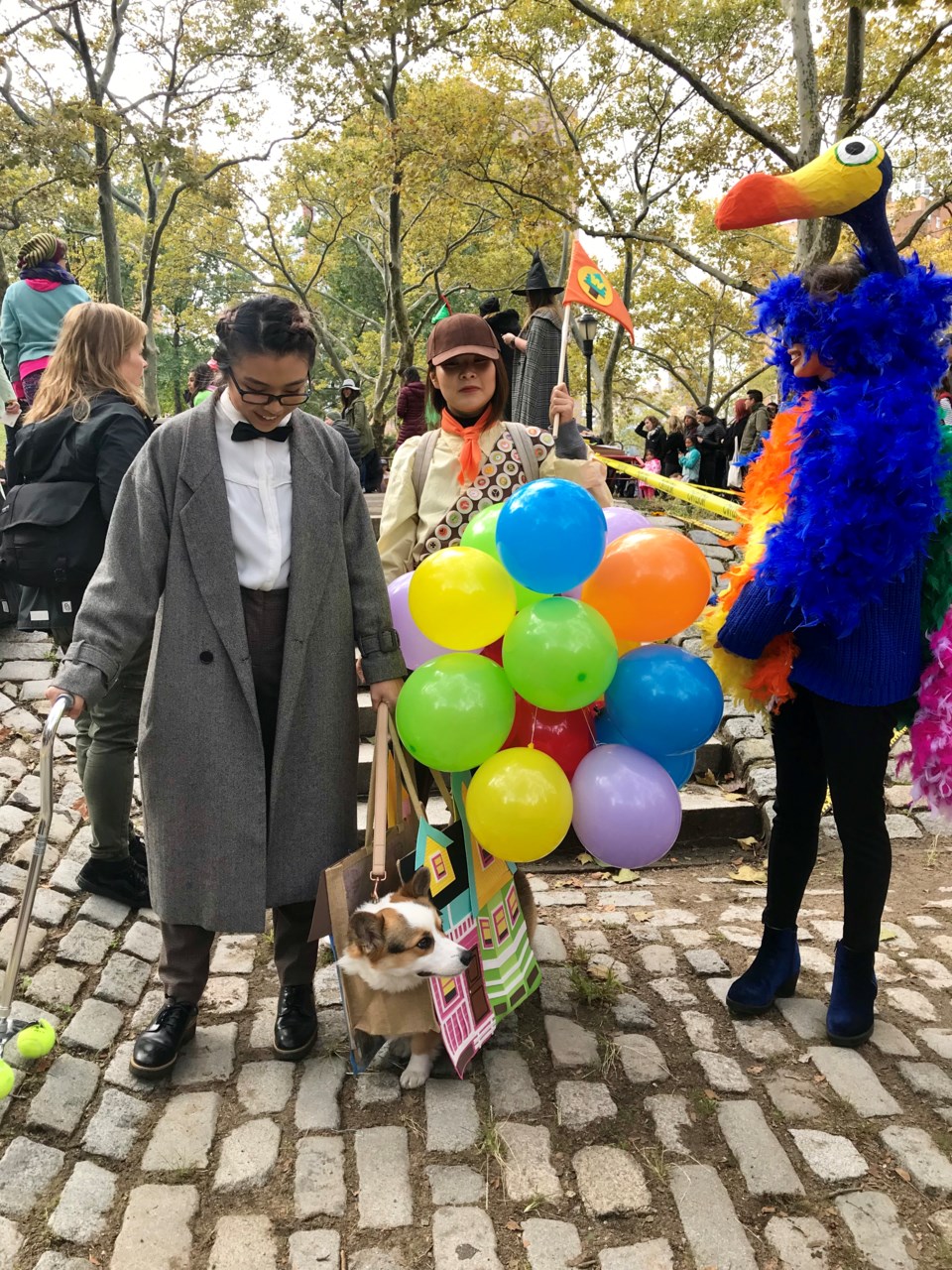 13. Someone a little bit magical. Like this Doggy Poppins, we could also envision your pup as Dumbledore or Harry Potter, a character from Lord of the Rings or even one of the cast of The Wizard of Oz.