Securing employment is tough, but for those who have served time in the justice system or a record, it's even harder.
According to the Bureau of Justice Statistics, about 4.5 million adults were on probation or released from prison in the US in 2019, with the unemployment rate for formerly incarcerated individuals nearly five times higher than the general population. Homelessness is also almost ten times more likely for those who have served time in the system..
But there is help for those trying to pick up the pieces and rebuild their lives.
On Monday, March 20, from 10:00am - 4:00pm, at Barclays Center, there will be a massive job fair with an emphasis on connecting employers with individuals impacted by the criminal justice system. The Brooklyn Job and Opportunity Fair is hosted by REFORM Alliance, in partnership with the Joe and Clara Tsai Foundation's Social Justice Fund and BSE Global, parent company of Barclays Center, the Brooklyn Nets and New York Liberty.
"Too often, jobs are out of reach for people impacted by our criminal justice system, creating an economic burden on individuals and their families," said Robert Rooks, CEO of REFORM Alliance.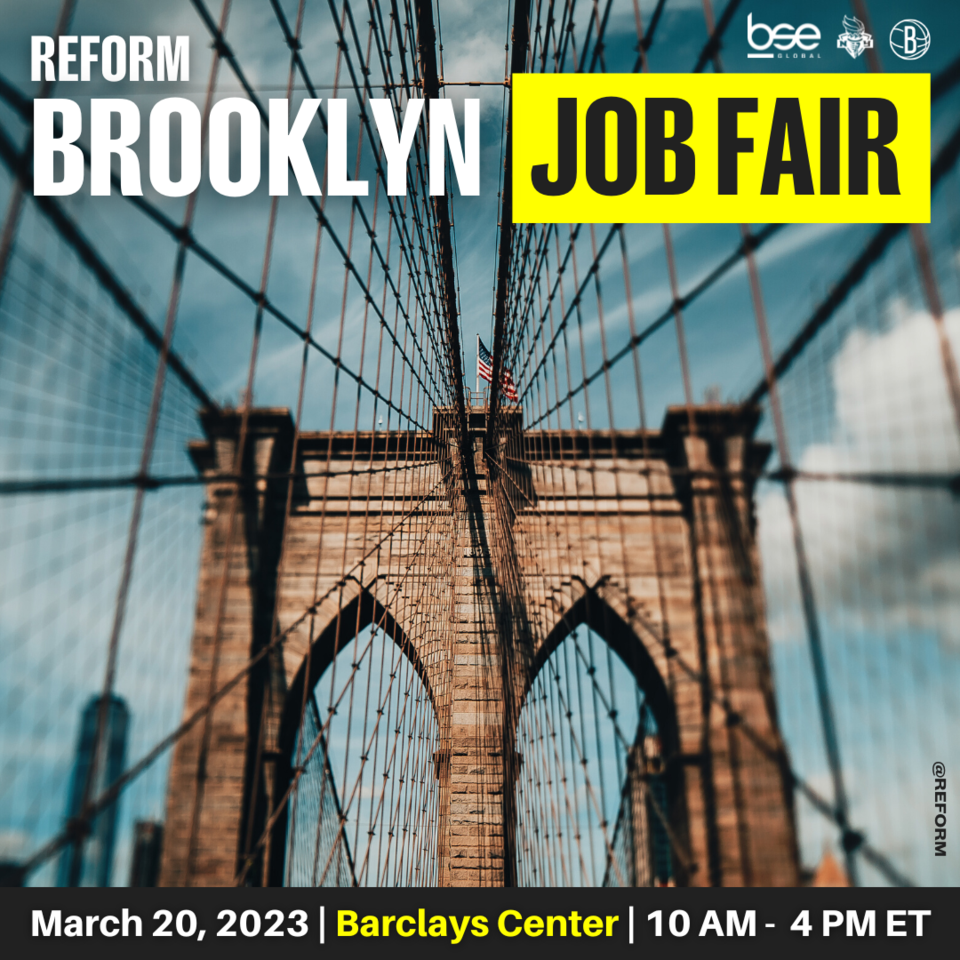 REFORM is a Philadelphia-based nonprofit organization founded in the wake of the #FreeMeek movement that helped to free rapper Meek Mill after he was sent to jail for violating his parole when an officer caught him "popping a wheelie" with his bike. The movement helped fuel a nationwide debate on how failed policies within the probation and parole system can help to fuel mass incarceration, and Meek Mill vowed to help others "unjustly trapped" in the justice system.
Founding members of REFORM include Shawn "JAY-Z" Carter; Meek Mill; New England Patriots owner Robert Kraft; BSE Global Vice Chair, Founder of The Joe and Clara Tsai Foundation and Governor of the New York Liberty Clara Wu Tsai, just to name a few.
The Brooklyn Job and Opportunity Fair is a key part of REFORM's recent national expansion of its ongoing economic opportunity event series, which kicked off in 2021 and has seen success with people who have records find – and keep – jobs.
Employers at the fair must offer full-time positions primarily located in New York, while community-based organizations and workforce development programs will provide free resources to help those reentering the workforce overcome obstacles and barriers to employment, such as:
● Record Sealing Education
● Resume-Building Resources and Interview Prep
● Professional Attire Advice
● Grooming and Styling Services
"We are excited to partner with REFORM, The Social Justice Fund and all the employers who have committed to providing resources to help overcome obstacles for employment," said Jackie Wilson, Chief Diversity, Equity and Inclusion Officer for BSE Global. "This job fair is a chance to connect the Brooklyn community with leading organizations and create real opportunities for those currently looking for jobs."
If interested in attending the job fair, please register here. If interested in offering employment opportunities or donating items, please visit here.
For more information, please visit REFORMAlliance.com or @reform on Instagram, Twitter, Facebook, and TikTok.