New York City Mayor Eric Adams today announced today a new enforcement initiative that will spotlight active outdoor dining sheds, as part of the city's Open Restaurants program, while also tackle the job of removing abandoned sheds from restaurants that have shuttered.
Mayor Adams marked the new initiative after dining outdoors at a restaurant in Manhattan last night.
The announcement came following a teardown blitz in which the city, over the course of a few days, recently removed 24 abandoned sheds that have fallen into disrepair. The abandoned sheds were attracting illicit and illegal behavior and affecting quality of life of the residents, the mayor's office observed.
The City noted, these deserted sheds — representing a small minority of the nearly 13,000 Open Restaurants participants — have distracted from an otherwise popular, successful program, and their removal represents an important step towards a permanent program that all New Yorkers can be proud of, with clear design guidelines and stronger enforcement.
"Outdoor dining has transformed New York City and saved 100,000 jobs during the pandemic, but we cannot allow abandoned dining sheds to litter our streets," Mayor Adams said. "These deserted dining sheds have become eyesores for neighbors and havens for rats, and we are going to tear them down. And, with this initiative, we are also taking the essential step towards a permanent Open Restaurants program that all New Yorkers can be proud of every day. I want to say it loud and clear: Outdoor dining is here to stay."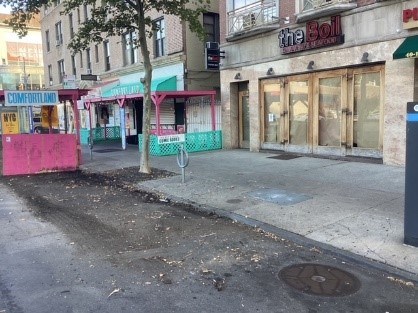 The new enforcement initiative is being spearheaded by Deputy Mayor Meera Joshi with a task force led by the New York City Department of Transportation (DOT) and the New York City Department of Sanitation (DSNY). The New York City Parks Department (NYC Parks) assisted with the initial blitz, and the New York City Police Department (NYPD) has assisted with specific shed removals where necessary for public safety.
Having removed the initial 24 abandoned sheds, the task force has begun investigating another 37 sheds identified as egregious violators of Open Restaurants program guidelines, and reviewing complaints and summons data to identify and remove other abandoned sheds throughout the five boroughs.
"Open Restaurants has enabled us to reimagine the use of public space, so we will not let a few bad actors destroy the program for thousands of restaurants that have been great partners and neighbors," said DOT Commissioner Ydanis Rodriguez. 
Sheds reported to be abandoned will be verified as abandoned two separate times before receiving a termination letter, followed by removal and disposal of the shed.
After each of the first two failed inspections, DOT will issue notices instructing the restaurant owner to correct the outstanding issues; after the third visit, DOT will issue a termination letter and allow 48 hours before issuing a removal notice. DOT will then remove the structure and store it for 90 days — if the owner does not reclaim it in that period, DOT will dispose of the structure.
"Outdoor dining was proven to be one of the most effective business support strategies New York City implemented during COVID," said Randy Peers, president and CEO of the Brooklyn Chamber of Commerce. "As we continue to move forward with business recovery, however, it's essential we recalibrate our strategies and focus on quality-of-life issues."
The administration is encouraging any New Yorker who identifies a shed that appears abandoned to call 311, say "Open Restaurants" or "outdoor dining," and share the location so the task force can review it. New Yorkers can also submit photos to 311 via text, email, or the 311 website to report a shed out of compliance.