If you live in Brooklyn, the composting program, which offers curbside compost pickup services for residents who separate food scraps and yard waste from their trash, is now in effect. By 2025, the program will be mandatory for all five boroughs.
In a statement made to BK Reader, Vincent Gragnani, press secretary for the New York City Department of Sanitation, said composting is a crucial step in the fight against climate change.
"One-third of what New Yorkers throw away is compostable, and when this material is sent to landfill, it emits methane, which is a far more dangerous greenhouse gas than carbon dioxide," Gragnani said. "Also, curbside composting fights rats: By removing food waste from black bags and putting it into sealed containers, we take rat food off our streets."
Brooklyn residents had mixed reactions to the compost service. One Sunset Park resident had no idea, saying, "Compost? News to me, I don't really know about compost." Another expressed tepid optimism: "It's a good thing to do. We'll see how it goes, I don't know."
Whether you're excited about the program or not, or you didn't even know this was happening until you started reading this article, you definitely have questions and we have answers.
When does it start?
Today, Oct. 2, for Brooklyn residents. Staten Island and Bronx residents are up next in March, followed by Manhattan in October 2024. The curbside composting service has already been put in place for Queens residents.
How do I handle food scraps and other compostable items at home?
First, find a container you don't mind getting dirty. It can be a pail or large plastic container; some even use paper grocery bags.
Once you have your container, start dropping your food scraps and other compostable items into the container and store it in your freezer when not in use to mitigate odor. When the container is full, empty the contents into a bin meant for curbside pickup. You can line the bin with a plastic or paper bag if you so choose.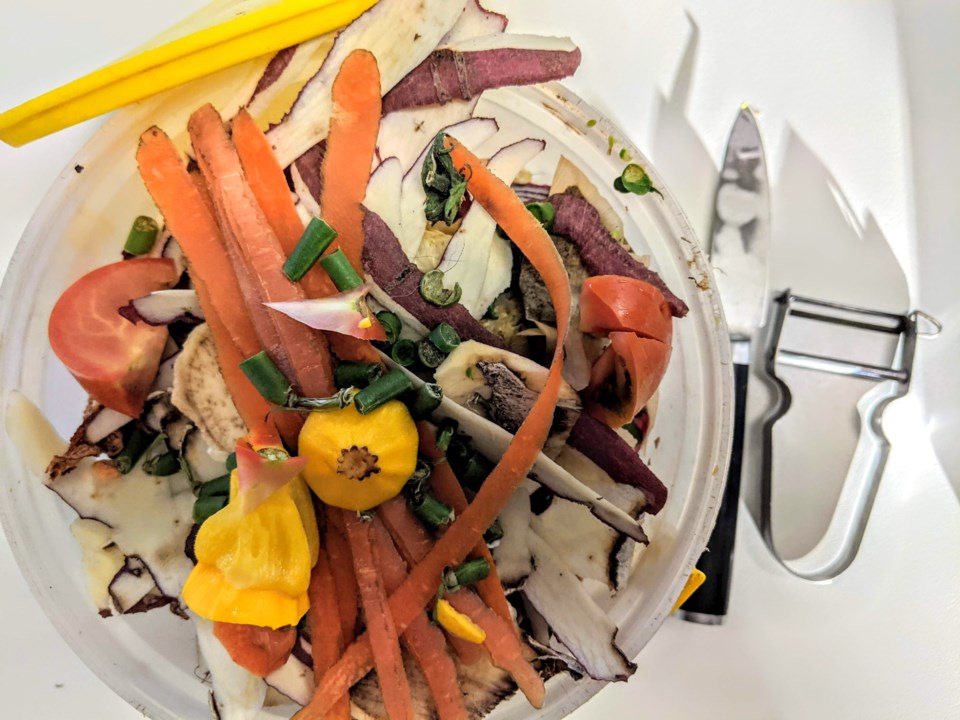 What kind of bin do I use for curbside compost pickup?
Any rigid plastic bin with a secure lid that can hold 55 gallons or less will do. You can order a free brown bin from the DSNY until Oct. 13. Make sure you label your bin with an official DSNY composting decal that you can print out here so sanitation workers can properly handle it.
What is considered compostable?
Any food scraps, coffee grounds, tea bags, shells (seafood, nuts, eggs), bones, spoiled and expired food, and food-soiled paper including napkins, towels, uncoated plates, bags, trays and boxes. Also, yard waste like leaves, grass, small twigs and branches, house plants, flowers and hay bales are acceptable compost items.
What isn't considered compostable?
Trash which includes diapers, hygienic products, animal waste, kitty litter, wrappers, packaging and foam products, as well as recyclables which include metal, glass, plastic, beverage cartons, clean recyclable paper and cardboard.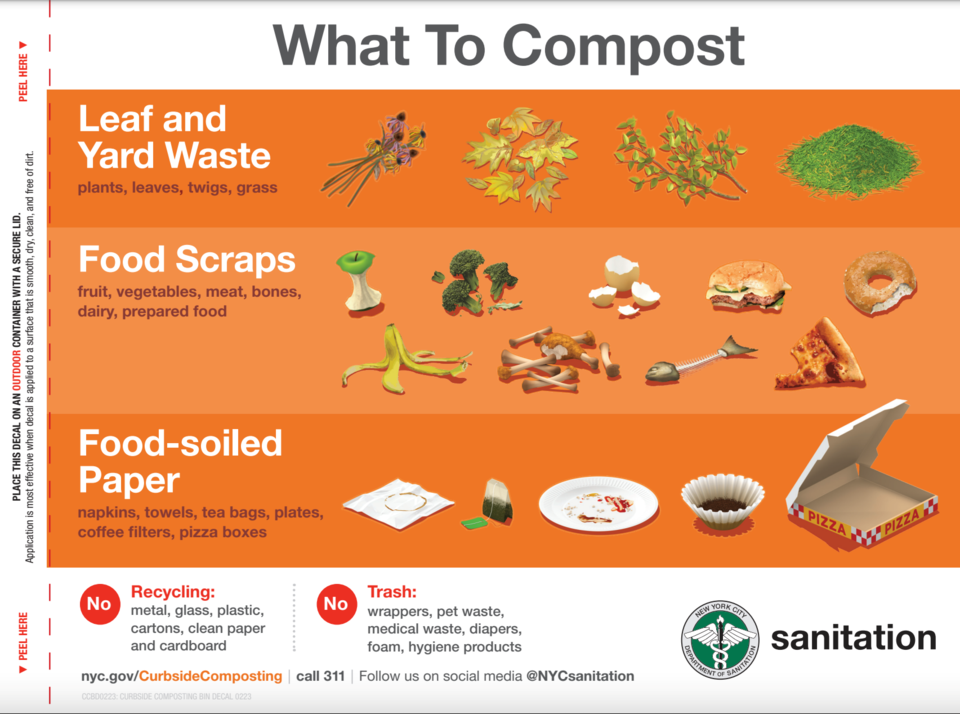 Does food and yard waste have to be separated?
No, they don't have to be separated. You can mix the two if that's what you prefer; just make sure they're stored in a sealed and labelled bin. If you want to keep them separate, place your yard waste in either a clear plastic bag or paper lawn and leaf bag and put them in the same labelled compost bin as the food waste items or use a different labelled compost bin.
When does curbside compost pickup happen?
Compost will be picked up on your recycling day. You can find your collection schedule here.
For people who live in larger buildings with many residential units, management is expected to create a plan to collect and set out compost for pickup at the appropriate time.
What happens if I don't separate my food and yard waste from my regular trash?
Mixing yard waste with your regular trash is already an offense, but for mixing food waste, nothing will happen for the first year and a half since the actual law won't go into effect until six months after all boroughs receive the curbside composting service. So once April 2025 comes, if sanitation workers find food waste mixed in with your regular trash, you will receive a ticket comparable to recycling fines, depending on the size of your building.
Where does the food and yard waste go?
According to Gragnani, "Compostable material that we collect goes to a variety of sources: DSNY's Staten Island Compost Facility, DEP's anaerobic digesters at Newtown Creek, Pine Island Farm anaerobic digester in Massachusetts, and Nature's Choice composting facility in New Jersey."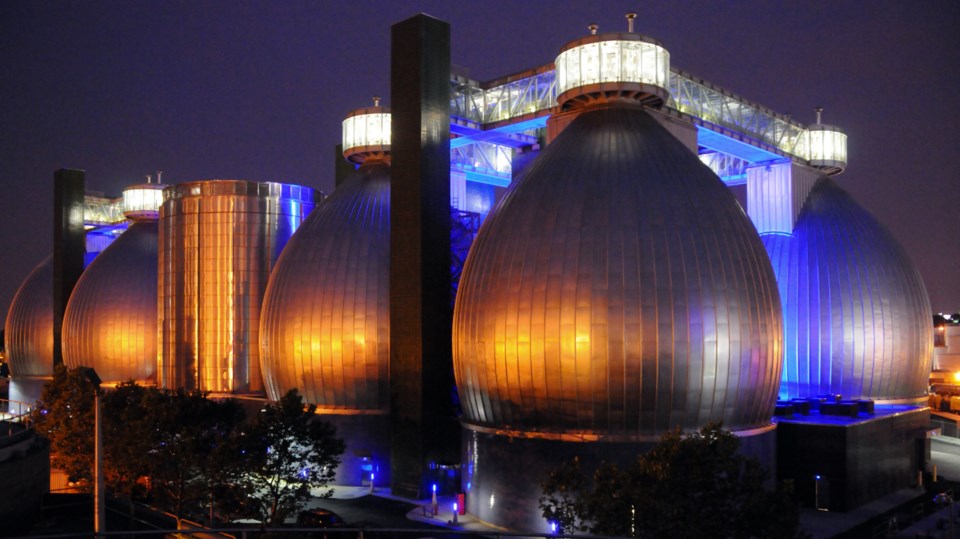 What do they do with the food and yard waste?
It's either turned into compost for use in parks and gardens or transformed into renewable energy or fertilizer.
"We know New Yorkers want to do the right thing, and this program makes it easy for them to do so," said Gragnani.