Crime is down in Prospect Heights and Brooklyn as a whole.
There has been a 14.3% increase in crime reported to Prospect Heights' 77th Precinct, but a 16% decrease reported to the 78th Precinct during the week September 6 to September 12, compared to the same period last year.
Across the two precincts, there have been 53 incidents reported, including one rape and six robberies.
During the same period last year, there were also 53 incidents reported across the two precincts, including one murder and five robberies.
There have been ten murders and 24 rapes reported this year in the neighborhood, compared with 18 murders and 20 rapes reported by the same date in 2020.
Looking at the 28-day cycle, there has been a 4% increase in incident reports at the 77th Precinct and a 16.5% decrease at the 78th Precinct this year on last.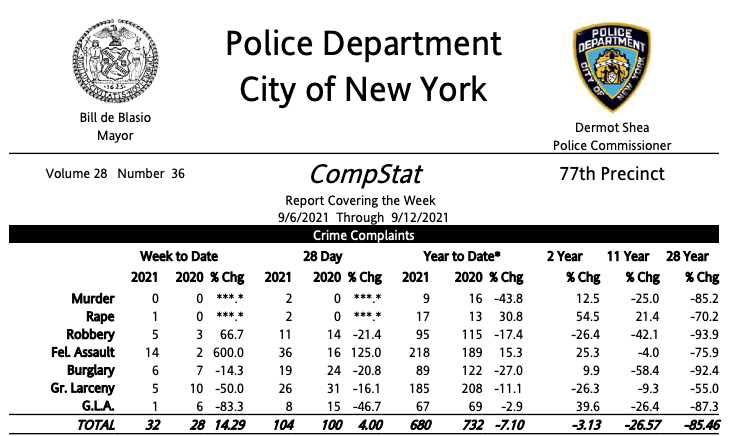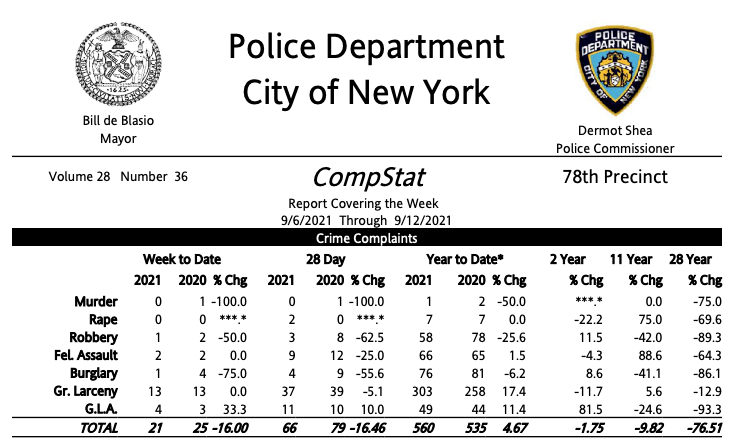 The most common incident reported over the week-long period was grand larceny, with 18 reports. That is five less reports of grand larceny than the same period last year.
On September 16, the 77th Precinct tweeted the photo of a man wanted for harassing a Jewish man on Utica Ave on Sept. 9. The precinct is calling on the community for information.
On September 12, the 78th Precinct tweeted the photo of a man wanted for kicking a woman who was riding the escalator at the Atlantic Ave-Barclays Center subway station, causing her to fall down the escalator. They are calling on the public for information.
Across Brooklyn:
Across the borough, there have been 554 incidents reported between Sept. 6 and Sept. 12, according to NYPD's CompStat, including two murders and three rapes in Brooklyn South and two murders and five rapes in Brooklyn North. There were 62 reported robberies and 138 felony assaults.
In the headlines:
The driver accused of killing a 3-month-old baby girl in Brooklyn Saturday should have had his car impounded months ago - but Mayor de Blasio's administration has failed to implement legislation cracking down on the city's most reckless drivers. Tyrik Mott, 28, who lives in Crown Heights, drove a 2017 Honda Civic with Pennsylvania plates the wrong way down Gates Ave. about 6:20 p.m. when he slammed into another car at Vanderbilt Ave., cops say. Both vehicles careened onto the sidewalk where little Apolline Mong-Guillemin was being pushed by her mother in a stroller. The baby died.
A 70-year-old woman fatally struck by a car while sitting on the steps outside her Brooklyn home was the victim of a furious driver trying to run over someone else, police said Wednesday. Brenda Whidbee was mowed down the night of Aug. 24 by a Ford Explorer that jumped the curb near Thomas Boyland and Pacific Sts. in Brownsville.ADVERTISING Driver Layla Adredini, 30, ran into the victim's building in an effort to escape but good Samaritans held her for police, who charged her with murder and attempted murder, authorities said Wednesday.
A Brooklyn man is facing a slew of hate crime charges - and an attempted murder rap - for allegedly assaulting and robbing two men while making anti-gay statements at a Bushwick bodega, authorities said. Jonathan Carter, 31, was busted Wednesday in connection to the attack on the men, 36 and 28, inside the Borhan Food Mart Corp. on Broadway near Weirfield Street around 2:10 a.m. Saturday, authorities said. The victims were buying food when Carter and two other men beat them with a glass bottle and a screwdriver and robbed them of an iPhone and cash - all while making homophobic comments, police said.
A Brooklyn toddler died Saturday after being found unconscious in his home, police said. Now, the medical examiner determined his death was likely the result of a history of repeated abuse. Officers responded to a 911 call just after 10 a.m. Saturday and found 4-year-old Aisyn Gonzalez unconscious and unresponsive in his family's Williamsburg apartment, the NYPD said. EMS rushed the boy to a nearby hospital where he was later pronounced dead.