Overall, crime has stayed at the same level in Fort Greene and Clinton Hill, but has increased in Brooklyn as a whole.
There was no change in the number of incidents reported to Fort Greene/Clinton Hill's 88th Precinct during the week December 22 to January 2 compared to the same period last year.
There have been 11 incidents reported, including robbery, felony assault and grand larceny. During the same two-week period last year, there were the same number of incidents, but without any reports of robbery.
There have been no murders or rapes reported this year in the neighborhood.
Looking at the 28-day cycle, there has been a 4.4% reduction in incident reports this year on last.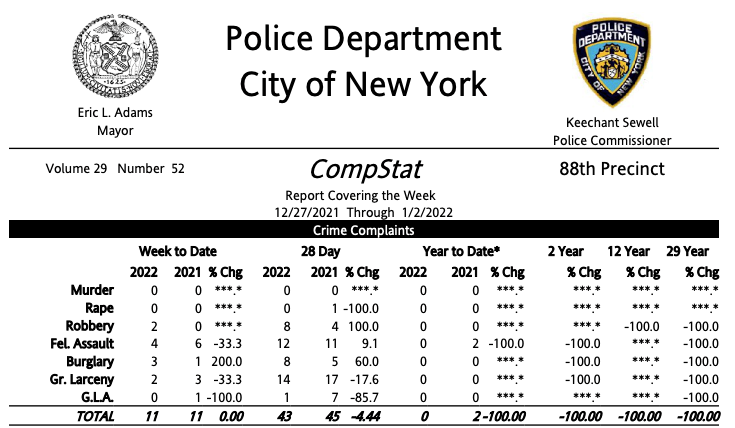 The most common incident reported over the week-long period was felony assault, with four reports in the neighborhood.
On Jan. 6, the 88th Precinct tweeted a photo of a gun, ammunition and multiple packets of drugs it had recovered during a car stop in Fort Greene.
Across Brooklyn:
Across the borough, there have been 651 incidents reported between Dec. 27 to Jan. 2, according to NYPD's CompStat, including two murders and three rapes in Brooklyn North and two rapes in Brooklyn South. There were 99 robberies across Brooklyn and 122 felony assaults.
In the headlines:
Seventeen young Brooklyn men — alleged members of three violent street gangs known collectively as YPF — have been charged in relation to 14 recent shootings that left four people dead, Brooklyn District Attorney Eric Gonzalez and NYPD Commissioner Keechant Sewell announced Tuesday. The youth were variously charged with conspiracy to commit murder, possess weapons and related charges in two separate indictments that were the result of a long-term investigation, Gonzalez said. According to the investigation, three Brooklyn street gangs formed an alliance to create "a large umbrella group," known as YPF, to increase their numbers and territory and hunt down common enemies to maintain dominance.
A Flatlands man has been indicted and charged with grand larceny and burglary for allegedly filing a fake deed to transfer ownership of his landlord's $759,000 rental property into a trust in his name, Brooklyn District Attorney Eric Gonzalez said Tuesday. James Effiwatt, 64, allegedly filed a fake deed to a three-story house at 36 Hubbard Place in Flatlands that transferred the title of the property from the owner, Hubbard Estates LLC, to an entity called the "Ayonkladd Trust," of which Effiwatt was the trustee. The deed was allegedly signed by Effiwatt as a grantor despite the fact that he is not a member or trustee of Hubbard Estates LLC.
The number of murders and shootings in Brooklyn declined in 2021 compared to 2020, bucking a citywide trend, but the number of hate crimes recorded in the borough increased by 41%, according to Brooklyn District Attorney Eric Gonzalez. Gonzalez said Friday that while homicides and shooting numbers inched up in other boroughs, with murders up 4% citywide, Brooklyn saw a 16% decline in murders in 2021 with 147 recorded, compared to the 175 recorded in 2020. The most significant drops were in the Crown Heights and Flatbush: 75% in the 71st Precinct, 60% in the 70th Precinct and 45% in the 77th Precinct, he said.
PETA will pay $5,000 to anyone who gives information that leads to the arrest and conviction of the person who killed a woman and her pit bull Sunday night. "This dog suffered both the agony of being shot alongside his guardian and the helplessness of being unable to protect her, as loyal dogs invariably want to do," PETA Senior Vice President Colleen O'Brien said. "PETA urges anyone with information to come forward so that their killer can pay the price for this horrific crime." The woman, 36-year-old Jennifer Ynoa, was shot about 9:45 p.m. Sunday, police said.