Overall, crime is up in Fort Greene and Clinton Hill, and Brooklyn as a whole.
There has been an 36.3% increase in crime reported Fort Greene/Clinton Hill's 88th Precinct during the week May 10 to May 16 compared to the same period last year.
There have been 15 incidents reported, including rape, robbery, burglary, felony assault, grand larceny and grand larceny auto. During the same two-week period last year, there were 11 incidents reported.
There has been one murder and one rape reported this year in the neighborhood, compared to one murder and four rapes by this time last year.
Looking at the 28-day cycle, there has been a 6% reduction in incident reports this year on last.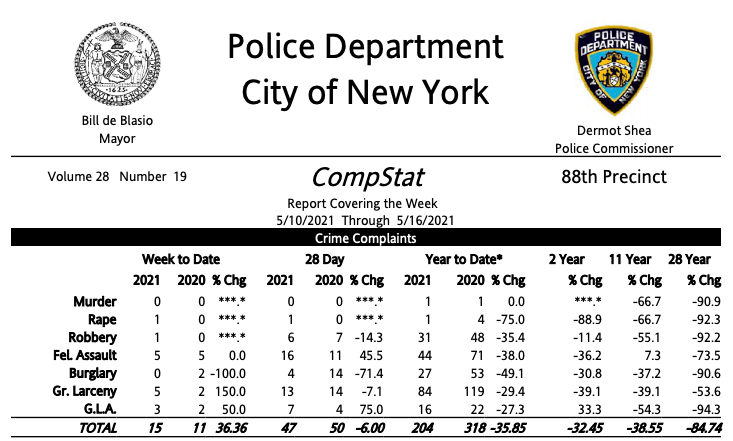 The most common incidents reported over the week-long period were felony assault and grand larceny, with six reports in the neighborhood of each.
On May 19, the 88th Precinct tweeted a photo of a gun one of the precinct's public safety teams had recovered.
Across Brooklyn:
Across the borough, there have been 476 incidents reported between May 10 and May 16, according to NYPD's CompStat, including three murders and two rapes in Brooklyn North and two rapes in Brooklyn South. There were 74 robberies across Brooklyn and 117 felony assaults.
In the headlines:
This week, a 26-year-old Bushwick man was charged with murder, attempted murder of a police officer and other charges in connection with a shooting in Bed-Stuy last week. Brooklyn District Attorney Eric Gonzalez said Boyce Hayward fatally shot one man, shot and injured another and opened fire on three police officers a short time later — striking and injuring one officer. 
On Thursday, a 73-year-old woman pushing a shopping cart filled with cans and bottles in Brooklyn was killed by a driver in a BMW, police said. The victim was pushing her cart in the street on Albany Ave. when a 69-year-old man driving in the same direction struck her. She was rushed to hospital, but could not be saved.
A Brooklyn woman is back home after she was knifed last week by a stranger on a subway platform. Tamara Carrington, 60, considers herself very lucky — and very grateful after the fight for her life inside the Pennsylvania Ave. station, where she was helped by a good Samaritan who chased the attacker away and stayed by her side after the bizarre and near-fatal May 12 stabbing.
Fire marshals are investigating the cause of a deadly, two-alarm inferno in Bedford-Stuyvesant on Wednesday morning that claimed a resident's life. According to FDNY sources, the blaze broke out just after 6:25 am on May 19 inside of 17 Pulaski St. Authorities said the fire ignited on the top floor of the four-story residence, quickly spreading to two adjoining structures with heavy smoke and flames.
BK Reader's crime tracker has the latest information and statistics on crime and policing in the borough.